By: Jonathan Kwan
November 6, 2015
"Women are not that hard to understand," my friend explained to me. "A 'yes' means 'yes', and a 'no' means 'no'." She then continued on. "Well, sometimes." I just looked at her and laughed. "Exactly my point." In life, there are some things so unfathomable, it is hard to grasp a full understanding of the situation until you are actually there. For example, how do we know when a 'yes' means 'yes', a 'no' means 'no', or a 'no' means "please continue to convince me to change my mind"? The answer to that is not so simple; factors may or may not include who you are, who she is, the time of day, how she feels, where you are, what you said, and the list goes on. Fortunately, in the technology world, things are not quite as unfathomable. But in many cases, you have to be at a certain time and place to understand what we have and how we got there. I remember a picture floating around the internet last year showing a 128MB microSD card labeled '2005', and a 128GB microSD card (From SanDisk, no less) labeled '2014' next to it. I think if I saw that image in 2005, I probably would have had a hard time wrapping my head around it, even if I knew this was possible. I mean, how could something this small have so much capacity? Nearly ten years ago, I reviewed the OCZ Mini-Kart, a 1GB flash drive I called "downright tiny". Well, move aside, OCZ Mini-Kart 1GB: Today, we will take a look at the SanDisk Ultra Fit 128GB, which, at a physical footprint barely larger than a USB connector itself, redefines what we call "downright tiny" -- all at the same time equivalent to the capacity of one hundred and twenty eight Mini-Karts I reviewed back in 2006.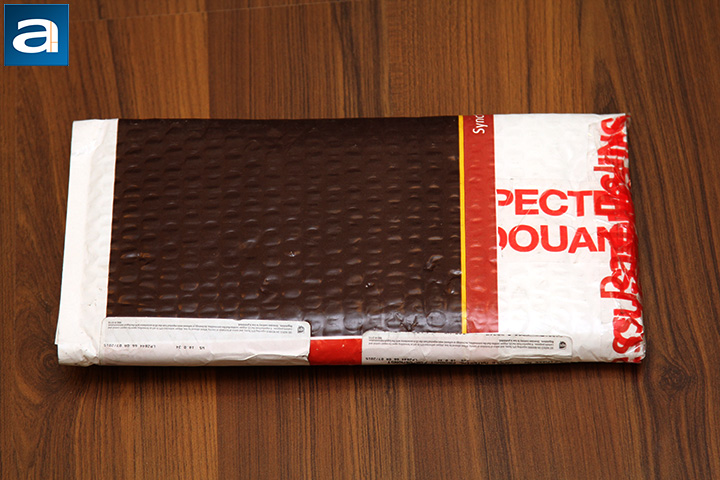 It has been literally almost ten years since we have last reviewed a USB flash drive from SanDisk, with it being the SanDisk Cruzer Titanium U3 2GB -- oh, how times have changed. Our review unit of the Ultra Fit 128GB came in a folded up UPS bubble envelope from the company's American headquarters in California, USA. Using UPS Saver, everything arrived in excellent condition for our review. Once again, Canadian customs had some interest in seeing what was inside, but I do not believe they discovered much when all they found was a flash drive in its retail packaging. With the government out of the way, it was dropped off to us here in Calgary, Alberta, Canada.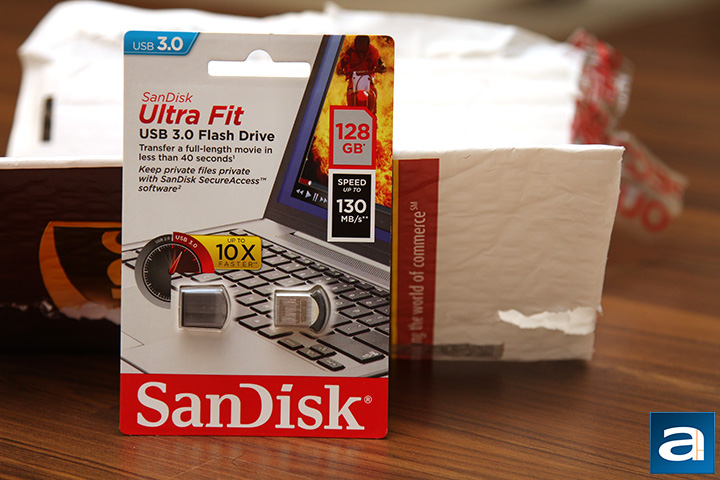 SanDisk has always been about getting down to the business of things, and the SanDisk Ultra Fit 128GB hang sell packaging does a great job in carrying through with this theme by using the company's signature red and white color scheme. It starts off with an all-serious font highlighting its model name at the top, and a brief description of feature highlights right under. An image of a laptop can be seen in the background. The USB drive itself and cap can be seen behind a layer of clear plastic. Occupying a big part of the bottom is SanDisk's logo that you simply cannot miss. The drive capacity and rated read speed is located near the upper right hand corner. In our particular case, we have the 128GB version, but the Ultra Fit is also available in more peasant grade 16GB, 32GB, and 64GB variants. Generally speaking, its retail package design is not groundbreaking, but it certainly carries a lot of brand image consistency.
Before we move on, let us take a look at the specifications of the SanDisk Ultra Fit 128GB, as obtained from the manufacturer's website:
Available capacity: 16GB, 32GB, 64GB and 128 GB
Performance/Speed: Up to 130MB/s read; write speeds lower
Dimensions: 19.1 x 15.9 x 8.8 mm; 0.75 x 0.63 x 0.35 in (LxWxH) – without cap
Operating Temperature: 0 C to 45 C
Storage Temperature: -10 C to 70 C
Compatibility: USB 3.0 (backward compatible with USB 2.0)
---
Page Index
1. Introduction, Packaging, Specifications
2.
A Closer Look, Test System
3.
Benchmark: AIDA64 Disk Benchmark
4.
Benchmark: ATTO Disk Benchmark
5.
Benchmark: Crystal Disk Mark 3.0
6.
Benchmark: HD Tach 3.0.1.0
7.
Benchmark: HD Tune Pro 4.60
8.
Conclusion