By: Jonathan Kwan
July 5, 2019
Have you noticed a city's east side tend to be cheaper and shadier compared to the west? While there are certainly exceptions to this observation, take a look at where you live and see if that is the case. This is certainly true here in Calgary, and it holds true for many cities in the world such as London, Paris, New York, and Toronto as well. Although there are many explanations to this phenomenon, researchers generally agree on one factor: Wind typically blows from the west to the east, and during industrialization and its corresponding urbanization movement, the winds also carried along with it air pollution. This is why it is historically more desirable to live in the west than the east end of cities, and despite the fact we have significantly reduced pollution in most urban centers nowadays, the reputation remained and so did the corresponding infrastructure, amenities, and population it attracts. Here in Calgary, simply having a "northeast" quadrant designation in your address immediately reduces the price by about 5% compared to having a "northwest" designation -- and we are talking about identical properties literally across the street that divides the west and the east. If people are willing to pay more for factors like these in real estate, do we see the same in the technology world? I think we do. LaCie, Seagate's premium brand, targets the design and quality-conscious Apple crowd with their latest Mobile SSD. The 500GB model sells for a whopping $140 at press time, but can we justify the price? Read on to find out!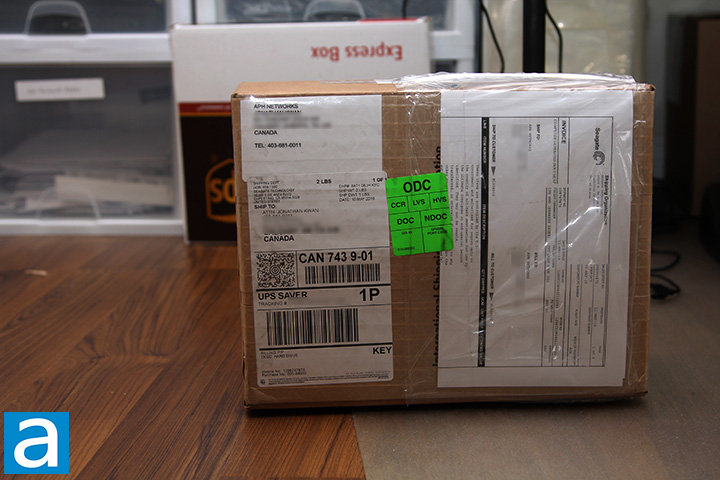 Our review unit of the LaCie Mobile SSD 500GB arrived in a medium sized, brown corrugated cardboard box from the company's American headquarters in Cupertino, California, USA via MJR Print and Fulfillment, a local print shop. Their parent company, Seagate, has always shipped to us with MJR Print and Fulfillment, and it was no exception this time. Using UPS Saver, the package arrived on our doorstep here in Calgary, Alberta, Canada in excellent condition for our review today. And yes, in case you are wondering, we are in the northwest.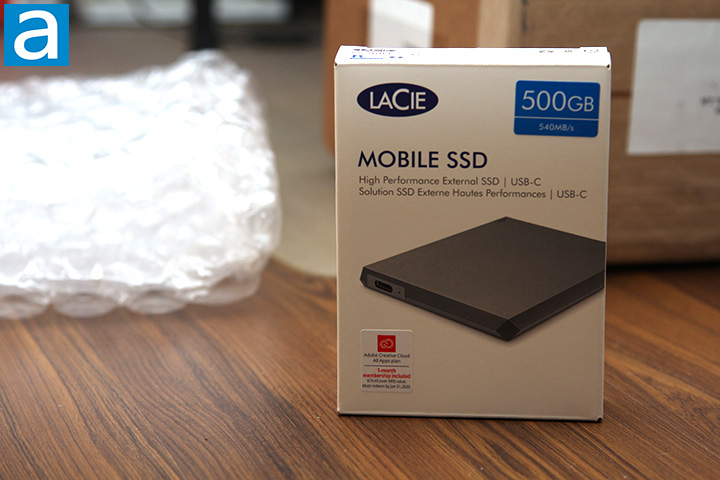 Although this is the first time I have ever reviewed anything from the LaCie brand, the Mobile SSD 500GB's retail packaging strikes a sense of familiarity for someone who has spent enough time at the local Staples. It is clean and down to business thanks to its white background and blue text. A photo of the SSD itself in three-quarters view is prominently displayed across the center, while the product name and description are printed right above it in sans-serif font. LaCie's logo is placed at the top left corner. A couple of stickers indicate its capacity, which, in our case, is the 500GB version, and Adobe Creative Cloud one-month free trial. Features and specifications are printed on the remaining sides of the box.
Before we move on, let us take a look at the features and specifications of the LaCie Mobile SSD 500GB, as obtained from the product packaging:
Compatibility
- Interface: USB 3.1 (USB-C)
- Works With: USB 3.0, USB-C, Thunderbolt 3
System Requirements
- Computer with macOS 10.11 or later/Windows 7 or later
- Minimum free disk space: 600MB recommended
Specifications:
- Internal Storage Type: SATA SSD
- Shock Resistant: Drops up to 3 meters (10 feet) (in non-operating mode)
- Dimensions (W x D x H): 79 x 98 x 9 mm / 3.1 x 3.9 x 0.4 in
- Weight: 82g | 0.2 lbs
- Color: Space gray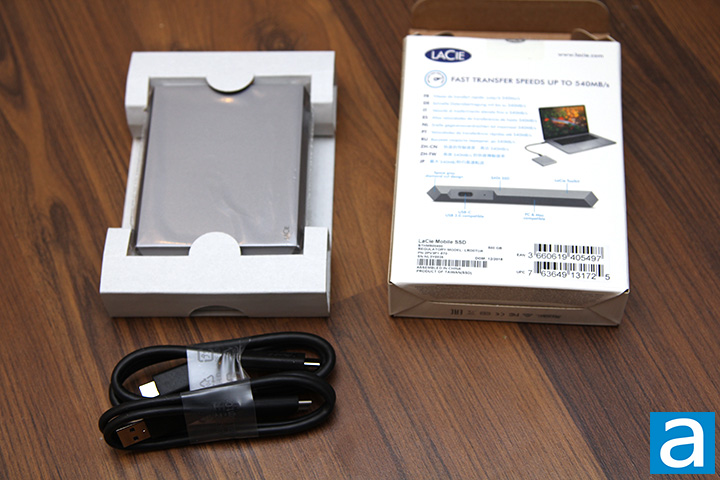 Out of the box, everything is neatly laid out thanks to a white cardboard tray and the fact there is not a whole lot of stuff to begin with. You will receive the LaCie Mobile SSD 500GB itself, USB Type-C to USB Type-A cable, USB Type-C to USB Type-C cable, and a quick install guide. Other literature includes Seagate's in-house data recovery service information; where the Mobile SSD comes with a standard 3-year warranty and data recovery plan. The Adobe Creative Cloud free trial and LaCie Toolkit for backup and mirroring are pre-loaded inside the SSD.
---
Page Index
1. Introduction, Packaging, Specifications
2.
A Closer Look, Test System
3.
Benchmark: AIDA64 Disk Benchmark
4.
Benchmark: ATTO Disk Benchmark
5.
Benchmark: Crystal Disk Mark 6.0
6.
Benchmark: HD Tach 3.0.1.0
7.
Benchmark: HD Tune Pro 5.70
8.
Conclusion