Page 2 - A Closer Look, Test System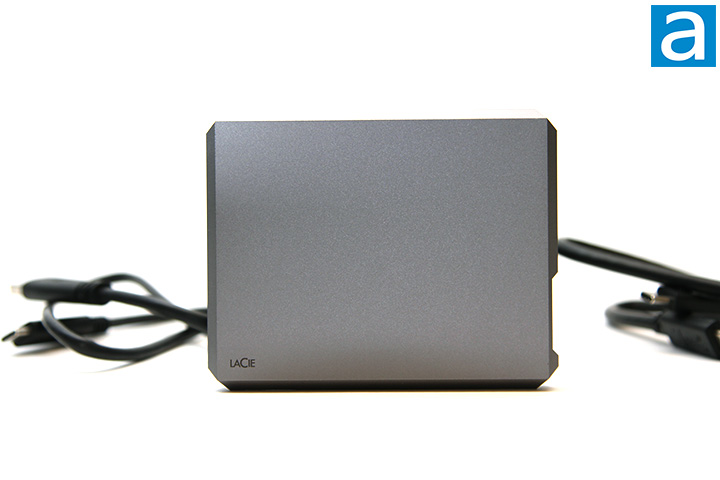 LaCie has always been a fashionable company with excellent product designs, and the Mobile SSD 500GB is no different. It looks and feels expensive. In many ways, the design looks very Apple-esque because this product is targeted towards Apple users. Other than the small LaCie logo at the bottom left corner, there is no branding to keep everything minimalist. This slim and sleek solid state drive comes with a clean all-aluminum enclosure with a fingerprint-resistant space gray matte finish, and feels really solid and flexes to nothing. It weighs only 0.22 pounds and measures in at 98.36mm wide, 78.36mm deep, and 9mm thick. This external SSD is not all looks and no practicality either. Aluminum is lightweight and great for heat dissipation, and the company even says the Mobile SSD can survive a three meter drop when not operating. The diamond cut edges make the product visually interesting without disturbing its clean lines. If you are paranoid about the appearance of your electronics, the LaCie Mobile SSD 500GB should have no problems holding up to everyday use; unless, of course, you do something extreme to try to intentionally cause damage to it. All in all, I am impressed by its looks and build quality.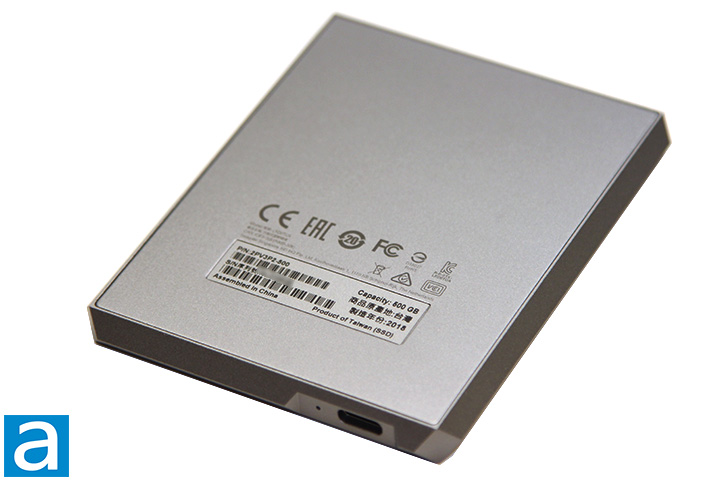 As it is with the front of the LaCie Mobile SSD 500GB, the aluminum back has a matte finish. A series of regulatory logos and a label containing the part number and serial number is found at the back as well. On the label, you will see this is the 500GB model and it the SSD is a product of Taiwan, although its final assembly location is China. The LaCie Mobile SSD is also available in 1TB and 2TB variants.
A white activity LED resides next to the USB Type-C port at the bottom. The white LED stays lit when powered and blinks when there is disk activity. Meanwhile, two short cables are included: One USB Type-C to USB Type-A and one USB Type-C to USB Type-C. Because the Mobile SSD has a 2.5" solid state drive inside and uses the USB 3.1 Gen 2 interface, the port already provides all the power it needs; no external AC adapter is required.
I did not disassemble the drive to take a look at its internal components, but a quick check using AIDA64 Engineer reveals a Seagate BarraCuda SSD residing beneath its matte finish surface. The Seagate BarraCuda SSD 500GB is a Serial ATA based solid state drive rated at 560MB/s read, 535MB/s write, up to 90,000 IOPS, and 249TBW total write endurance. This translates to about 136GB per day for five years, which is very good.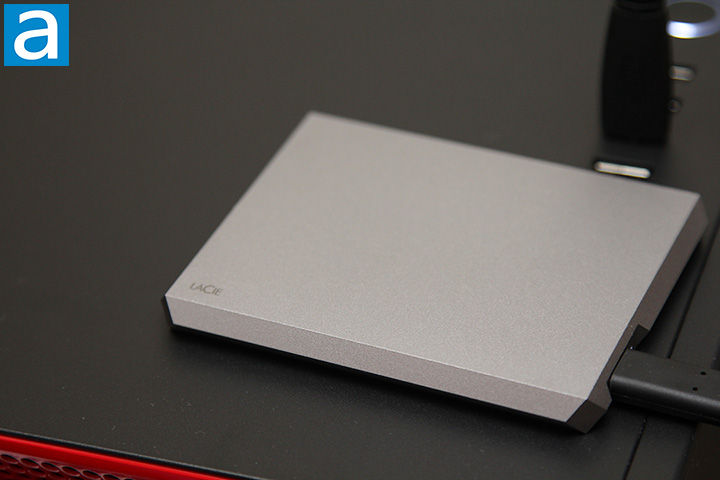 Our test configuration is as follows:
CPU: Intel Core i7-6700K @ 4.60GHz
CPU Cooling: Noctua NH-D15 (Single fan)
Motherboard: Gigabyte GA-Z170X-UD5
RAM: Kingston HyperX Savage Black HX426C15SBK4/64 4x16GB
Graphics: Gigabyte G1 Gaming GeForce GTX 970 4GB
Chassis: NZXT H700i
Storage: OCZ RevoDrive 350 480GB; Kingston HyperX Predator PCIe 480GB; SanDisk Extreme PRO 480GB
Power: Seasonic PRIME Ultra Titanium 850W
Operating System: Microsoft Windows 10 Pro
Compared Hardware:
- LaCie Mobile SSD 500GB (Solid State Drive)
- ADATA DashDrive Elite UE700 64GB (Flash Drive)
- Kingston DataTraveler HyperX 3.0 64GB (Flash Drive)
- Kingston DataTraveler Ultimate 3.0 G3 32GB (Flash Drive)
- Kingston HyperX Fury 64GB (Flash Drive)
- Patriot Supersonic Magnum 64GB (Flash Drive)
- Patriot Supersonic Magnum 2 256GB (Flash Drive)
- Patriot Supersonic Rage 2 256GB (Flash Drive)
- SanDisk Ultra Fit 128GB (Flash Drive)
- SanDisk Ultra Fit 256GB (Flash Drive)
- Silicon Power Blaze B05 64GB (Flash Drive)
---
Page Index
1.
Introduction, Packaging, Specifications
2. A Closer Look, Test System
3.
Benchmark: AIDA64 Disk Benchmark
4.
Benchmark: ATTO Disk Benchmark
5.
Benchmark: Crystal Disk Mark 6.0
6.
Benchmark: HD Tach 3.0.1.0
7.
Benchmark: HD Tune Pro 5.70
8.
Conclusion