By: Jonathan Kwan
October 2, 2020
I remember going to a party at a friend's house in 2016 when some kid was trying to show off the gaming PC he has at home. One thing that stood out to me was how he kept making a big deal out of how he was 32GB of RAM. Maybe it is some sort of guy thing and I have no idea who he was trying to impress, considering the vast majority of the people there do not care about computers, but me being me could not give up the opportunity to help that kid learn a little bit of humility. I started talking to him and I told him I was also quite interested in computers, and he started lecturing me about different computer components and asked me for my PC specifications. I did not really say much and sort of avoided the question of how much RAM I have -- because really, nobody at a house party cares -- which made him think I am not a real computer enthusiast. Eventually, after a while, I decided to end the conversation by telling him 32GB of RAM was nothing because I have a set of Kingston HyperX Savage Black HX426C15SBK4/64 4x16GB. He was wonderfully quiet for the rest of the night and the everyone else had an amazing time talking about things normal people cared about. Now, having 32GB of RAM is still a lot of RAM even by 2020 standards, but if you ever decide to flex at a party about how much RAM you have -- assuming we can have house parties anytime soon -- how can you ensure you do not end up in an embarrassing situation like our friend? The answer is simple: Buy two kits of Crucial Ballistix's DDR4-3600 2x32GB for 128GB of system memory. To give you an idea of what having 128GB of RAM looks like, the company sent us exactly that to show it to the world. Very large e-peen aside, are they any good? Read on to find out!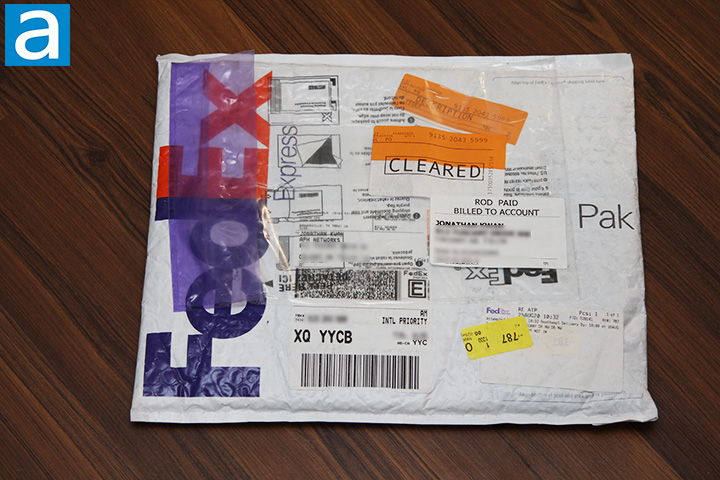 Our review units of the Crucial Ballistix DDR4-3600 2x32GB memory kit arrived in a FedEx branded bubble envelope from Brownsville, Texas, USA. I have no idea why this package came from Brownsville, since Micron has no offices anywhere near there. The closest ones in the state are in Austin and Allen; where the latter is in the greater Dallas-Fort Worth area. To be honest, I have never even heard of Brownsville until now. That aside, using the FedEx International Priority service, everything arrived in excellent condition to us here in Calgary, Alberta, Canada for our review today.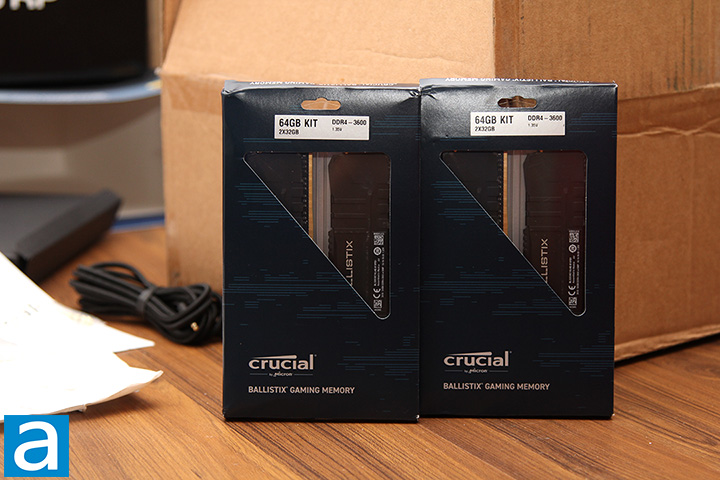 The last time I reviewed a memory kit from Micron was the Ballistix Elite DDR4-3600 4x8GB, which is already a year ago -- crazy times. As you can see in our photo above, the Crucial Ballistix's retail box design is quite different. For one thing, the Crucial branding is back. Other Ballistix kits I have reviewed the last few times all had their Crucial branding removed. The predominantly navy blue card stock packaging is as compact and simple as it gets. The Crucial by Micron logo can be found at the bottom left corner, along with the text "Ballistix Gaming Memory". A label at the top indicates each is a DDR4-3600 2x32GB kit with two modules inside. The modules themselves can be seen behind a cut out. The product description in various languages be seen at the back. Inside each box is a clear plastic clamshell packages to hold the memory in place.
Before we move on, let us take a look at the features and specifications of the Crucial Ballistix DDR4-3600 2x32GB, as obtained from the manufacturer's website:
Speed: DDR4-3600
Warranty: Manufacturer's Limited Lifetime
CAS latency: 16
DRAM family: Ballistix
Density: 64GB Kit (32GBx2)
Brand: Crucial
Module type: UDIMM
Extended timings: 16-18-18-38
Form factor: UDIMM
Technology: DDR4
Voltage: 1.35V
PC speed: PC4-28800
Kit Qty: 2
Specs: DDR4 PC4-28800 • 16-18-18 • Unbuffered • NON-ECC • DDR4-3600 • 1.35V
DIMM type: Unbuffered
Out of the box, you will receive each pair of memory modules in the Crucial Ballistix kit packaged in its own clear plastic shell. There is nothing else included, but I am not sure what else you can expect from a DDR4 kit either, haha. Since we have two 2x32GB kits, here is 128GB of memory in all its glory.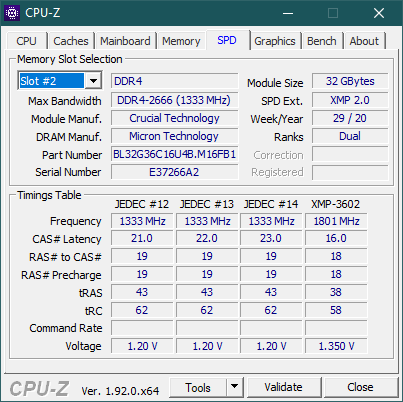 A screenshot of the memory tab in CPU-Z with Crucial's Ballistix DDR4-3600 2x32GB installed. The SPD timings table in CPU-Z reads standard JEDEC specifications programmed into the memory as well as XMP data for running the memory at various speeds. Our ASUS Prime X470-Pro motherboard used for testing had no issues detecting and working with the Ballistix RAM right out of the box using the latest BIOS revision. Each kit of the Crucial Ballistix DDR4-3600 2x32GB retails for approximately $300 at press time.
---
Page Index
1. Introduction, Packaging, Specifications
2.
A Closer Look, Test System
3.
Benchmark: AIDA64 CPU
4.
Benchmark: AIDA64 FPU
5.
Benchmark: AIDA64 Memory
6.
Benchmark: PCMark 10
7.
Benchmark: 3DMark
8.
Benchmark: PassMark PerformanceTest 10
9.
Benchmark: SuperPI 1M, Cinebench R20
10.
Overclocking and Conclusion