By: Jonathan Kwan
December 27, 2019
One of my favorite stories when I went to Hawaii in September was my hike to Ka'ena Point, the westernmost tip of the island of Oahu. I did some research the night before and I was warned the 2.5 mile hike would be quite challenging and also bring lots of water. I was not sure whether I should believe these blogs or not, given a 2.5 mile hike is really nothing considering I am from Calgary where every hike is a mountain trail and we start at 3000 feet elevation. The Ka'ena Point trail has no elevation gain, not to mention the entire trail is at sea level -- how hard can it be? I downed a whole American-sized cup of Coca-Cola right before I drove to the less-touristy Waianae side and brought along 2L of water for safety. 15 minutes in and I began to understand why people think it is challenging. The scorching sun and 30c weather was no joke, and by the time I actually arrived at Ka'ena Point, I was already drenched in sweat and only had half a liter of water left. Needless to say, I completely ran out of water by the time I made it back to my car; thankfully i had a second 2L bottle in the trunk where I chugged in absolutely no time while blasting the air conditioner on maximum. Lesson learned: Never underestimate nature and always be prepared. You never know what life will call for, and LaCie has something for those who like to do things outside their office. The Rugged SSD STHR1000800 1TB is not only made for conditions you never expect, but it also has an NVMe SSD inside for up to 950MB/s transfer rate. Is it prepared to handle everything life has to throw at it? Read on to find out!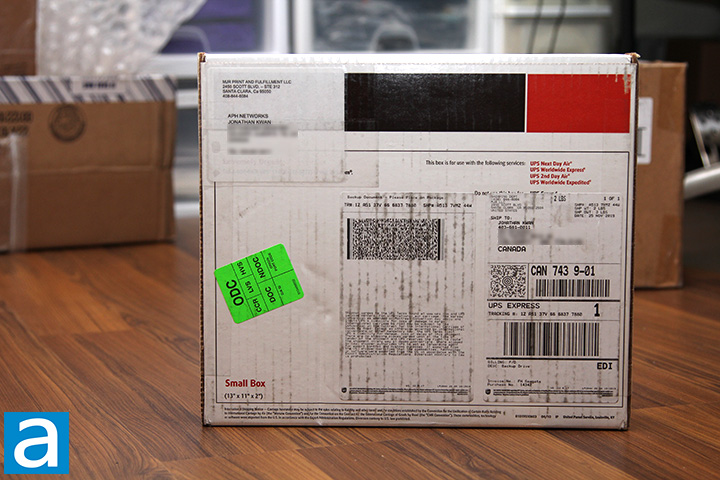 Our review unit of the LaCie Rugged SSD 1TB arrived in a medium sized, brown corrugated cardboard box from the company's American headquarters in Cupertino, California, USA via MJR Print and Fulfillment, a local print shop in nearby Santa Clara. Their parent company, Seagate, has always shipped to us with MJR Print and Fulfillment, and it was no exception this time. Using UPS Express, the package arrived on our doorstep here in Calgary, Alberta, Canada in excellent condition for our review today.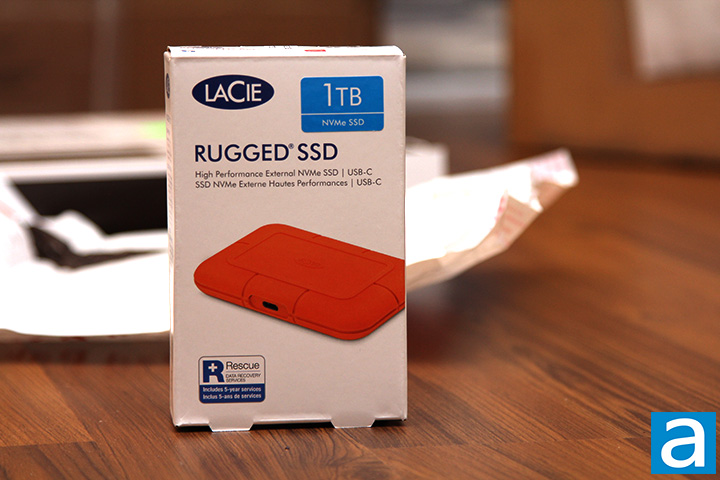 This is the second time I am reviewing something from the LaCie brand; the first being the Mobile SSD 500GB back in July. As always, the retail packaging strikes a sense of familiarity for someone who has spent enough time at their local Staples. It is clean and down to business thanks to its white background and blue text. A photo of the SSD itself in three-quarters view is prominently displayed across the center, while the product name and description are printed right above it in sans-serif font. LaCie's logo is placed at the top left corner. A couple of stickers indicate its capacity, which, in our case, is the 1TB version, and included 5-year data recovery services. Features and specifications are printed on the remaining sides of the box.
Before we move on, let us take a look at the features and specifications of the LaCie Rugged SSD 1TB, as obtained from the product packaging:
Compatibility
- Interface: USB 3.1 Gen 2 (10Gb/s) (USB-C)
- Works With: USB 3.0, USB-C, Thunderbolt 3 computers
Rugged Design
- Extreme water resistance: IP67 rated protection from immersion in water, dust resistant
- Shock resistance: Drops up to 3 meters (10 feet)
- Pressure resistance: Run over by a 2-ton car (2000 kg/4410 lbs)
System Requirements
- Computer with macOS 10.12 or later/Windows 7 or later
- Minimum free disk space: 600MB recommended
Specifications
- Internal Storage Type: NVMe SSD
- Dimensions (W x D x H): 65 x 98 x 17 mm / 2.6 x 3.86 x 0.7 in
- Weight: 130g | 0.3 lbs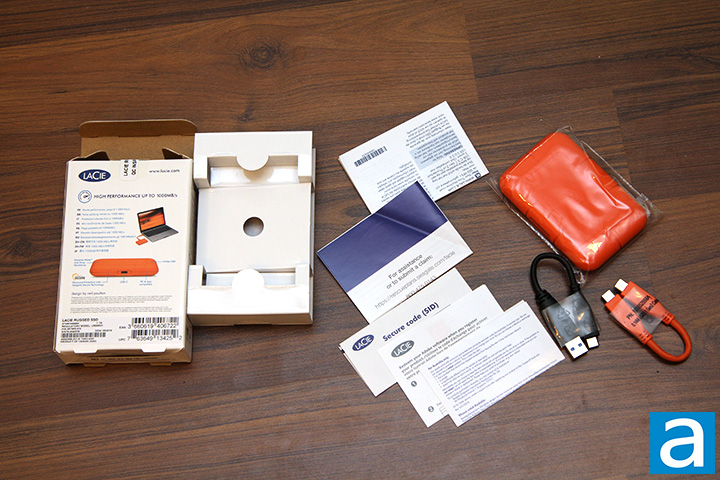 Out of the box, everything is neatly laid out thanks to a white cardboard tray and the fact there is not a whole lot of stuff to begin with. You will receive the LaCie Rugged SSD 1TB itself, USB Type-C to USB Type-A cable, USB Type-C to USB Type-C cable, and a quick install guide. Other literature includes Seagate's in-house data recovery service information; where the Rugged SSD comes with a standard 5-year warranty and data recovery plan. The Adobe Creative Cloud free trial and Seagate Secure reset and secure codes are also included on separate printouts.
---
Page Index
1. Introduction, Packaging, Specifications
2.
A Closer Look, Test System
3.
Benchmark: AIDA64 Disk Benchmark
4.
Benchmark: ATTO Disk Benchmark
5.
Benchmark: Crystal Disk Mark 6.0
6.
Benchmark: HD Tach 3.0.1.0
7.
Benchmark: HD Tune Pro 5.70
8.
Conclusion