Page 2 - A Closer Look, Test System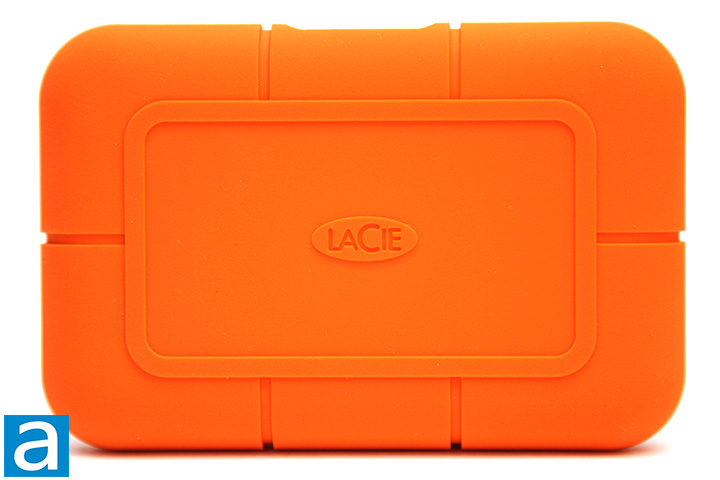 LaCie has always been a fashionable company with excellent product designs thanks to their partnership with various design firms, and the Rugged SSD 1TB is no different. That said, function is important in this case, where the Rugged SSD is indeed quite rugged. The rubber finish comes only in bright orange as shown in our photo above, which reminds me of an airplane black box. If you ever drop it while working outside, it being bright orange will make it a lot easier to find. The rubber finish makes it easy to grip when wet and will soften any blows on impact compared to, say, a hard enclosure. The rounded edges and corners further enhance its durability in practice. As a result, LaCie claims the Rugged SSD can survive drops up to three meters when not operating, but I am guessing it can probably take much more in real life. On the aesthetics end of things, you will find some interesting lines around the SSD along with LaCie's logo embossed in the middle.
The LaCie Rugged SSD 1TB measures in at 98mm wide, 65mm deep, and 17mm thick. It feels strong and flexes to nothing. At 130g, it is reasonably light and easy to carry around as well.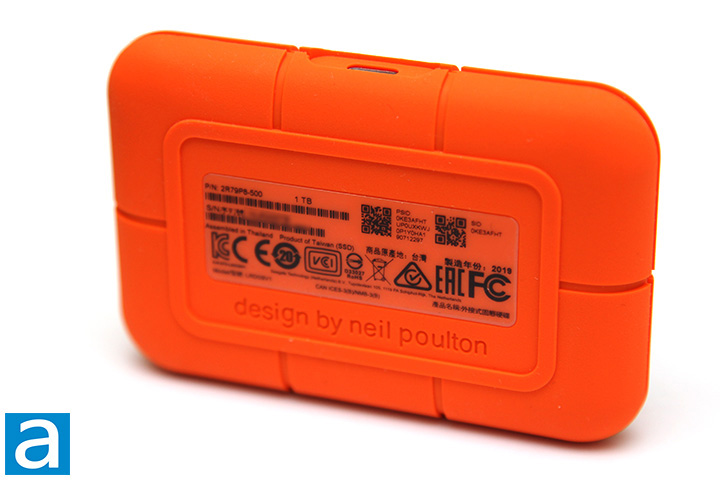 As it is with the front of the LaCie Rugged SSD 1TB, the back also looks the same. The difference is the middle where it formerly featured LaCie's logo is now a label with series of regulatory logos. Its part number and serial number is found at the back as well. On the label, you will see this is the 1TB model and it the SSD is a product of Taiwan, although its final assembly location is Thailand. Below that is the text, "Design by Neil Poulton", which, as the text suggests, is designed by designer Neil Poulton. The Rugged SSD is also available in 500GB.
An orange activity LED resides next to the USB Type-C port at the top. The orange LED stays lit when powered and blinks when there is disk activity. Meanwhile, two short cables are included: One USB Type-C to USB Type-A and one USB Type-C to USB Type-C. Because the Rugged SSD has an NVMe solid state drive inside and uses the USB 3.1 Gen 2 interface, the port already provides all the power it needs; no external AC adapter is required.
I did not disassemble the drive to take a look at its internal components, but we know there is a Seagate FireCuda 510 1TB residing inside the rugged enclosure. The Seagate FireCuda 510 1TB is an NVMe 1.3 based solid state drive rated at 3450MB/s read, 3200MB/s write, up to 620,000 IOPS, and 1300TBW total write endurance. This translates to about 712GB per day for five years, which is excellent. In USB form, the throughput is capped at 950MB/s. We will see how it performs in the next few pages or so.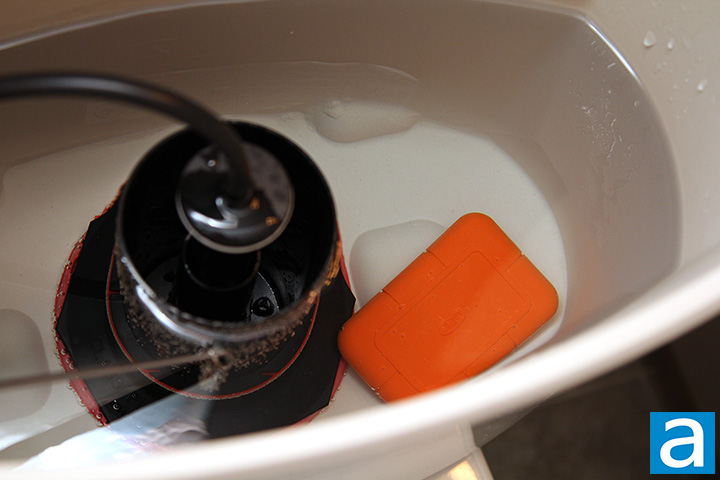 What is a review without seeing if the LaCie Rugged SSD 1TB is actually rugged? I am not going to go through extreme measures to see how durable it actually is -- that is a whole different article -- but we can at least do the simple ones. To start, I "accidentally" dropped it a from a height of a few meters into the water tank of my toilet. And I also totally forgot about it for ten minutes and also left it there for a few more to take some photos. The IP67-certified drive easily survived the test, but keep in mind the USB Type-C port has to be dry when you plug it in again. LaCie also claims the Rugged SSD is pressure-resistant. Their test includes being run over by a 4410 lbs car, but it being able to survive does not mean there will be no cosmetic damage. I did not conduct the latter test; not like we have ever done it before in the past, of course.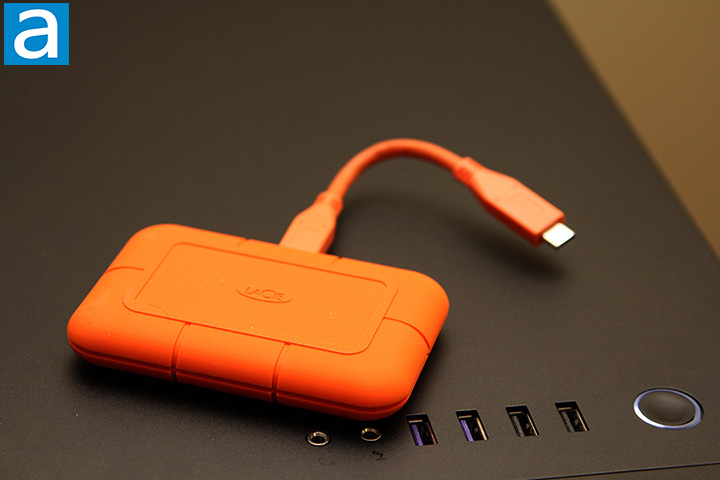 Our test configuration is as follows:
CPU: Intel Core i7-6700K @ 4.60GHz
CPU Cooling: Noctua NH-D15 (Single fan)
Motherboard: Gigabyte GA-Z170X-UD5
RAM: Kingston HyperX Savage Black HX426C15SBK4/64 4x16GB
Graphics: Gigabyte G1 Gaming GeForce GTX 970 4GB
Chassis: NZXT H700i
Storage: OCZ RevoDrive 350 480GB; Kingston HyperX Predator PCIe 480GB; SanDisk Extreme PRO 480GB
Power: Seasonic PRIME Ultra Titanium 850W
Operating System: Microsoft Windows 10 Pro
Compared Hardware:
- LaCie Rugged SSD 1TB (Solid State Drive)
- ADATA DashDrive Elite UE700 64GB (Flash Drive)
- Crucial X8 1TB (Solid State Drive)
- Kingston DataTraveler HyperX 3.0 64GB (Flash Drive)
- Kingston DataTraveler Ultimate 3.0 G3 32GB (Flash Drive)
- Kingston HyperX Fury 64GB (Flash Drive)
- LaCie Mobile SSD 500GB (Solid State Drive)
- Patriot Supersonic Magnum 64GB (Flash Drive)
- Patriot Supersonic Magnum 2 256GB (Flash Drive)
- Patriot Supersonic Rage 2 256GB (Flash Drive)
- SanDisk Ultra Fit 128GB (Flash Drive)
- SanDisk Ultra Fit 256GB (Flash Drive)
- Silicon Power Blaze B05 64GB (Flash Drive)
---
Page Index
1.
Introduction, Packaging, Specifications
2. A Closer Look, Test System
3.
Benchmark: AIDA64 Disk Benchmark
4.
Benchmark: ATTO Disk Benchmark
5.
Benchmark: Crystal Disk Mark 6.0
6.
Benchmark: HD Tach 3.0.1.0
7.
Benchmark: HD Tune Pro 5.70
8.
Conclusion