By: Jonathan Kwan
May 1, 2020
A little over two years ago, I reviewed the NZXT H700i, which I described it as a "stunning looking mid-tower chassis that is easy to work with and thoughtfully designed inside and out". Needless to say, the H700i was and still is one of my favorite cases. I were to remind myself of the life lessons I discussed in the introduction of the original review, having nothing to prove is a big deal. I can understand what it is like to be on the other side looking back, especially if you are familiar with my friend who likes to argue for the sake of arguing and often make jokes at other people's expense. (Some background can be found in the Corsair K95 RGB Platinum XT and Seasonic FOCUS SGX-650 650W review introductions.) We are part of the same group of friends, and in the many interactions I have had with him, there were quite a few times where I am especially tempted to pull some zingers of my own. One time, he was talking about his purity ring, and I had a pretty hard time trying to keep my mouth shut about why he does not really need one -- his personality already does the job. In the end, I said nothing, mainly because I genuinely think he is a good person and I did not want to hurt him, and maybe after all these years I have come to realize it lacks merit to engage in a war of words. Either way, even if we have gained enough confidence to know we have nothing to prove, we should still have the humility to learn and improve. In the same way, while the H700i is an exceptional case, there were still a few things that could be changed to make it better. Enter the H710i. Read on to find out what is new!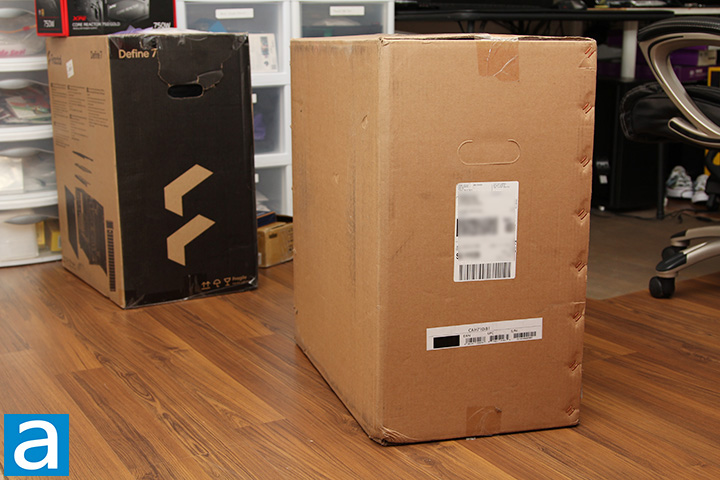 Our review unit of the NZXT H710i arrived in a large brown corrugated cardboard box from the company's American headquarters in City of Industry, California, USA. Like the NZXT H700i, it arrived in a plain brown corrugated cardboard box to my doorstep here in Calgary, Alberta, Canada. This is unconventional because cases usually come shipped in its retail packaging. The actual retail box was located inside the shipping box for additional protection. Our H710i arrived in excellent condition for our review today using FedEx International Ground. There were small bumps and bruises along the way, but I consider these usual business and nothing to worry about. On a random note, I have been trying to get my hands on it for a while, but due to some logistics problems it did not come in until late February. Another case I should have gotten earlier? The Fractal Design Define 7 Dark Tempered Glass at the back, haha.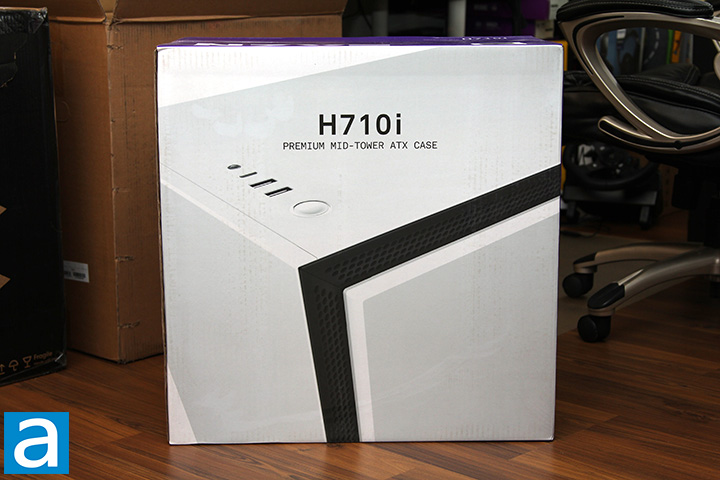 Inside the shipping box is the NZXT H710i's actual retail box. The company has always been in the forefront of clean, modern, and stylish packaging for their products. The Apple-esque layout features a predominantly purple and white color scheme NZXT fans should be familiar with. On one side, we have a close-up three-quarter view of the H710i, with the only text present being "H710i Premium Mid-Tower Case", as shown in our photo above. The other side has a little more detail in presentation, which you will find a full side view of the chassis with components installed and NZXT's branding as shown in the next photo. The rest of the box has feature highlights and specifications in various locations.
Before we move on, let us take a look at the specifications of the NZXT H710i, as obtained from the manufacturer's website:
Dimensions: W: 230mm H: 516mm D: 494mm (with feet)
Material(s): SGCC Steel and Tempered Glass
Weight: 12.3 kg
Motherboard Support: Mini-ITX, MicroATX, ATX and EATX (Up to 272mm or 10.7-inches)
Front I/O Ports: 1x USB 3.1 Gen 2 Type-C, 2x USB 3.1 Gen 1 Type-A, 1x Headset Audio Jack
Front I/O internal header: 1x USB 3.1 Gen 2 Internal Header, 1x USB 3.1 Gen 1 Internal Header, 1x USB 2.0 Internal Header, 1x HD Audio Header
Filters: All Air Intakes
Smart Device V2: 3x Fan channels with Max 10W per channel output*; 2x RGB LED port support up to 4 x HUE 2 addressable LED strips or 5 x Aer RGB fans; Built-in noise detection module
*Note: If a splitter is used, fan control is regulated depending on the fan connected to the 4-pin port. Do not use low-noise adapters.
LED Strip(s): 2 integrated addressable LED strips
Vertical GPU Mount: Up to 2.5 Slots
Included Accessories: Installation screws, 10x Cable ties, 1x Headset Audio Jack Splitter (4 pole to 3 pole)
Expansion Slots: 7
Drive Bays: 2.5": 7; 3.5": 2+2
Radiator Support: Front: 2x 140 or 3x 120mm with Push/Pull; Top: 2x 140 or 3x 120; Rear: 1x 120
Fan Support: Front: 3x 120/ 2x 140mm (3 Aer F120 Case Version included); Top: 3x 120/2x 140mm; Rear: 1x 120/1x 140mm (1 Aer F140 Case Version included)
Fan Specs:
Aer F120 (Case Version)
- Speed: 1200 ± 200 RPM
- Airflow: 50.42
- CFM Noise: 28 dBA
- Bearing: Rifle Bearing
Aer F140 (Case Version)
- Speed: 1,000 ± 200 RPM
- Airflow: 68.95 CFM
- Noise: 29 dBA
- Bearing: Rifle Bearing
Clearance: Cable Management: 18-22mm; GPU Clearance: Up to 413mm; Vertical GPU Mount Clearance: 50.8mm; CPU Cooler: Up to 185mm; Front Radiator: 60mm; Top Radiator: 30mm; Reservoir & Pump: Up to 224mm (Along cable bar)
Warranty: 2 Years
Model Number: CA-H710i-B1
EAN: 5060301694938
UPC: 815671014634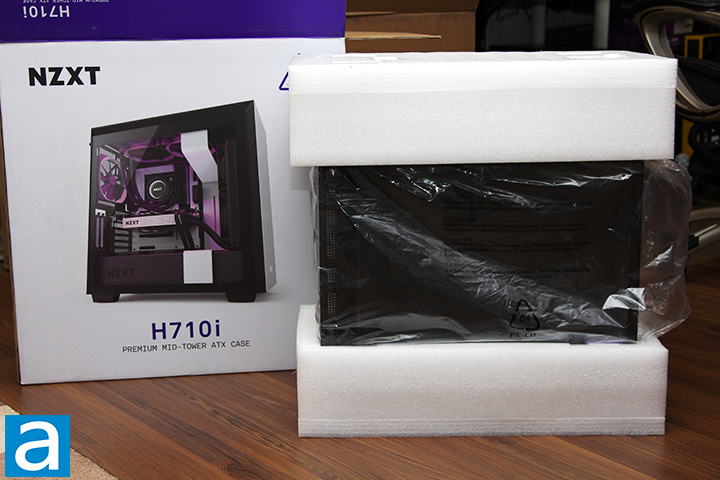 As mentioned earlier, the design on the two principal faces of the NZXT H710i's retail packaging is different. The NZXT H710i mid-tower is found wrapped in a clear plastic bag and clipped between two large Styrofoam brackets upon cutting open the tape at the top. The packaging is quite standard for a computer case, and in the end, everything inside arrived in perfect condition. Needless to say, I do not have anything to complain about. Accessories are found inside a box placed on a hard drive tray inside the case.
---
Page Index
1. Introduction, Packaging, Specifications
2.
Physical Look - Outside
3.
Physical Look - Inside
4.
Installation and Conclusion