Page 4 - Installation and Conclusion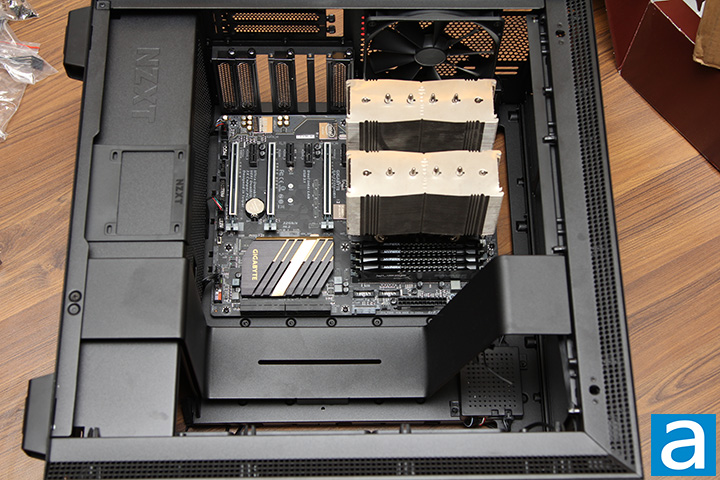 The installation process was very straightforward with the NZXT H710i. For the purposes of demonstration, I simply transferred the previous PC I installed into the NZXT H700i. Out of preference, I installed my Gigabyte GA-Z170X-UD5 motherboard first, followed by the rest of my components. Since the interior of the H710i is separated into two chambers, it does not matter whether you install the PSU or motherboard first, since they will all work out just as well in the end. Pushing all the case I/O cables through one of the two openings close to the motherboard on the panel separating the two chambers delivered excellent accessibility to anything that requires a connection to my motherboard. An opening near the outside edge of power supply chamber ceiling allows easy power delivery to your graphics card. Furthermore, almost the entire area behind the cable strap is an opening to connect what you need to your motherboard, which is very well designed. It is also very effective at hiding cables. In general, everything was appropriately placed for routing cables through, whether they are from your power supply, case, or storage devices. The large motherboard tray cutout also made the installation of any aftermarket CPU coolers like my Noctua NH-D15 totally painless.
Executing a good cabling job was pretty straightforward on this ATX mid-tower. Unlike some cases with tempered glass side panels I have used in the past, the H710i has only one tempered glass panel, so you do not need to worry too much about how things work out behind the motherboard tray. That said, NZXT has an excellent cable management section here, as shown in our photo above. Therefore, organizing the modular cables from my Seasonic PRIME Ultra Titanium 850W power supply was a breeze. My only suggestion is to increase the room between the motherboard tray and side panel for better cable fitment. Installing the PSU required the removal of a bracket at the back, which is attached to the case by four captive thumbscrews. There are tons of cable routing guides and well-placed tie down points to keep everything in good order. In fact, I built the entire system without using a single zip tie.
The rest of the installation process came and went just as smoothly as I continued to install the rest of my components like my SSD. The SSD shown in the photo is the SanDisk Extreme PRO 480GB installed behind the motherboard tray. Unless you count thumbscrews as tool-free, installation of most components will require you to keep your screwdriver handy. Stuff like storage drives will require a screwdriver. I do not have much beef against this though, since it is usually much more secure, and it is not like I will take my computer apart occasionally anyway. The great thing about the NZXT H710i is, apart from the motherboard tray SSD brackets, everything has captive thumbscrews for added convenience.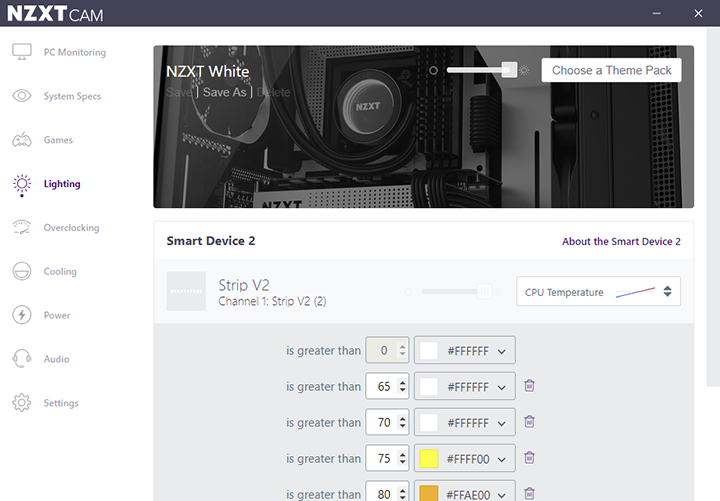 The Smart Device 2 controller module, which controls all the lighting and fans inside the NZXT H710i, require you to install NZXT's CAM software to operate. CAM is NZXT's PC monitoring and controller program. The company just released a major revision, and it remains to be clean, modern, and intuitive to use, whether it is configuring the color output of the RGB LED strips or setting up fan profiles. I configured my system to change the RGB LED strips' color with respect to the CPU temperature. However, you can do a whole lot of different things, whether it is the classic spectrum waves to changing with respect to your music. The color of each LED can be individually configured in software as well.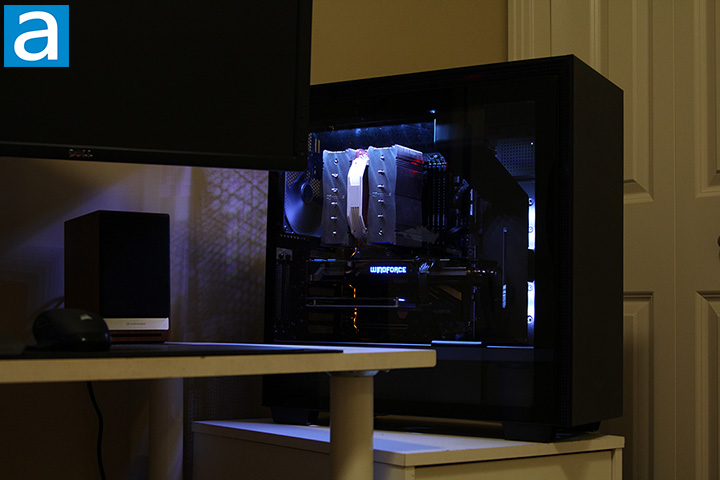 After plugging in everything, our system configured inside the NZXT H710i was ready to roll. I hit the large circular power button at the top, and my computer came to life. With the built-in RGB LED lights inside, the tempered glass makes a stunning show out of your interior components.
On a scale from 0.0 to 10.0 where 0.0 is silent and 10.0 is the loudest, the stock NZXT Aer fans would come in at 4.5 subjective sound rating at maximum speed. This is very good. Slowing them down will keep it at around 1.5 in my personal opinion. I am quite sensitive to perceived sound volume, and as a quiet PC enthusiast, the NZXT H710i is quite impressive, considering there are no noise insulation material installed. The fans have a smooth running motor with no annoying noise during operation. I do not think this case was designed specifically for quiet PC enthusiasts in mind, but it is not a bad choice if you are looking for a great looking case with quality stock fans especially after setting up your custom profiles. The straight unrestricted airflow design is excellent for enhanced cooling performance.
-----------------------------------------
While the H700i was and still is an exceptional case, NZXT took the initiative to make it better with the H710i. And why not? The entire H-series are arguably the company's best designs to date, and refining the details make the lineup as relevant in 2020 as it was back in 2018. New to the H710i include the Smart Device 2 controller module, which adds a sound sensor. A USB Type-C port is added to the front panel, while the side SSD tray mount is changed so there are no visible screw holes when removed. The tempered glass side panel now has a release mechanism rather than using four thumbscrews for easier removal. Even the front panel I/O wires are consolidated into a single block. These changes seem small, but they make a positive difference. What has not changed is the NZXT H710i is still a piece of art not only in aesthetics, but also in design. The materials used are excellent and the build quality leaves nothing to be desired. The integrated cable routing design is so good, you can complete a perfectly clean build without using a single zip tie. To go with all these are the company's well-reviewed CAM software for a great overall user experience. There are a few minor issues worth discussing. While the tempered glass panel release mechanism is better than having four thumbscrews, the captive thumbscrew on the tab often gets in the way. Increasing the gap between the back of the motherboard tray and side panel would be nice. I am not sure why they chose to remove the front microphone jack and replaced it with a splitter cable, but I think having two separate jacks are better considering we have no lack of space. The side SSD tray also feels flimsier than its predecessor. I am merely pointing this out and I doubt it is a big deal, because I have it removed anyway, and I would be surprised to find anyone in 2020 showing off an SATA SSD. At the end of the day, if you already own the H700i, the difference is not big enough justify an upgrade. But if you are planning on a new build, the NZXT H710i remains to be one of the top cases in the market for about $170 at press time.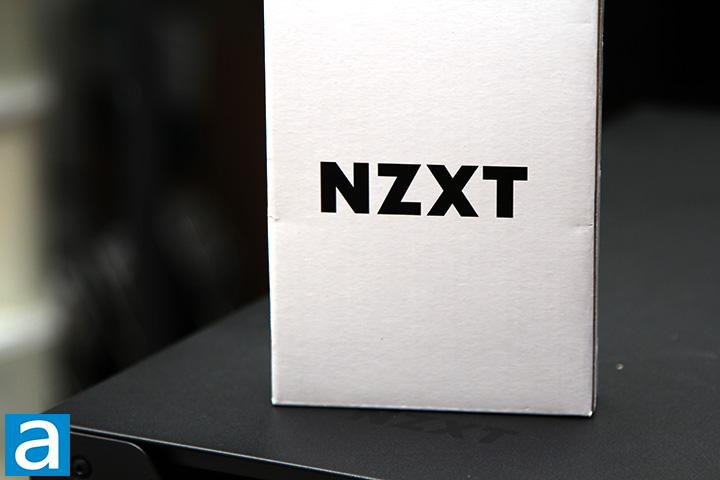 NZXT provided this product to APH Networks for the purpose of evaluation.

APH:Renewal Award | APH Networks Review Focus Summary:
8/10 means Definitely a very good product with drawbacks that are not likely going to matter to the end user.
7/10 means Great product with many advantages and certain insignificant drawbacks, but should be considered before purchasing.
-- Final APH Networks Numeric Rating is 7.6/10
Please note that the APH Networks Numeric Rating system is based off our proprietary guidelines in the Review Focus, and should not be compared to other publications.
The NZXT H710i is a truly exceptional case in virtually every way -- whether it is its design, build quality, features, or overall user experience.
---
Page Index
1.
Introduction, Packaging, Specifications
2.
Physical Look - Outside
3.
Physical Look - Inside
4. Installation and Conclusion