By: Jonathan Kwan
June 24, 2022
Although I do not personally use TikTok, I remember the Renegade Challenge dance craze just over a couple of years ago. Many people I knew actually did the challenge, and as a result, I heard the song pretty much on repeat during that time. The song is from American rapper K Camp and was originally called Lottery, but was later renamed Lottery (Renegade) due to Reazy Renegade's producer tag in the introduction of the track as well as the aforementioned Renegade Challenge. I did not even know the song was called Lottery until a while later, especially since the "Renegade Renegade Renegade" section in the beginning just sounded so catchy. It is funny because the "renegade" part was never intended to have anything to do with the work itself. As the top comment on YouTube for the official music video of this song fittingly put it, "Calling this song Renegade is like calling the box 'eeeee eeeeer'", but nevertheless, it has left a lasting impression. Fast forward two years and with the fad long gone, when I received the Kingston FURY Renegade 1TB, I caught myself going "Renegade Renegade Renegade" while looking at the product packaging. But besides the name, what is actually about the SSD? The FURY Renegade 1TB is actually an updated version of the KC3000 1TB I reviewed last year, featuring a revised firmware for a slightly higher read speed of 7300MB/s rather than 7000MB/s and a 25% increase in rated write endurance to 1000TBW. The KC3000 was one of the best SSDs ever tested here on this website, so will the FURY Renegade take it up another notch? Read on to find out!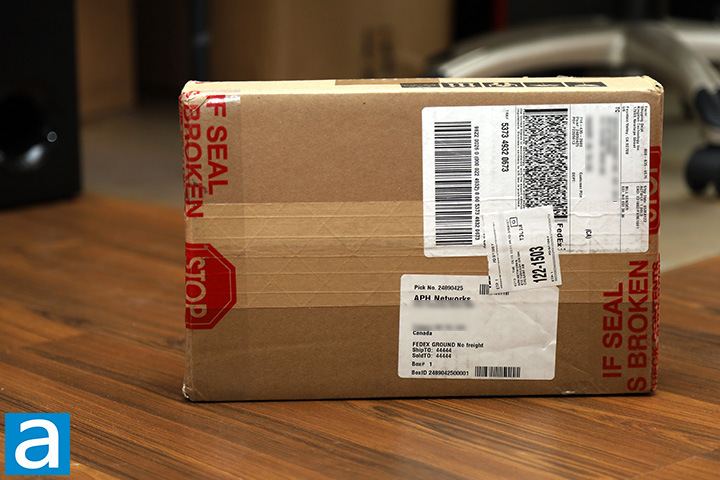 Our review unit of the Kingston FURY Renegade 1TB arrived in a small brown corrugated cardboard shipping box from the company's American headquarters in Fountain Valley, California, USA. Using FedEx Ground, the package arrived on our doorstep here in Calgary, Alberta, Canada in excellent condition for our review today. Inside the box is also the Kingston FURY Beast DDR5-5200 2x16GB, which will be looked at by my colleague Aaron Lai.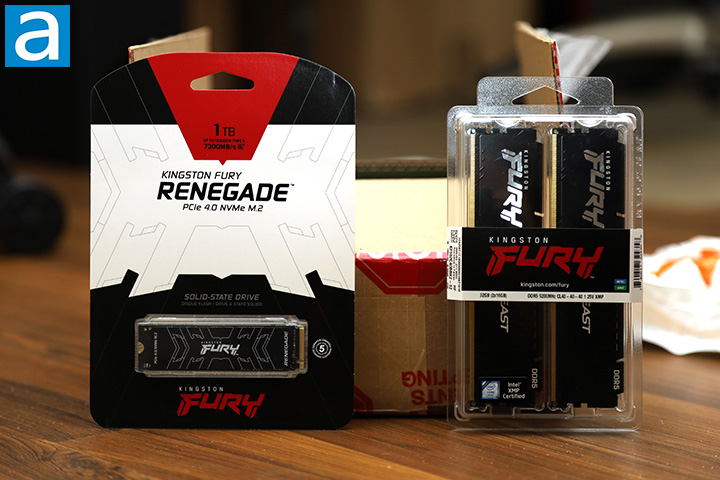 The Kingston Fury brand is aimed at enthusiasts, while the regular Kingston name is all about business. Interestingly, the packaging for the Kingston FURY Renegade 1TB seems to be more Kingston than Kingston Fury. As you can see in our photo above, its retail packaging looks quite serious, and should I say, professional and business-like. The background is a predominantly black and white with hints of red for the Fury brand. Kingston's branding and product name is shown across the center, while the storage capacity and rated read speed are shown in the red-colored section above. The Kingston Fury logo is centered at the bottom. The FURY Renegade SSD itself is placed behind a beveled plastic shell doubling as a window showing off the SSD with a 5-year warranty badge next to it. This is the same kind of packaging where you can hang it on a store shelf rail, but chances are that it will be locked up in the glass cabinet behind a counter, since they are quite easy to steal, haha.
Before we move on, let us take a look at the specifications of the Kingston FURY Renegade 1TB, as obtained from the manufacturer's website:
Form Factor: M.2 2280
Interface: PCIe 4.0 NVMe
Capacity: 1TB
Controller: Phison E18
NAND: 3D TLC
Sequential Read/Write: 7,300/6,000MB/s
Random 4K Read/Write: up to 900,000/1,000,000 IOPS
Total Bytes Written (TBW): 1.0PBW
Power Consumption: 5mW Idle / 0.33W Avg / 2.8W (MAX) Read / 6.3W (MAX) Write
Storage Temperature: -40°C~85°C
Operating Temperature: 0°C~70°C
Dimensions: 80mm x 22mm x 2.21mm
Weight: 7g
Vibration Operating: 2.17G Peak (7-800Hz)
Vibration Non-operating: 20G Peak (20-1000Hz)
MTBF: 1,800,000 hours
Warranty/Support: Limited 5-year warranty with free technical support
Cutting open the thin cardboard, you will find nothing included from the factory. Clipped between two clear plastic tray pieces is the Kingston FURY Renegade 1TB only. This is it -- there is literally nothing else from the manufacturer. Even though this is a performance product, SSDs are a mainstream commodity in 2022, and let us be honest here, what else do you need? The Kingston KC3000 1TB did include a key for Acronis True Image HD, whereas we get nothing here, but if you do not need it, then you are not missing much.
---
Page Index
1. Introduction, Packaging, Specifications
2.
A Closer Look, Test System
3.
Benchmark: AIDA64 Disk Benchmark
4.
Benchmark: ATTO Disk Benchmark
5.
Benchmark: Crystal Disk Mark 8.0
6.
Benchmark: HD Tune Pro 5.70
7.
Benchmark: PassMark PerformanceTest 10
8.
Benchmark: PCMark 10
9.
Benchmark: 3DMark
10.
Conclusion