By: Aaron Lai
July 1, 2022
A week ago, I was visiting Vancouver, which is something I had not done in three years. I think one of the things I forgot was the wet weather in the city, although I really should have considering some people call it Raincouver. While I enjoyed the trip, which included catching up with family, talking to friends, and eating delicious food, I forgot how much the weather plays into the overall vibe. Normally, I really like rain, partly because of the smell and the mood that rain sets, but it is also because there is sunshine expected after the rain. As such, rain is sort of like a break from normalcy. However, if normalcy is constant rain and grey clouds throughout the days, it becomes a bit more of a dreary feeling. Unfortunately, this is mostly what we saw during our trip to Vancouver until the day I left. It rained almost every day we were there, whether it was a heavy downpour during the drive in, or a light spit throughout the day. Clearly, the city was not happy with me visiting, haha. Thankfully, I returned to Calgary where there were clear skies and a breezy evening. In some ways the rain in Vancouver was still a break from typical drier weather in Calgary. The whole trip was indeed a very relaxing trip, with a good balance of seeing things and having down time to unwind, and I think the rain added to that chill vibe. On the other hand, one thing that does not give off relaxed emotions is the Kingston FURY Beast DDR5-5200 2x16GB. With a name like "FURY Beast", you might expect extreme performance. So what will we get from this kit of DDR5 memory today? Let us read on to find out!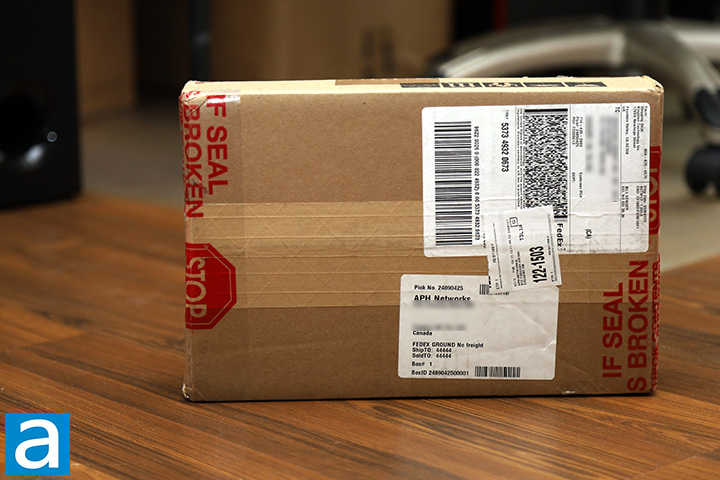 Today's review unit of the Kingston FURY Beast DDR5-5200 2x16GB kit arrived from Kingston's offices in in Fountain Valley, California, USA. Traveling with FedEx and their Ground service, this box arrived at our APH Networks offices in Calgary, Alberta in excellent condition without any concerns to be had from the outside. Inside, we also have the Kingston FURY Renegade 1TB, which was reviewed by my colleague Jonathan Kwan.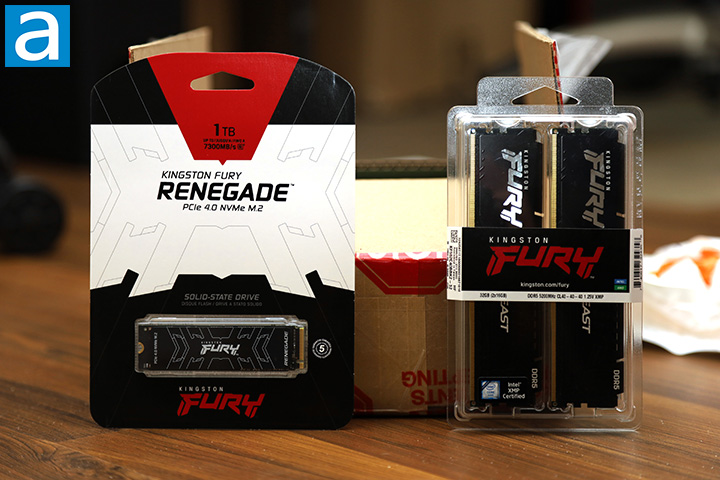 The retail container of the Kingston FURY Beast DDR5-5200 2x16GB is about as plain as you can get, with a clear plastic shell encompassing the two sticks of DDR5 memory. From this view, you can see the large Kingston FURY sticker in the middle, which also doubles as a seal to keep the two plastic shells attached to each other. The front shows off the model and specifications in smaller print, with an Intel and AMD label on the front to also show it is compatible with both platforms. At the bottom you can also see an "Intel XMP Certified" sticker to show it will support faster memory profiles. Otherwise, the memory kit itself is exposed for all to see from the outside. There is a small warranty and installation guide inside as well as a Kingston FURY sticker if you are into that sort of thing.
Before we move on, I have obtained the features and specifications from the manufacturer's website for your perusal:
Features
Greater performance starting at 4800MT/s*
Improved stability for overclocking
Increased efficiency
Intel® XMP 3.0-Ready and Certified
Qualified by the world's leading motherboard manufacturers
Plug N Play at 4800MT/s*
Low-profile heat spreader design
Specifications
Capacity: 32GB
Speed: 5200MT/s
Latencies: CL40
Voltage: 1.25V
Operating Temperature: 0°C to 85°C
Dimensions: 133.35 mm x 34.9 mm x 6.62 mm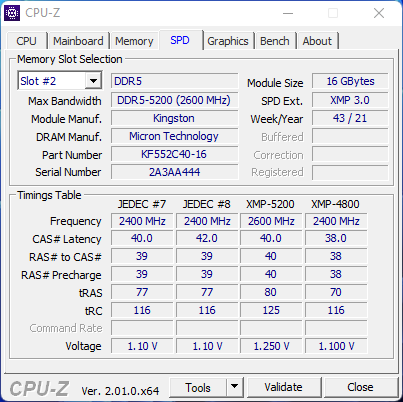 A screenshot of the memory tab in CPU-Z with the Kingston FURY Beast DDR5-5200 2x16GB installed. The SPD timings table in CPU-Z reads standard JEDEC specifications programmed into the memory as well as XMP data for running the memory at various speeds. Our ASUS ProArt Z690-Creator WiFi motherboard used for testing had no issues detecting and working with the FURY Beast RAM right out of the box using the latest BIOS revision. The Kingston FURY Beast DDR5-5200 2x16GB retails for approximately $185 at press time.
---
Page Index
1. Introduction, Packaging, Specifications
2.
A Closer Look, Test System
3.
Benchmark: AIDA64 CPU
4.
Benchmark: AIDA64 FPU
5.
Benchmark: AIDA64 Memory
6.
Benchmark: PCMark 10
7.
Benchmark: 3DMark
8.
Benchmark: PassMark PerformanceTest 10
9.
Benchmark: SuperPI 1M, Cinebench R23
10.
Overclocking and Conclusion