Page 2 - A Closer Look, Test System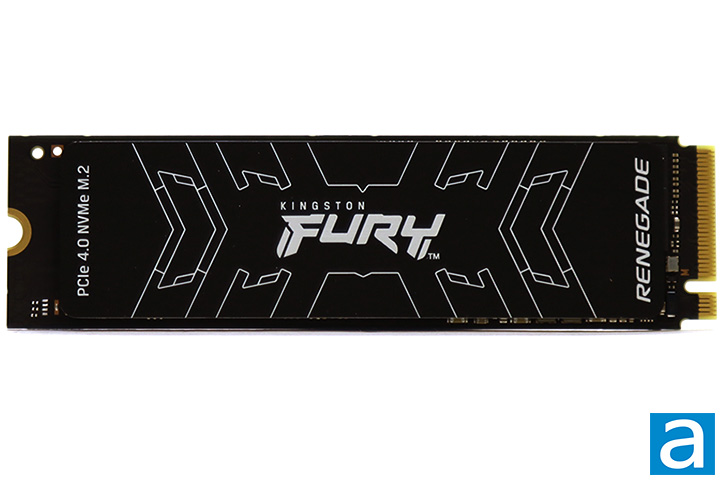 The Kingston FURY Renegade 1TB comes with no heatsink from the factory. Instead, you will get a graphene-coated aluminum sticker, which has some heat transfer capabilities, as shown in our photo above. Actual cooling will depend on the heatsink that comes with your motherboard to prevent thermal throttling, or you can pick up a SilverStone TP04.
The Kingston FURY Renegade 1TB is an M.2 2280 format SSD. If you are not familiar with the M.2 physical standard, M.2 2280 means it the size of the drive is 22mm by 80mm, hence its numerical designation. Its components are located on the black printed circuit board located behind the aluminum branding sticker, which we will take a closer look at in just a moment. The Kingston FURY Renegade 1TB works on the NVMe 1.4 logical device interface and plugs into compatible motherboards directly. Electrically, M.2 NVMe interfaces with PCIe 4.0. The FURY Renegade 1TB uses four lanes for up to 8000MB/s bandwidth in each direction. The specified weight is a paltry 7g.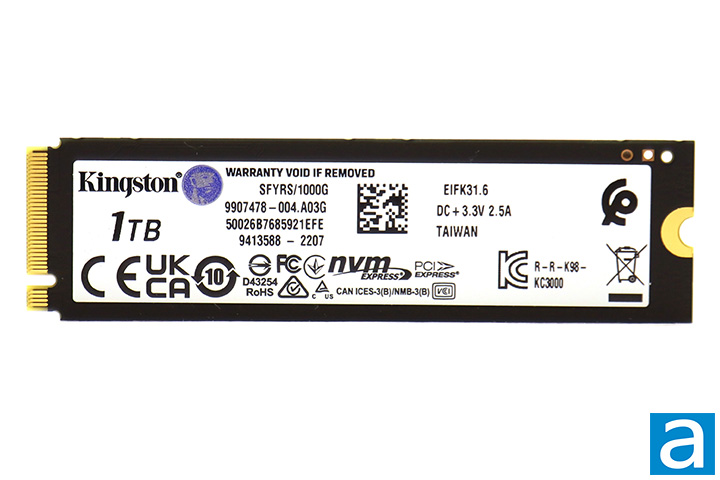 Flipping the Kingston FURY Renegade 1TB around and you will find no components of interest. The label on this side of the Kingston FURY Renegade SSD carries miscellaneous information such as its model name, capacity, certification logos, and part numbers. Other than that, it is completely blank as all the components are located on the other side. This SSD is made in Taiwan.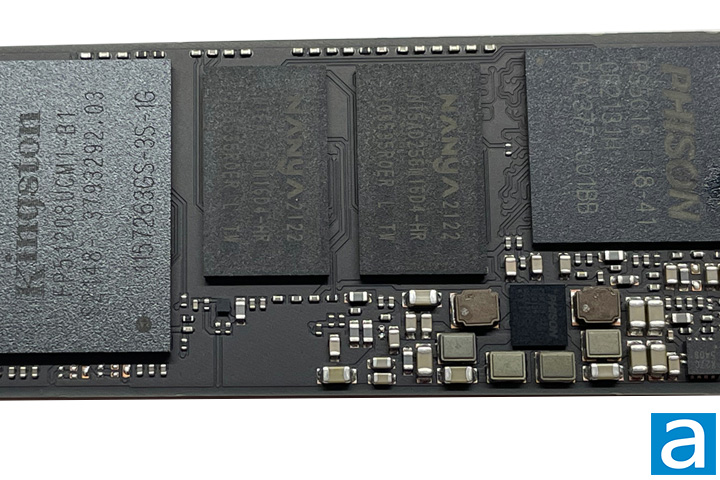 Peeling the sticker back, and you can see what the Kingston FURY Renegade 1TB is made from. Note the graphene on the aluminum sticker scratches easily, so I do not recommend doing this. There are three different components that can be seen. At the heart of Kingston's FURY Renegade 1TB is the Phison PS5018-E18 controller, which is the same as the KC3000 1TB. It is an NVMe solution on the M.2 socket to utilize the bandwidth afforded by the PCIe 4.0 standard. The controller is built on the 12nm process and has triple 32-bit ARM Cortex R5 CPUs with dual CoXProcessors. The Phison E18 does not give the FURY Renegade hardware encryption support, just like the KC3000, which is unfortunate as the FURY Renegade and KC3000's predecessor, the KC2500, does.
Two Nanya NT5AD256M16D4-HR DDR4-2666 512MB memory chips are present for a total of 1GB; they are used by the controller for system memory. The FURY Renegade's flash memory are two Micron B47R 512GB 176-layer triple-level cell chips branded as Kingston FP51208UCM1-B1; identical to the KC3000 1TB. Its rated write endurance is an excellent 1000TBW, which equates to about 548GB per day for five years. This is a 25% improvement over the KC3000 1TB and better than the WD_BLACK SN850 NVMe SSD 1TB at 600TBW, which is excellent. It is still not anywhere close to the Seagate FireCuda 510 1TB at 1300TBW, a title the FireCuda has held for years. Its rated power consumption is 5mW idle. 0.33W average, 2.8W active read, and 6.3W active write. 24GB out of the 1024GB total capacity is provisioned for the drive controller for overhead, so the actual usable space is 1TB, as advertised. You will see 931GB in Windows.
Specified at 7300MB/s read, 6000MB/s write, up to 900,000 IOPS read, and up to 1,000,000 IOPS write over NVMe 1.4 on PCIe 4.0 x4, these figures are impressive. It has a slightly higher read speed than the KC3000's rated 7000MB/s, otherwise everything else remains the same. The FURY Renegade is about twice as fast as most PCIe 3.0-based drives. For comparison, the company's PCIe 3.0 x4 equivalent, the Kingston KC2500 1TB we reviewed in 2020, was rated at only 3500MB/s read and 2900MB/s write. Meanwhile, the PCIe 3.0 x8-based AN1500 2TB add-in card featuring multiple WD_BLACK SSDs in RAID 0 can only hit 6500MB/s read and 4100MB/s write.
To see how all this hardware translates to numbers in our benchmarks, we will pit the FURY Renegade 1TB against the big boys of this game to see how this new performance PCIe 4.0-based drive from Kingston steps up against some popular NVMe-based SSDs from manufacturers like Crucial, Patriot, Western Digital, XPG, and even Kingston themselves in the next seven pages or so.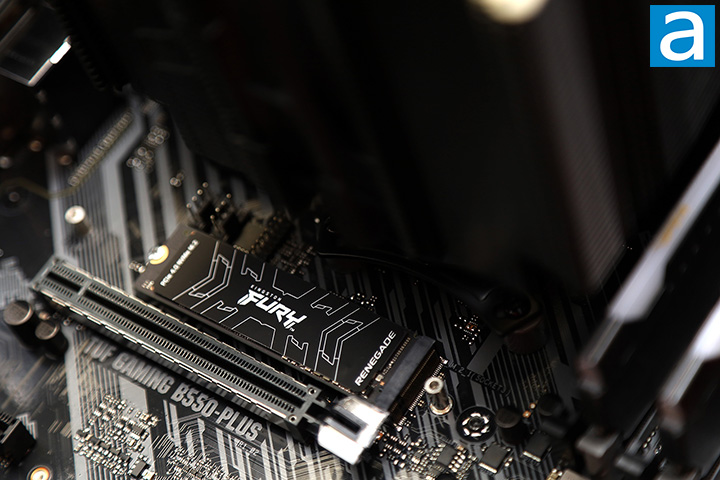 Our test configuration is as follows:
CPU: AMD Ryzen 5 5600X
CPU Cooling: Noctua NH-D15S chromax.black
Motherboard: ASUS TUF Gaming B550-Plus
RAM: Patriot Viper Steel RGB DDR4-3200 2x16GB
Graphics: Gigabyte G1 Gaming GeForce GTX 960 4GB
Chassis: NZXT H700i
Storage: Crucial P5 Plus 1TB
Power: Seasonic PRIME Ultra Titanium 850W
Operating System: Microsoft Windows 11 Pro
Compared Hardware:
- Kingston FURY Renegade 1TB
- Crucial P5 Plus 1TB
- Kingston KC3000 1TB
- Patriot P400 1TB
- Western Digital WD_BLACK AN1500 2TB
- Western Digital WD_BLACK SN770 NVMe SSD 1TB
- Western Digital WD_BLACK SN850 NVMe SSD 1TB
- XPG Atom 50 1TB
- XPG Gammix S70 Blade 1TB
---
Page Index
1.
Introduction, Packaging, Specifications
2. A Closer Look, Test System
3.
Benchmark: AIDA64 Disk Benchmark
4.
Benchmark: ATTO Disk Benchmark
5.
Benchmark: Crystal Disk Mark 8.0
6.
Benchmark: HD Tune Pro 5.70
7.
Benchmark: PassMark PerformanceTest 10
8.
Benchmark: PCMark 10
9.
Benchmark: 3DMark
10.
Conclusion