By: Jonathan Kwan (Hardware) and Aaron Lai (Testing)
February 19, 2021
For those who were in elementary school in 1990s or earlier, I want to ask you this question: Were playgrounds cooler back then compared to what we have now? I was recently talking to a friend who grew up in the 2000s, and I was lamenting how today's playgrounds simply do not stand against the stuff we had. Simply put, today's playgrounds are boring and uninteresting. Some of the stuff I remember back then include a freestanding, open-air metal spiral slide that was probably 30 feet tall, a massive climbing dome with its highest point 15 feet above the ground, and a very steep hill that we were allowed to toboggan down in the winter that is no doubt illegal today even for adults. The spiral slide was so tall you could feel it shake from the wind and it had a straight staircase where we lined up on every step there was and waited for our turn. I am not even sure if the stairs were even made to hold that many people at the same time, and only God knows what would happen if someone at the top fell backwards. With regards to the climbing dome, I was pretty sure we were not allowed to go to the top, but recess supervisors generally turned a blind eye if you appeared responsible. As for the ultra-steep tobogganing hill? It was probably the most fun I have ever had in my childhood. And let us be honest here -- none of us died and we all lived to tell the story. Personally, I did not even get injured once. I apologize to all the kids today. We grew up using these facilities without any problems, and then it was also us who decided it was too dangerous and took it away from all of you. With all this nostalgia in mind, I want to ask a somewhat related question: Was RAM cooler back then without RGB LEDs? No doubt there were some interesting stuff if we turn the clock back 15 years or so. Some of my highlights include the OCZ Special Ops Edition Urban Elite, OCZ Reaper HPC, and OCZ Flex XLC. So to answer the question on whether RAM was cooler back then without RGB LEDs, let us take come back to now and take a look at the RGB-enabled Patriot Viper Steel RGB DDR4-3200 2x16GB.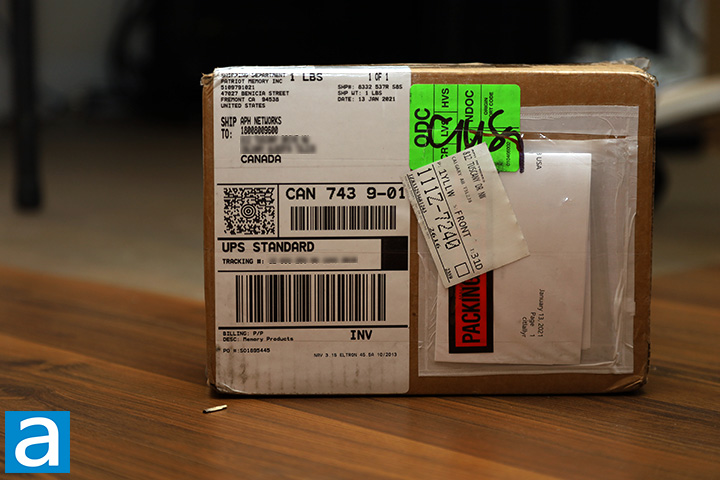 Our review unit of the Patriot Viper Steel RGB DDR4-3200 2x16GB came in a small, brown corrugated cardboard box from Fremont, California, USA as always. Using the UPS Standard service, everything arrived in excellent condition from Patriot's headquarters to us here in Calgary, Alberta, Canada for our review today. We have last reviewed RAM from the company only a few months ago with the Patriot Viper RGB DDR4-3600 2x16GB, but the last time I personally looked at any RAM from the company already goes back to 2018 with the Patriot Viper RGB DDR4-3200 2x8GB. It is crazy how time flies.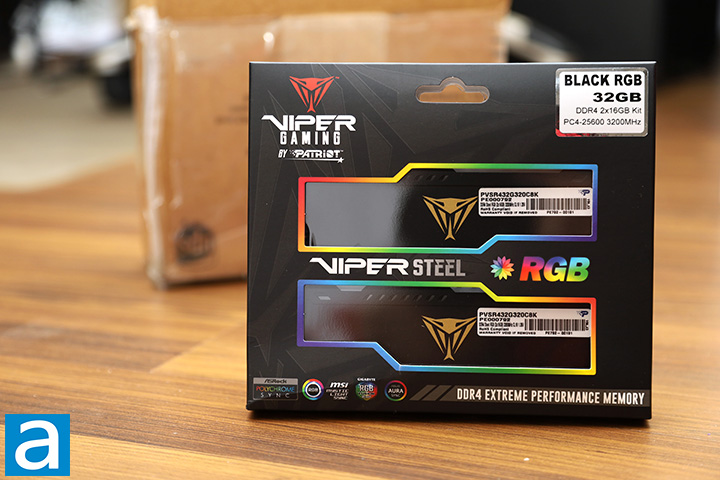 I have always found Patriot's retail memory packaging to be interesting, and the latest Viper Steel RGB is no exception. As you can see in our photo above, the Patriot Viper Steel RGB's retail box design is quite large for a memory kit. I am a big fan of products that come in an actual retail box and not a blister pack. The black background is clean and complemented by the Viper logo faded into the background. Two parallel windows show off the memory modules proudly, while the text Viper Steel RGB is boldly shown in the space between the windows. The red Viper Gaming by Patriot logo is located at the upper left-hand corner. Meanwhile, on the upper right corner of the box, you will find a label indicating its model, capacity, configuration, and speed. Our particular variant features a black heatspreader. Lastly, an array of icons indicating its compatibility with lighting control software from major motherboard manufacturers is found along the bottom. Inside the box is a clear plastic clamshell package to hold the memory in place.
Before we move on, let us take a look at the features and specifications of the Patriot Viper Steel RGB DDR4-3200 2x16GB, as obtained from the manufacturer's website:
• Capacity: 32GB (2 x 16GB)
• Base Frequency: PC4-21300 (2666MHz)
• Base Timings: 19-19-19-43
• Tested Frequency Profile 1: PC4-25600 (3200MHz)
• Tested Timings: 18-22-22-42
• Tested Voltage for Profile 1: 1.35V
• Format: NON-ECC Unbuffered DIMM
• Pin Out: 288-Pin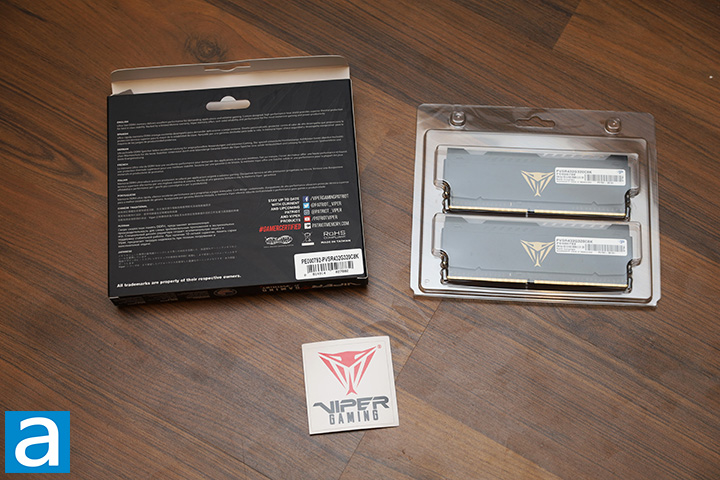 Out of the box, you will receive each memory module in the Patriot Viper Steel RGB kit packaged in its own compartment in the clear plastic shell. Besides that, one Viper Gaming sticker is included for you to show off your brand pride. There is nothing else included, but I am not sure what else you can expect from a DDR4 kit either, haha.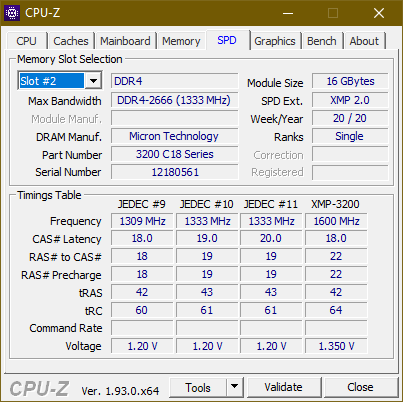 A screenshot of the memory tab in CPU-Z with Patriot's Viper Steel RGB DDR4-3200 2x16GB installed. The SPD timings table in CPU-Z reads standard JEDEC specifications programmed into the memory as well as XMP data for running the memory at various speeds. Our ASUS Prime X470-Pro motherboard used for testing had no issues detecting and working with the Viper Steel RGB RAM right out of the box using the latest BIOS revision. The Patriot Viper Steel RGB DDR4-3200 2x16GB retails for approximately $165 at press time.
---
Page Index
1. Introduction, Packaging, Specifications
2.
A Closer Look, Test System
3.
Benchmark: AIDA64 CPU
4.
Benchmark: AIDA64 FPU
5.
Benchmark: AIDA64 Memory
6.
Benchmark: PCMark 10
7.
Benchmark: 3DMark
8.
Benchmark: PassMark PerformanceTest 10
9.
Benchmark: SuperPI 1M, Cinebench R20
10.
Overclocking and Conclusion