By: Hai Wang
August 6, 2021
Among the three unalienable rights, which the United States Declaration of Independence says have been given to all humans by our Creator, I think the pursuit of happiness is the most versatile one since it really depends on the individual. For example, for me personally, I believe having things that are high performance at an affordable price are one of the many things that can bring me happiness. On one hand, high performance is something that can boost our usage experience for almost everything we use everyday. High performance computers allow us to play resource-demanding games with high quality graphics and also to be more productive when working with things like simulations or machine learning. High performance vehicles are exciting to drive, and more often than not, very safe. I do not know too much about high performance houses, but I can imagine a house has high energy efficiency performance can be very nice to live in. On the other hand, things should be reasonably priced, simply because I cannot afford them if they are too expensive. Interestingly, aside from expenses, there are also other things to consider when pursuing high performance. Take computers for example, generally speaking, high performance components also generate a lot of heat. It is important to use adequate coolers for those high performance CPUs, GPUs, and SSDs. For today's review unit, the SilverStone TP04, it is designed to cool M.2 SSDs. Is it a high performance product with a reasonable price tag? Let us read on and find out!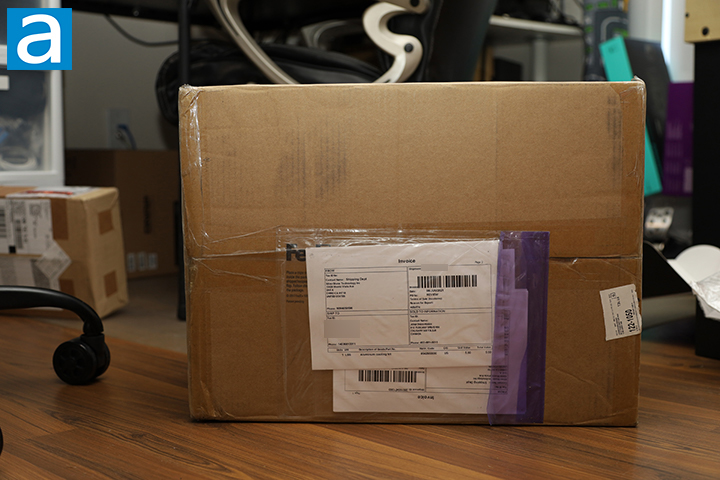 Today's review unit was shipped to us here in Calgary, Alberta, Canada via FedEx Ground from the SilverStone North America's office in Chino, California, USA. The shipping box was mostly in good condition. Even though you may see small dents by the corners of the parcel, there was no sign of unacceptable damage on the shipping box itself. Along with the TP04, there is also a SilverStone Decathlon DA850 Gold 850W PSU, which has been reviewed by my colleague Jonah a while back. In the shipping box, we can also find a SilverStone Nightjar NJ700 700W PSU, which will be reviewed by me soon.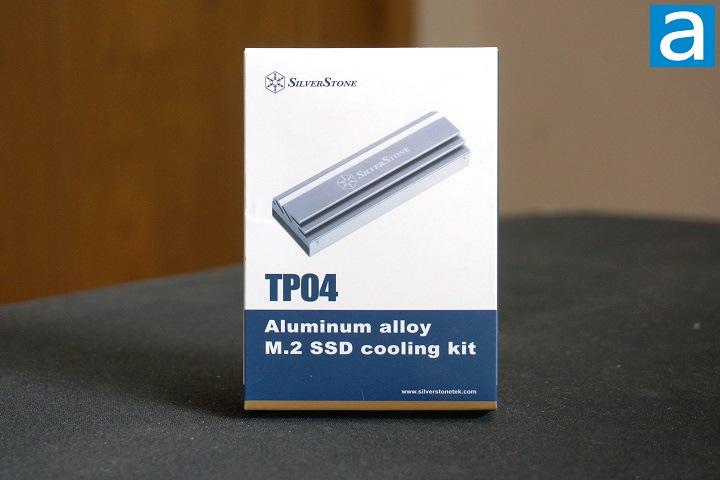 I always believe a good retail box design is essential to allow the product to be commercially successful. This is especially true for shelf-displayed computer accessories. A particular product is usually stocked with dozens of other products of the same kind on the shelf. As such, the retail box needs to persuade potential customers to choose it over other competitors. A good retail box design should convey the information of the design language, or the uniqueness, of the actual product, such that the customer's attention can be quickly attracted. For the SilverStone TP04, I think the retail package is very clean looking. First of all, you can have a clear look of the product photo that is printed on the front of the package. Moving down a little bit, we can see the TP04 product name. If the photo of the TP04 is not self-explanatory enough, then the white words on the dark blue background clearly show this is a M.2 SSD cooling kit made out of aluminum alloy. Overall, the retail box design of the product is good, since it can deliver the essential information of this SSD heatsink to the customers at first glance.
For you to know the SilverStone TP04 a little bit more, the specifications of the cooler from the official website are listed below:
-Model No.: SST-TP04T
-Color: Titanium grey
-Material: Aluminum, stainless steel
-M.2 length support: 2280 (22mm x 80mm)
-Thermal pad thickness: 1.0mm, 1.5mm
-Thermal conductivity: 1.5W/m.k
-Net Weight and dimension, gross weight: 70mm (W) x 13.4mm (H) x 22.8mm (D), 40g
--Blue pad 1: 70mm (W) x 1.5mm (H) x 20mm (D), 3.25g
--Blue pad 2 : 70mm (W) X 1mm (H) X 20mm (D), 2.8g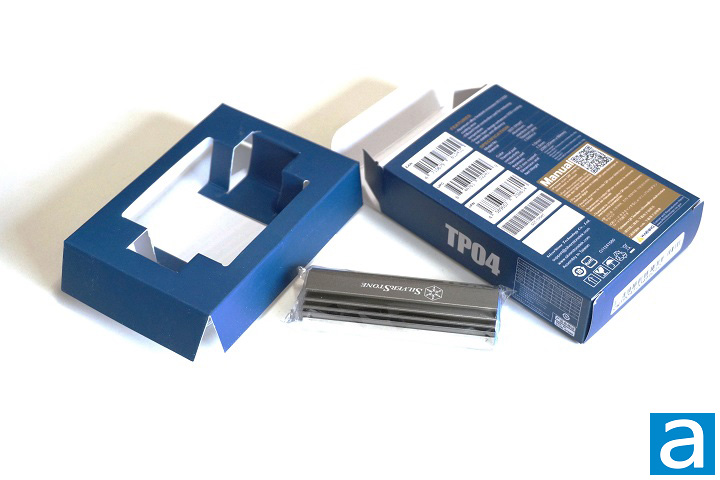 After opening the retail box from the top, the user can pull the dark blue cardboard container out. The SilverStone TP04 is held inside of the container. There is not a lot of stuff in the box for us to see. There is just a cooler wrapped in a transparent plastic bag and a warranty information sheet. Surprisingly, there is no paper based installation manual provided in the package. The user will have to find the manual on the product's website. It is understandable since we need to care about the environment. Now with everything unpackaged, let us dig into the details of this product.
---
Page Index
1. Introduction, Packaging, Specifications
2.
Physical Look - Hardware; Installation
3.
Test Results
4.
Conclusion