By: Hai Wang
August 20, 2021
Summer is a fun time. We can have all kinds of interesting outdoor activities thanks to the nice weather. Among the activities, I think BBQ is the most attractive one for me. BBQ means not only tasty food and a cold drink, but also quality time with family and friends. According to my observations, most of my colleagues are fans of BBQs as well. Every time I ask my colleagues what their holidays plans are, a good number of them will mention BBQ. There are three categories of how they would like their BBQs. Firstly, and most commonly, we have the backyard-style BBQ. As long as you have a backyard, you can definitely BBQ in it. Secondly, somebody may want to have the lakeside style BBQ. If you are bored of your backyard, then go to a lake shore. You and your friends and family can have delicious food while enjoying the beautiful lake view. Lastly, we also have the catch-and-cook style BBQ. You do not need to pack food before going out for BBQ, as long as you can catch your food it is fine. In this case, you need to have fishing or hunting gear as well as your fishing or hunting license. For some people, nothing tastes better than his or her own catch. For me, just by imagining the sizzling meat on the grill makes my mouth water. Roasting food is nice, but the last thing I want to do is to roast my computer components. I would like to make sure all my computer parts have enough cooling so they will not overheat, which applies to my PSU as well. As for today's review unit, the SilverStone Nightjar NJ700 700W PSU, it features a fanless design. How can a PSU deliver 700W of power with only passive cooling? Is the cooling performance sacrificed for this 0dB noise design? Let us read on and find out!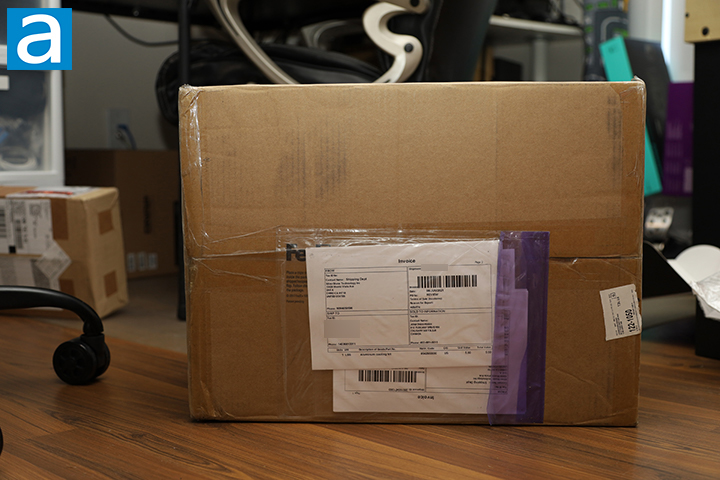 Today's review unit was shipped to us here in Calgary, Alberta, Canada via FedEx Ground from the SilverStone North America's office in Chino, California, USA. The shipping box was mostly in good condition. Even though you may see small dents at the corners of the parcel, there was no sign of unacceptable damage on the shipping box itself. Along with the NJ700, there was also a SilverStone Decathlon DA850 Gold 850W PSU, which has been reviewed by my colleague Jonah a while back, and a SilverStone TP04 M.2 SSD cooling kit, which has been reviewed by me a few weeks ago.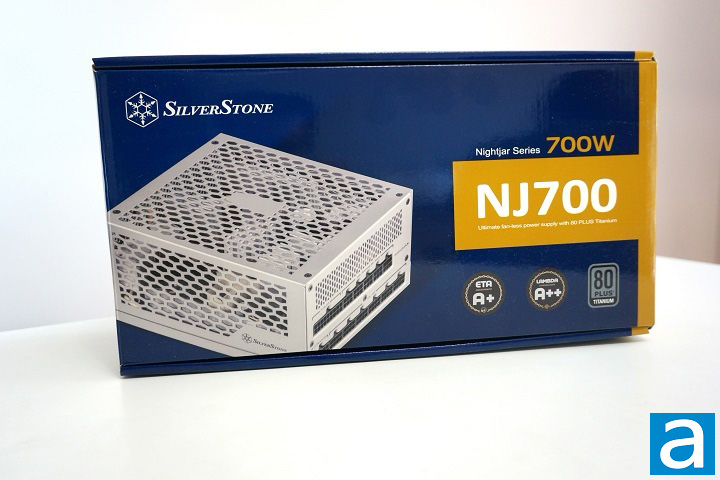 After pulling the review unit out of the shipping box, we can get a closer looker at the retail package. The overall design of the package is quite simple for a PSU. From the front view, the first word that caught my eyes is the product name, NJ700. There is a simple description, "Nightjar Series 700W", right above the product name. A photo of the power supply unit is shown at the left side of the box. By looking at the retail package in the front view, you cannot get too much information about it other than the power it can deliver, and the 80 Plus Titanium certification label. To dig in more, you really need to look at the back side of the box. On the flip side of the box, there is a specifications table, which indicates how much power it can deliver at each voltage level. All of the important features of this power supply unit are located at the back of the package as well. Generally speaking, the retail package design does its job. By just glancing at the package, customers can easily find the most important information about this PSU, its form factor, and supported power output. Meanwhile, if you are familiar with SilverStone's PSU products, you will probably know this product is a fanless one since it belongs to the Nightjar series.
Before digging into details, let us take a look at the specifications of the SilverStone Nightjar NJ700 700W, as obtained from the manufacturer's website:
-Product No.: SST-NJ700
-Max. DC Output: 700W
-Power density: 319W per liter
-Model (safety certification): SST-NJ700
-Color: Silver (Lead-Free Paint)
-Combined +3.3V & +5V: 100W
-Combined +12V: 696W
-Input Voltage: 90 ~ 264 Vrms
-Input Frequency Range: 47Hz ~ 63Hz
-PFC: Active PFC (PF>0.95 at Full Load)
-Efficiency: 90%~94% @ 10% ~ 100% loading
-MTBF: 100,000 hours
-Operating temperature: 0°C ~ 45°C
-Protection: Over Current Protection, Over Power Protection, Over Voltage Protection, Over Temperature Protection, Short Circuit Protection
-Connectors: 1 x 24 / 20-Pin motherboard connector (610mm), 2 x 8 / 4-Pin EPS / ATX 12V connector ("650mm" x 2), 4 x 8 / 6-Pin PCIE connector ("750mm" x 4 ), 12 x SATA connector ("450mm / 120mm / 120mm / 120mm" x 3), 6 x 4-Pin Peripheral connector ("450mm / 120mm / 120mm" x 2), 1 x 4-Pin Floppy connector (100mm) ※ N700 is not compatible with PP05-E and PP06 cables.
-Cooling System: Fan-less thermal solution
-Form factor: ATX
-Noise Level: 0 dBA
-Dimension: 150 mm (W) x 86 mm (H) x 170 mm (D), 5.91" (W) x 3.39" (H) x 6.69" (D)
-Weight: 2.3 kg
-Other: GPU Support list; Compatible with ATX12V v2.4
Upon opening the box, you can see all the things you would expect from a power supply unit package. There is the PSU itself and a set of accessories. It is worth mentioning inside of the box, the unit is protected by two pieces of foam brackets. Since it is a fully modular power supply, the cables are provided separately from the main unit. The cables are held inside of a black cloth bag, and unused cables can be stored there. The bag is pretty heavy, which means there are quite a few high-quality cables inside. There is a user instruction provided for your convenience. You can also find a bag of screws and zip ties for you to install it in your computer case.
---
Page Index
1. Introduction, Packaging, Specifications
2.
Physical Look - Outside
3.
Physical Look - Inside
4.
Minor Tests and Conclusion