By: Jonathan Kwan
April 24, 2015
What is the main difference between a guy getting a haircut, and a girl getting a haircut? Well, for one thing, whenever a guy gets a haircut, it costs $10, and the results are blatantly obvious. On the other hand, whenever a girl gets a haircut, it costs $300, and looks exactly the same as it was before. Naturally, you will probably agree with me if you are a guy, and if you are a girl, please feel free to send a complaint to us by clicking the "Contact Us" link at the bottom of this page (All emails will go to the Editor-in-Chief, who is... well, me). A couple of weeks ago, one of my female friends enthusiastically messaged me, saying she got a haircut, promising I could actually tell the difference this time. To prove her point, she also sent me a selfie, which turned out to look exactly the same as it was before. On a more serious note, I did look closely and noticed the volume of hair has been reduced, and some layering techniques were used, but it did take some effort to me to correctly identify these elements. When I posted the photos of Gigabyte's G1 Gaming GeForce GTX 960 4GB on the forums last month, some say it looked exactly the same as the G1 Gaming GeForce GTX 970 4GB I reviewed back in January. Of course, any enthusiast will know there is massive performance difference between an NVIDIA GTX 960 and GTX 970 based card. Furthermore, with texture demanding titles, there is even a considerable performance difference between a 2GB card and the 4GB variant we have on hand today. Exactly how much? Well, we took two cream-of-the-crop G1 Gaming samples, a duo of reference NVIDIA specification boards with the same GPU, along with the previous mainstream performance champion, the GTX 760, and benchmarked them all against each other to find out. Just like my friend's hair, looking very similar does not mean they are the same thing.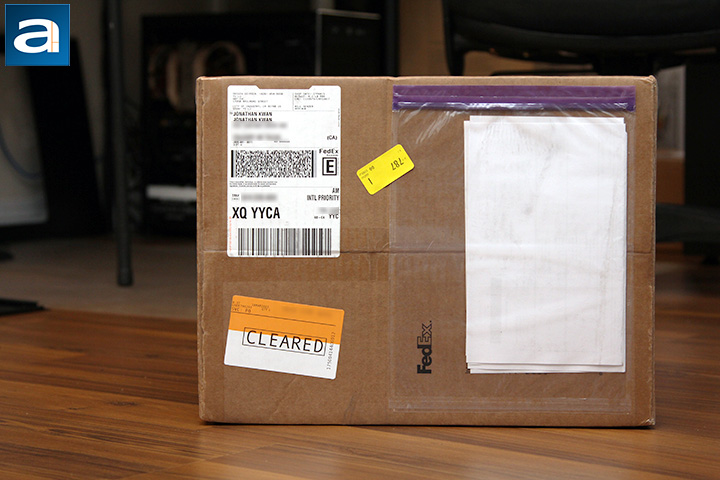 Our review unit of Gigabyte's G1 Gaming GeForce GTX 960 4GB came in a medium-sized, brown corrugated cardboard box from the company's American headquarters at City of Industry, California, USA. Using FedEx International Priority, it arrived safely to us here in Calgary, Alberta, Canada in almost no time. There was no visible damage at all on the box, and it is filled with tons of packing peanuts inside to ensure everything arrives safely, even if it is handled by the most violent of all package handlers. Upon landing on our doorstep, it was always busy season here at APH Networks, but we wasted no time to crack the box open, and got straight to the photos.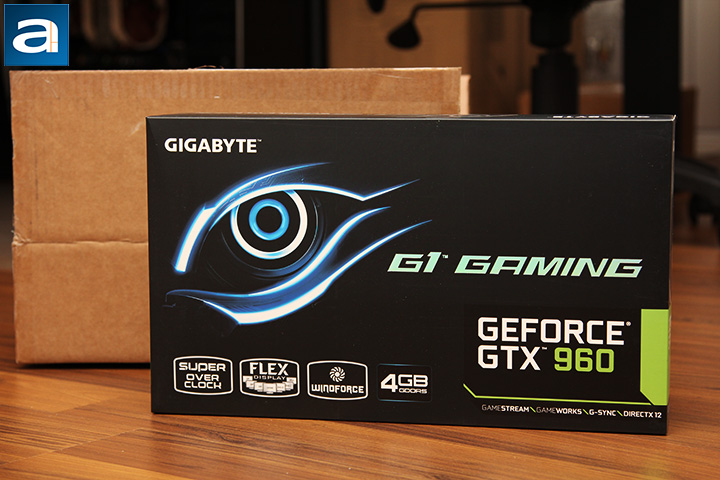 The GTX 960 we are reviewing today is the latest model from Gigabyte's G1 Gaming series. As aforementioned, we have also covered the G1 Gaming GeForce GTX 970 4GB back in January; another video card from the company's excellent lineup. What sets G1 Gaming apart is its WindForce 3X cooler, GPU Gauntlet, and high factory overclocks. The Gigabyte G1 Gaming GeForce GTX 960 4GB we are reviewing today is no different. As you can see in our photo above, the retail box of Gigabyte's G1 Gaming GeForce GTX 960 4GB comes in a pretty clean design. It was created by a fusion of Gigabyte-ness, and an essence of NVIDIA green. Gigabyte's logo can be found at the top left corner, while a stylized eye is printed right below it on a completely black background. Adjacent to it is the text "G1 GAMING" proclaimed proudly in front, while the model name is found just below. Feature highlights are displayed all along the bottom by an array of icons; including Super Overclock, Flex Display, and WindForce. At the back, a lot of fancy pictures and diagrams expand on these three things, but we will touch on every one of them throughout this review anyway. Since we are not reviewing the box, I will just go ahead and move on. But before we go too far, let us take a look at the specifications of the GV-N960G1 GAMING-4GD, as obtained from the manufacturer's website:
Chipset: GeForce GTX 960
Core Clock: OC Mode - GPU Boost Clock: 1329 MHZ, GPU Base Clock: 1266 MHz
Gaming Mode - GPU Boost Clock: 1304 MHZ, GPU Base Clock: 1241 MHz
Memory Clock: 7010 MHz
Process Technology: 28 nm
Memory Size: 4 GB
Memory Bus: 128 bit
Card Bus: PCI-E 3.0
Memory Type: GDDR5
DirectX: 12
OpenGL: 4.4
PCB Form: ATX
Digital max resolution: 4096 X 2160
Analog max resolution: 2048 x 1536
Multi-view: 4
I/O: Dual-link DVI-I*1/DVI-D*1/HDMI*1/Display Port*3
Card size: H=43mm, L=295mm, W=114mm (without bracket)
Power requirement: 400W (with one 6-pin & one 8-pin external power connectors)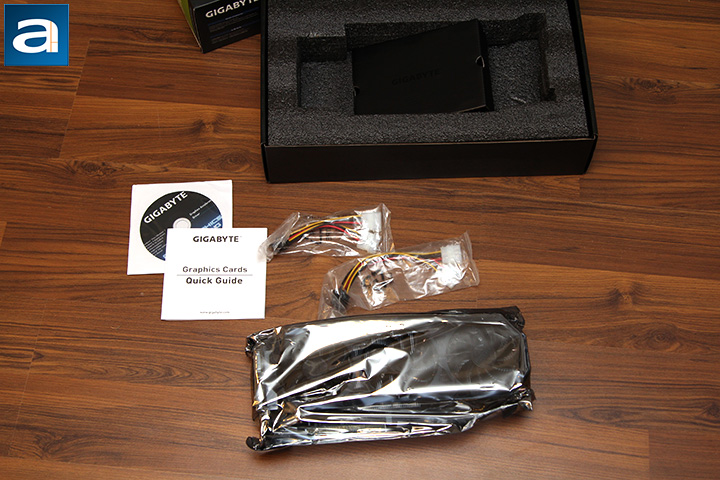 Inside the outer packaging is a thick, black cardboard flap box to protect and accommodate the actual contents. Opening the box with a glossy black "G1 GAMING" text in front, a large Styrofoam block can be found with a custom shaped pit accommodates the graphics card, along with a compartment underneath that holds the accessories. Everything is carefully packaged and ensured to be in the right order when the Gigabyte G1 Gaming GeForce GTX 960 arrives in the hands of the consumer. Out of the box, you will receive the following contents:
1x Gigabyte G1 Gaming GeForce GTX 960 4GB
1x Molex to 8-pin PCIe adapter
1x Molex to 6-pin PCIe adapter
1x Quick start guide
1x Driver/Software CD
Not a whole lot is included from the factory. Personally, I would have preferred an HDMI or DisplayPort cable in place of those Molex to PCI Express adapters. The likelihood of anyone looking to purchase a $260 graphics card and does not own a power supply with the right connectors is pretty slim in my personal opinion, haha. I am pretty sure every respectable PSU made in the last five or six years or so will have at least one PCIe 8-pin and one PCIe 6-pin connector.
---
Page Index
1. Introduction, Packaging, Specifications
2.
NVIDIA GeForce GTX 960 Architecture
3.
A Closer Look, Installation, Test System
4.
Benchmark: 3DMark
5.
Benchmark: Battlefield 4
6.
Benchmark: BioShock Infinite
7.
Benchmark: Crysis 3
8.
Benchmark: GRID 2
9.
Benchmark: Metro: Last Light
10.
Benchmark: Thief
11.
Benchmark: Unigine: Heaven 4.0
12.
Power Usage, Temperature, Noise
13.
Overclocking and Conclusion