By: Jonah Chow
March 31, 2022
When I learned how to ski growing up, I learned like many people to ski with a set of poles. However, recent discussions with friends I have been skiing with reminded me of a friend who learned the slopes without any ski poles. Having tried skiing without poles myself, I can say it has its advantages but also disadvantages. On one hand, skiing without poles forces you to balance yourself better as you no longer have a stick you can use to push yourself from falling. When carving, you have to really rely on the movement of your legs and body, which is essential to improving your turns. However, poles make for a great tool for doing difficult runs with rough terrain. Pole planting is a great way to map out where you want to turn to next, and without poles, makes it much harder to turn around large moguls or bumps. It may be a way to force yourself to be better and save money, but it comes with disadvantages without a doubt. Similarly, DRAM chips are an important part of helping solid state drives perform faster. Removing them will reduce cost, but could affect performance. However, this could also force manufacturers to design their drives with novel solutions and algorithms to try to keep up with other drives with a DRAM chip. Today, we have a DRAM-less drive with the Patriot P400 1TB. Does this SSD have the performance to make up for the lack of a DRAM chip? Let us read on to find out!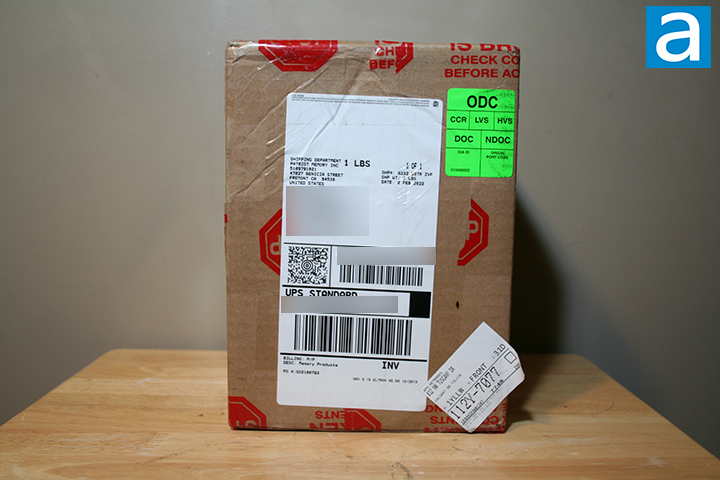 Today's review unit of the Patriot P400 1TB arrived from City of Industry, California, USA. The shipping box arrived at our APH Networks offices in Calgary, Alberta, and traveled with UPS Standard. The shipping box arrived in great condition with no major scratches or scuff marks. A green ODC sticker can be seen on the front side, which was also present on Patriot's own Viper Elite II DDR4-4000 2x8GB memory kit.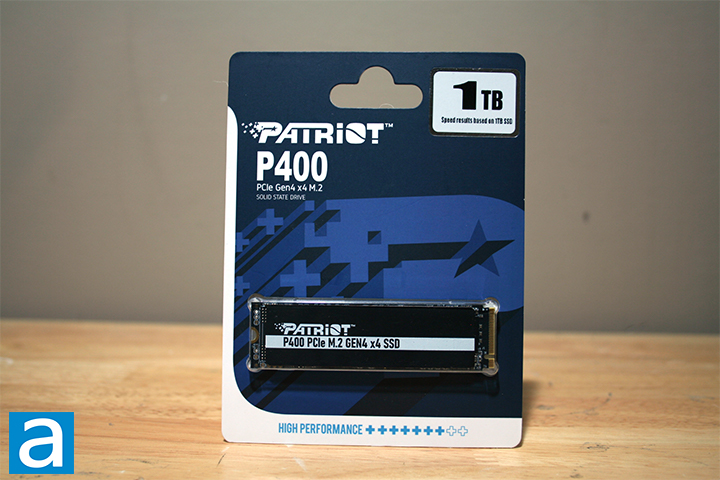 The retail box is conservative in size and look, using a simple blue and white color scheme. The physical drive is displayed at the front with the storage capacity labeled on a sticker at the top right. The Patriot label is on the top left with the P400 label just below and the "PCIe Gen4x4 M.2 Solid State Drive" description just below. A text labeled "High Performance" is listed at the bottom along with a plus-shaped pattern with seven out of the nine plus shaped patterns being shaded in blue, which I can only assume to be a seven out of nine performance rating. I will give Patriot props for their upfront honesty, haha. Additional information is listed on the sides and back of the retail box.
Before we continue on, here are the specifications per the manufacturer's website:
Patriot Inv.Number: P400P1TBM28H
Description:
Certifications/Safety: CE/FCC/RoHS
Product Warrenty: 3 Year Warranty
Unit Weight: 0.01 Ibs/ 9 gm
Unit Dimensions: 3.15"(L) x 0.87"(W) x 0.15"(H); 8 cm(L) x 2.2 cm(W) x 0.38 cm(H)
Packaging Type: Hang card
Packaging Weight: 0.049 Ibs/ 20 gm
Packaging Dimensions: 0.26"(L) x 5.15"(W) x 3.92"(H); 0.66 cm (L) x 13.08 cm (W) x 9.96 cm (H)
Master Carton Weight: 22 lbs/10 kg
Master Carton Dimensions: 18.00"(L) x 14.84"(W) x 12.05"(H); 45.8 cm (L) x 37.7 cm (W) x 30.6 cm (H)
Units Per Inner Carton: 50
Units Per Master Carton: 400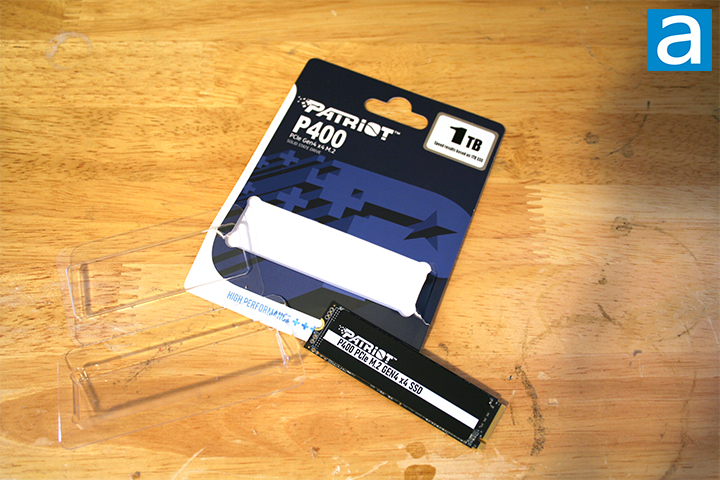 Opening the retail box reveals the Patriot P400 1TB placed inside a black plastic shell. The drive arrived in perfect condition, so the packaging did its job. The size of the box is quite small, wasting no space. There is no user manual, but related information can be found at the back of the box. Nothing else is included with the retail packaging, but this is to be expected with storage devices. The Patriot P400 has a warranty of three years.
---
Page Index
1. Introduction, Packaging, Specifications
2.
A Closer Look, Test System
3.
Benchmark: AIDA64 Disk Benchmark
4.
Benchmark: ATTO Disk Benchmark
5.
Benchmark: Crystal Disk Mark 8.0
6.
Benchmark: HD Tune Pro 5.70
7.
Benchmark: PassMark PerformanceTest 10
8.
Benchmark: PCMark 10
9.
Benchmark: 3DMark
10.
Conclusion