By: Jonah Chow
July 23, 2021
When it comes to movies, there is usually an unspoken expectation that long-awaited sequels will have great quality due to the amount of time it took to create them. The Incredibles 2 was a sequel to one of the most renowned Pixar films, so naturally, people expected a lot from it. The sequel itself was fine, but because it was only that, it unfortunately did not live up to the standard set by the first Incredibles film. On the contrary, Blade Runner 2049 was a visually stunning film that took the ideas of the 1982 Blade Runner film and expanded on it, resulting in an almost universally acclaimed production. Not many people had asked or expected a sequel to Blade Runner, so the expectations were more reasonable, which I personally believe helped add to its success. Finally, the 2017 It adaptation of the Stephen King novel of the same name also received praise from audiences and critics alike, with it also being a reboot of the 1990 mini-series. While not directly a sequel, it still proves how long-awaited continuations or retelling of a story can be heavily anticipated by their fans and can reach levels of praise depending on the film or series that was executed. Speaking of sequels, today we have the Patriot Viper Elite ll DDR4-4000 2x8GB, which can be seen as a continuation of the first Patriot Viper Elite back in 2016. The difference this time is the Viper Elite II has, at first glance, a new heatspreader, and new specifications with this specific kit running at an operating frequency of DDR4-4000. Does the Viper Elite II prove to be a worthy sequel? Let us read on to find out!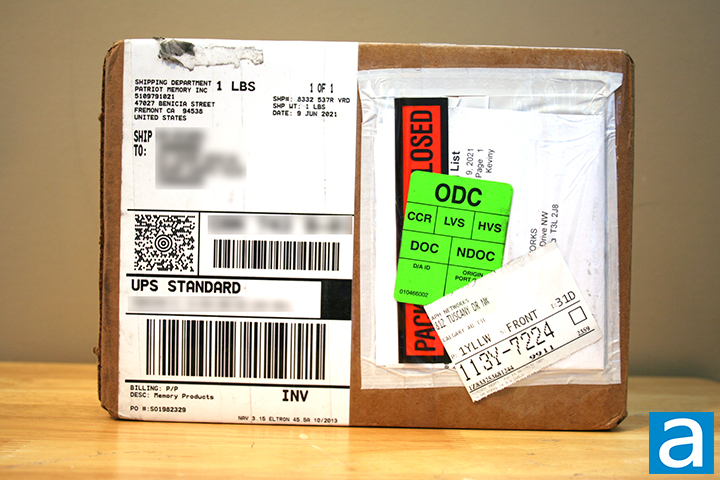 Our review unit of the Patriot Viper Elite II DDR4-4000 2x8GB arrived via UPS Standard from City of Industry, California, USA. The shipping package arrived to us here in Calgary, Alberta, Canada. The brown corrugated cardboard box arrived in good condition with no scratches or scuff marks.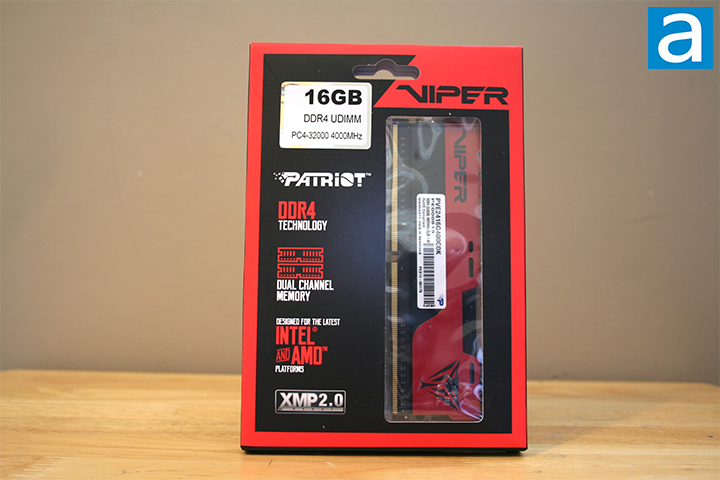 The retail packaging of the Patriot Viper Elite II DDR4-4000 2x8GB takes on a bright red and black color scheme. The physical Viper Elite II module can be seen through transparent plastic towards the right. A sticker towards the top-left indicates the memory capacity, speed, and DIMM type. The left side also contains various pieces of information, including the company, channel type, DDR4 technology, and basic memory information such as Intel and AMD compatibility. The backside contains additional information including the manufacturer location, certification labels, and warranty.
Before we move on, let us take a look at the features and specifications, as found on Patriot's website:
Product Information
- Patriot Inv. Number: PVE2416G400C0K
- Description: Viper Elite II DDR4 16GB (2 x 8GB) 4000MHz w/black and red heatshield Dual Kit
- Certifications: CE/FCC/RoHS
- Product Warranty: Limited Lifetime Warranty
- Unit EAN/UPC: 0814914028605
- Unit Weight: 0.15 lbs / 72 gm
- Unit Dimensions: 0.19"(L) x 5.27"(W) x 1.37"(H)/0.5 cm(L) x 13.4 cm(W) x 3.5 cm(H)
- Packaging Type: Retail Box
- Packaging Weight: 0.26 lbs / 120 gm
- Packaging Dimensions: 0.53"(L) x 4.81"(W) x 7"(H)/1.37 cm(L) x 12.2 cm(W) x 17.7 cm(H)
- Master Carton Weight: 31.74 lbs /14.4 kg
- Master Carton Dimensions: 16.92"(L) x 12.59"(W) x 15.94"(H)/43 cm(L) x 32 cm(W) x 40.5 cm(H)
- Units Per Inner Carton: 20
- Units Per Master carton: 120
Specifications
- Capacity: 16GB (2 x 8GB)
- Base Frequency: PC4-21300 (2666MHz)
- Base Timings: 19-19-19-43
- Tested Frequency Profile 1: PC4-32000 (4000MHz)
- Tested Timings: 20-26-26-46
- Tested Voltage for Profile 1: 1.4V
- Format: NON-ECC Unbuffered DIMM
- Pin Out: 288-Pin
Features
- Product line: Viper Elite II
- Edition: Red heatshield with black Viper logo/top
- Aluminum heat spreader with unique and specific design element
- Feature Overclock: XMP 2.0 support for automatic overclocking
- Compatibility: Tested across the latest Intel and AMD platforms for reliably fast performance
- Limited lifetime warranty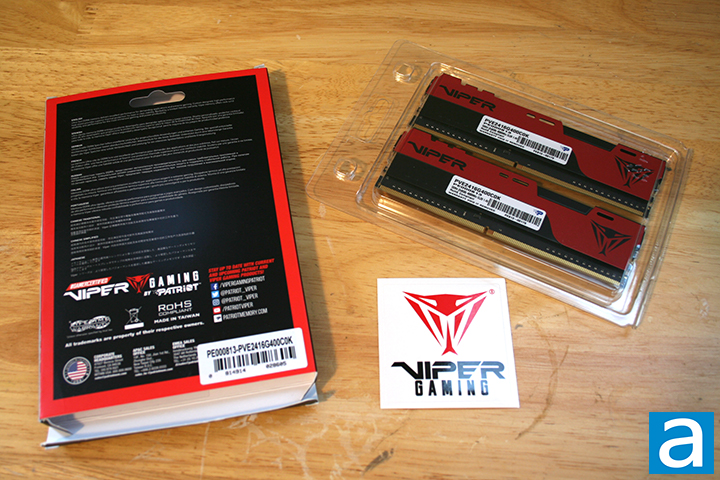 Opening the box, you have the two Patriot Viper Elite II memory modules. Both RAM sticks are inside a plastic shell, which helps protect the memory modules from scrapes and scratches. Aside from a Patriot sticker, nothing else arrived in the memory kit package, which is to be expected.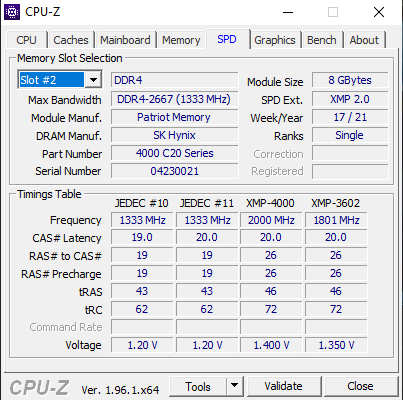 The photo above is a screenshot of the SPD tab in CPU-Z with Patriot's Viper Elite II DDR4-4000 2x8GB installed. The SPD timings table in CPU-Z reads standard JEDEC specifications programmed into the memory along with XMP/DOCP data for running the RAM at various speeds. My MSI MAG B550 Tomahawk motherboard used for testing was perfectly capable of getting all the information about the Viper Elite II RAM. It should be noted that you may need to manually set the DOCP profile in the BIOS depending on what motherboard you are using. The Patriot Viper Elite ll DDR4-4000 2x8GB retails for about $150 at press time.
---
Page Index
1. Introduction, Packaging, Specifications
2.
A Closer Look, Test System
3.
Benchmark: AIDA64 CPU
4.
Benchmark: AIDA64 FPU
5.
Benchmark: AIDA64 Memory
6.
Benchmark: PCMark 10
7.
Benchmark: 3DMark
8.
Benchmark: PassMark PerformanceTest 10
9.
Benchmark: SuperPI 1M, Cinebench R23
10.
Overclocking and Conclusion