By: Jonathan Kwan
March 5, 2021
A few months ago, I was listening to a lecture on commercial network communications technology. For the most part, the presentation was very informative and well-researched, but the presenter made some errors when in his discussion of wireless channel conditions. I talked to him after the presentation complimenting him on a great lecture and also let him know how some of these wireless channel conditions actually worked. Usually, from my experience, most people are quite open to correction, but this guy did not accept my corrections -- even though they mostly minor -- as well as I hoped he would. Instead, he flexed back at me and told me he is currently doing his PhD in electrical engineering, so he knows what he is talking about. I am not sure why that is an argument considering anyone, no matter what their education level is, can make mistakes. But since he wanted to flex his credentials, why not counter-flex when I actually have a PhD in electrical engineering and my specialty is wireless communications? I guess credentials are important and all, but what you actually know makes all the difference. Over the years, I have reviewed many SSDs that plug directly into PCI Express slots, including the OCZ RevoDrive 350 480GB, Kingston HyperX Predator PCIe 480GB, OCZ RD400A 512GB, and Gigabyte AORUS RGB AIC NVMe SSD 512GB. That said, while they all have the same physical interface, they all work differently -- the RevoDrive 350 uses a custom RAID architecture, HyperX Predator is pure PCIe, RD400A is an NVMe drive with an add-in card, and the AORUS RGB AIC is an NVMe drive in an expansion card form -- meaning there is a big variance in performance. Today, we will take a look at the Western Digital WD_BLACK AN1500 2TB. Just like how credentials and knowledge are both important, while the AN1500 is another PCIe-based SSD, what is actually behind it totally different than anything I have just listed. Featuring a pair of NVMe SSDs in RAID 0 under its massive heatsink, the WD_BLACK AN1500 2TB promises up to a whopping 6500MB/s throughput over PCIe 3.0. Could this be the greatest PCIe 3.0 SSD ever made? Read on to find out!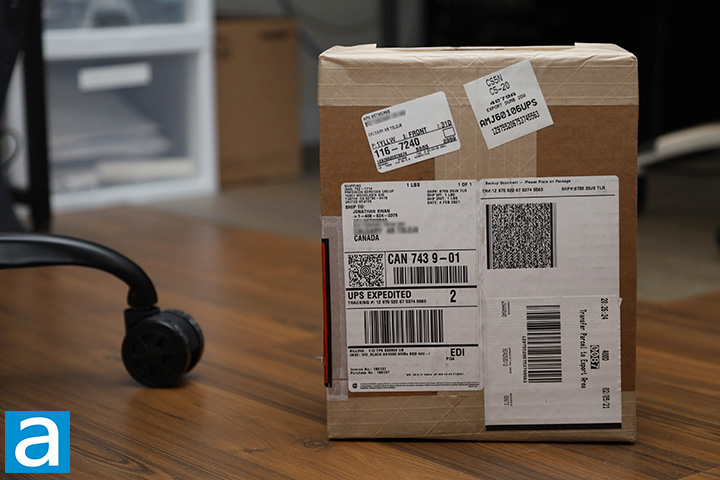 Our review unit of the Western Digital WD_BLACK AN1500 2TB arrived in a medium-sized brown corrugated cardboard shipping box from a local print shop in Tustin, California, USA. Tustin is a city in the Los Angeles metropolitan area, which, being someone who is not from the area, is the first time I have ever heard of this city of 80,000. Using UPS Expedited, the package arrived on our doorstep here in Calgary, Alberta, Canada in excellent condition for our review today.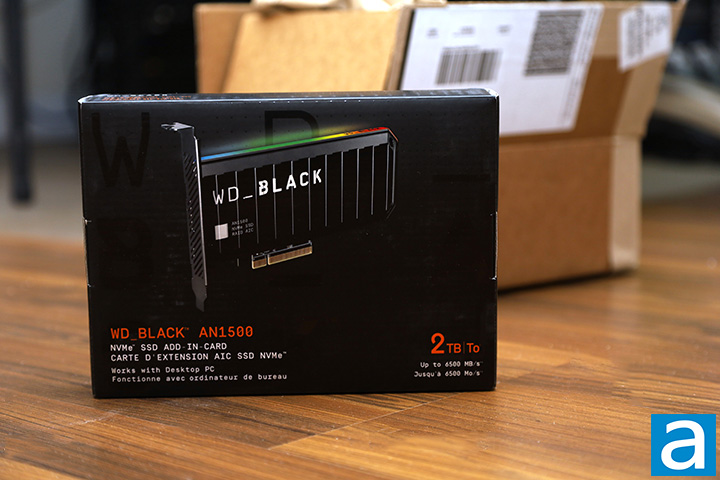 Similar to other WD_BLACK series SSDs I have reviewed from the company like the Black SN750 NVMe SSD 1TB, the AN1500 2TB came in retail packaging. Its retail box comes in a name-appropriate black and white color scheme. The company's branding can be seen subtly displayed in courier font in the background. It looks quite unconventional for a traditional and conservative company like Western Digital, which is a great thing in my opinion. On top of it, you can see a 3/4 shot of the SSD itself. You can see its 2TB capacity specification and up to 6500MB/s rate read speed near the bottom right corner. Meanwhile, at the bottom left corner, you will find the product name and description. Feature highlights and a list of contents can be found at the back of the box.
Before we move on, let us take a look at the specifications of the Western Digital WD_BLACK AN1500 2TB, as obtained from the manufacturer's press material:
Specifications
Form Factor: PCI Express Card
Dimensions (H x W x L): 13mm X 72mm X 176mm
Weight: 0.21 kg (0.47 lb)
Operating Temperature: 5°C to 35°C
Non-operating Temperature: -20°C to 65°C
Interface: PCIe Gen3 x8
Power
Power Consumption Write Up to (Active) (W): 15.7
Power Consumption Read Up to (Active) (W): 12.8
Power Consumption Up to (Idle) (W): 8.5
Certifications: FCC, CE, CB, UL
Limited Warranty: 5 Years
Performance
Seq. Read (up to): 6,500
Seq. Write (up to): 4,100
Rand. Read (up to): 780K
Rand. Write (up to): 700K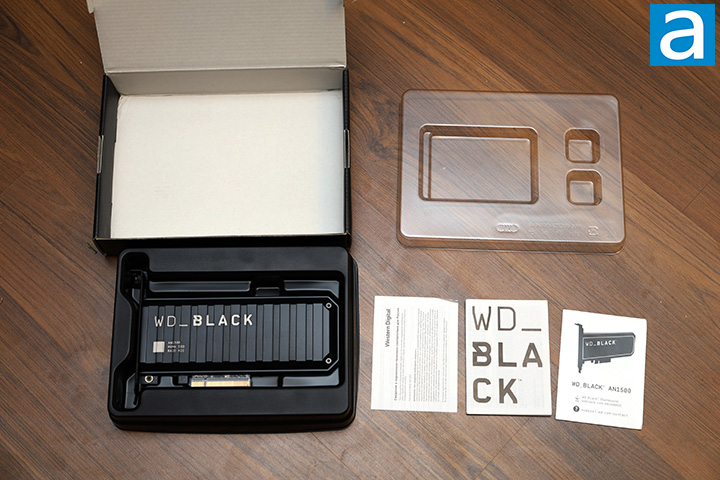 Opening the flap-top box reveals the Western Digital WD_BLACK AN1500 2TB itself placed on a black plastic tray behind a clear plastic shell. Product literature include a warranty guide and an insert to tell you to download the Dashboard software from the company's website. This is it -- out of the box, you will get nothing more than what you need; not even a set of screws or an anti-static bag. Not that we need them anyway, of course.
---
Page Index
1. Introduction, Packaging, Specifications
2.
A Closer Look, Test System
3.
Benchmark: AIDA64 Disk Benchmark
4.
Benchmark: ATTO Disk Benchmark
5.
Benchmark: Crystal Disk Mark 8.0
6.
Benchmark: HD Tach 3.0.1.0
7.
Benchmark: HD Tune Pro 5.70
8.
Benchmark: PassMark PerformanceTest 10
9.
Benchmark: PCMark 10
10.
Conclusion