By: Aaron Lai
December 3, 2021
My colleague Jonathan Kwan has an interesting theory that I will dub the "girl-space-friend", or GSF, theory. In essence, he believes everyone has a close platonic friend of the opposite gender. Despite the platonic relationship, the person is very good friends with the GSF and can chat with them for long periods of time. This is definitely true for Jonathan, as he loves to talk about his GSF all the time. Recently, he started to call me out on my own GSF, to which I laughed but neither accepted nor denied. I would admit that my friend is close and I feel comfortable talking and gaming with her for hours on end. He then further tried to prove his theory by pointing out other people in our church. I could be convinced of his theory, but I still felt like it was a bit tongue-in-cheek as well. However, this past month, I spoiled his theory because I started dating my supposed GSF, which breaks the "platonic" part. Understandably, Jonathan was disappointed in me, because I had broken his theory. Some of you readers may remember her from my hot potato trilogy over two years ago, but in the future, I will refer to her as my LPY or lui pang yau, which means girlfriend in Cantonese. On the other hand, one thing that is definitely truer and more provable is Noctua's continued introduction of chromax.black variants for their heatsinks. This is not too surprising, considering we have seen multiple examples of this since last year. Today, we have the newest one, which is the Noctua NH-U12A chromax.black. We reviewed the original one back in 2019, but does this new version bring anything new other than a color refresh? Let us read on to find out!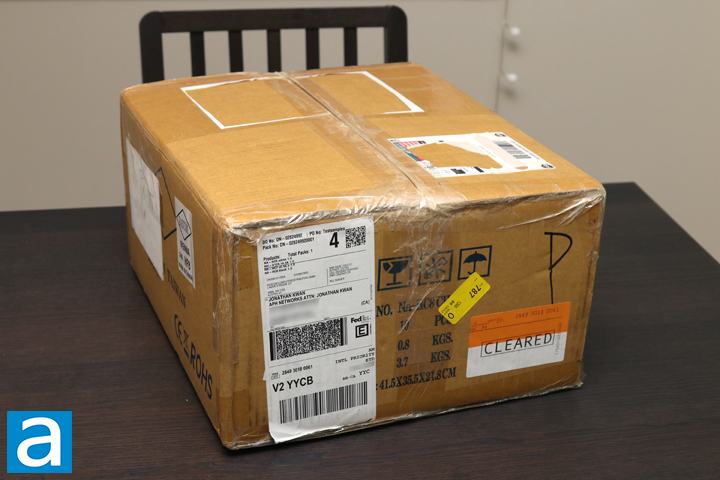 Today's review unit of the Noctua NH-U12A chromax.black arrived from the company's headquarters in Vienna, Austria. Traveling with FedEx and their International Priority service, this did not arrive in a Noctua branded box, as you may have seen from our other recent Noctua products, but instead in a more standard brown corrugated cardboard box. This is because Noctua has packed a few other goodies in the box, though they are all related accessories to the Noctua NH-U12A and its chromax.black variant. Otherwise, they have also packed quite a bit of packing paper to ensure everything arrives in excellent condition.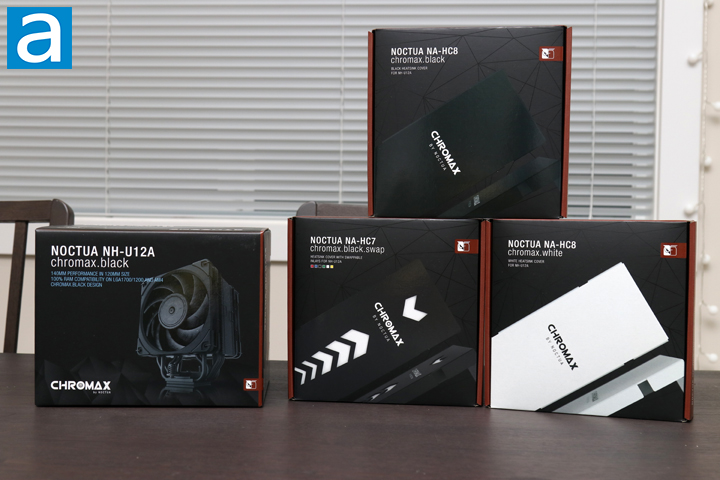 Much like our other chromax.black products we have reviewed, the Noctua NH-U12A chromax.black is in a mostly black retail box. The Noctua NH-U12A chromax.black can be found on the front in a scaled down fashion. There are a few highlighted features with this cooler, including its "140mm performance in 120mm size" and "100% RAM Compatibility on LGA 1700/1200 and AM4". In addition, you can see the chromax branding on the bottom corner. Around the box, there are a few lists of specifications and features for this cooler. Otherwise, Noctua also sent us a few heatsink covers in their NA-HC7 chromax.black.swap, NA-HC8 chromax.black, and NA-HC8 chromax.white. We will explore these different covers as we continue in our review.
Before we continue on, I have grabbed the specifications from the manufacturer's website for your viewing pleasure:
Heatsink specifications
Socket compatibility: Intel LGA1700, LGA1200, LGA1150, LGA1151, LGA1155, LGA1156, LGA2011, LGA2066 and AMD AM4, AM3(+), AM2(+), FM1, FM2(+)
Height (without fan): 158 mm
Width (without fan): 125 mm
Depth (without fan): 58 mm
Weight (without fan): 760 g
Height (with fan): 158 mm
Width (with fan): 125 mm
Depth (with fan): 112 mm
Weight (with fan): 1220 g
Material: Copper (base and heat-pipes), aluminium (cooling fins), soldered joints & nickel plating
NSPR: 169
Max. TDP: see NSPR
Fan compatibility: 120x120x25
Scope of delivery:
- Black NH-U12A heatsink
- 2x NF-A12x25 PWM chromax.black premium fan
- 2x NA-RC14 Low-Noise Adaptor (L.N.A)
- NA-YC1 4-pin PWM y-cable
- NT-H1 high-grade thermal compound
- Black SecuFirm2™ mounting kit
- Noctua Metal Case-Badge
Warranty: 6 Years
Fan specifications
Model: Noctua NF-A12x25 PWM chromax.black
Bearing: SSO2
Max. rotational speed (+/- 10%): 2000 RPM
Max. rotational speed with L.N.A. (+/- 10%): 1700 RPM
Min. rotational speed (PWM, +/-20%): 450 RPM
Max. airflow: 102,1 m³/h
Max. airflow with L.N.A.: 84,5 m³/h
Max. acoustical noise: 22,6 dB(A)
Max. acoustical noise with L.N.A.: 18,8 dB(A)
Voltage range: 12 V
MTTF: > 150.000 h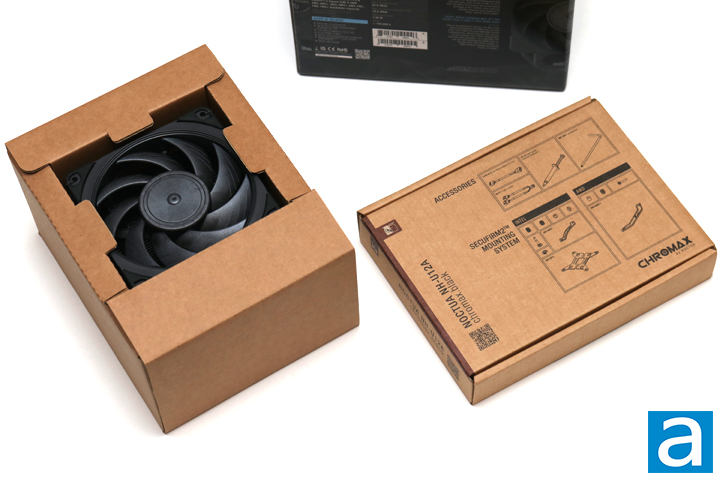 Out of the box, everything is held in two cardboard boxes with one for all of the mounting and installation accessories and the other for the Noctua NH-U12A chromax.black. In the accessories box, we have many mounting parts for both AMD and Intel, including a backplate, arms, screws, nuts, and washers. Noctua has also included a long L-shaped Philips head screwdriver, a Y-fan splitter, two low noise adapters, and a tube of their NT-H1 thermal paste. I am still surprised Noctua is not packing their newer NT-H2 thermal paste as it should just be included by default while the older one can be phased out or sold separately. In main box, we have the heatsink with two NF-A12x25 PWM chromax.black fans attached with wire clips.
With all of these accessories, you can mount the Noctua NH-U12A chromax.black on Intel LGA1700, LGA1200, LGA115x, LGA2011, and LGA2066 sockets, as well as AMD AM4, AM3/+, AM2/+, FM1, and FM2/+ sockets. Noctua has already included a new backplate to accommodate the larger processor from Intel, which means you will not need to purchase an additional mounting kit. The only notable exclusion from this list is AMD's TR4 or Threadripper 4 socket, which is understandable considering how much larger the integrated heatspreader and CPU itself is. Otherwise, more documentation is included in the accessory box, including installation and warranty information. Noctua includes their standard six-year warranty with this cooler, which is one of the lengthier ones in the market.
---
Page Index
1. Introduction, Packaging, Specifications
2.
Physical Look - Hardware; Installation
3.
Test Results
4.
Conclusion