By: Aaron Lai
March 31, 2022
One of the first things I did when I started working was obtain a Costco membership. I know it is a bit silly, but to me, it was a rite of passage of growing up and spending money on things that I do not normally need. Now before I offend anyone, I will say that having a Costco membership is definitely a splurge for myself because I grew up in a household that could never consume a Costco quantity of items, whether food or products. Now that I am living on my own, I think this fact is even more true. On the other hand, my girlfriend loves Costco. This also makes sense because she has quite a few more family members. This is not to say that I do not like having the membership. In fact, I too enjoy going to Costco, especially to see new and different products that do not usually show up at the local grocery stores while also getting free samples. I also think a lot of the products they sell are of good quality or are priced generally reasonably. In addition to the size or quantity of products, you sometimes might see Costco bundling items together and selling it as a package deal. These can be a good value, especially if consumers want multiples or all of the included items, but it can also be an easy way for manufacturers to sell more products in a single swoop. As well, these bundles might have slight savings compared to if the products were purchased individually. Today, we have a bundle of sorts offered by XPG in their Atom 30 Kit. Instead of selling just a single NVMe SSD, XPG has bundled it with a 2.5" SATA drive. Is this bundle a good value? Let us read on to find out!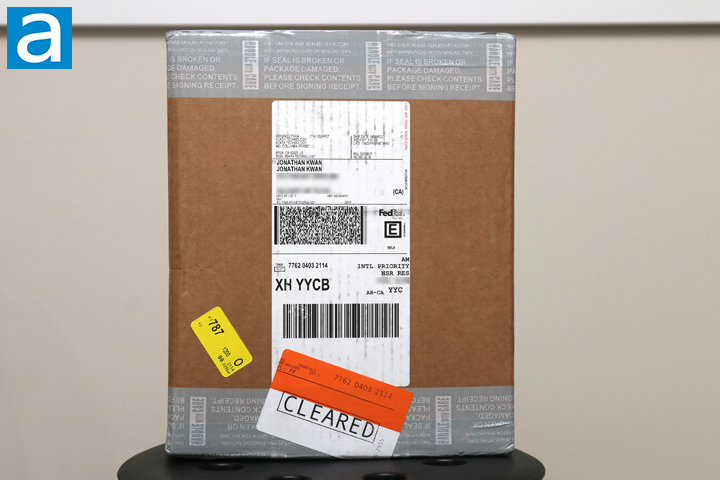 Today's review unit of the XPG Atom 30 250GB/1TB Kit arrived from ADATA's offices in Brea, California. Traveling with FedEx and their International Priority service, this box arrived in excellent condition. All of the edges are sealed with packing tape to ensure no tampering occurred during shipping. ADATA clearly wanted to protect their package, as they delivered this nesting doll of a box. Inside this box was a smaller box with the same packing tape, and inside that was a FedEx-labeled envelope. Finally, inside the envelope was the retail packaging of the XPG Atom 30 Kit. Thankfully, everything arrived unscathed, so you could say their mission was successful.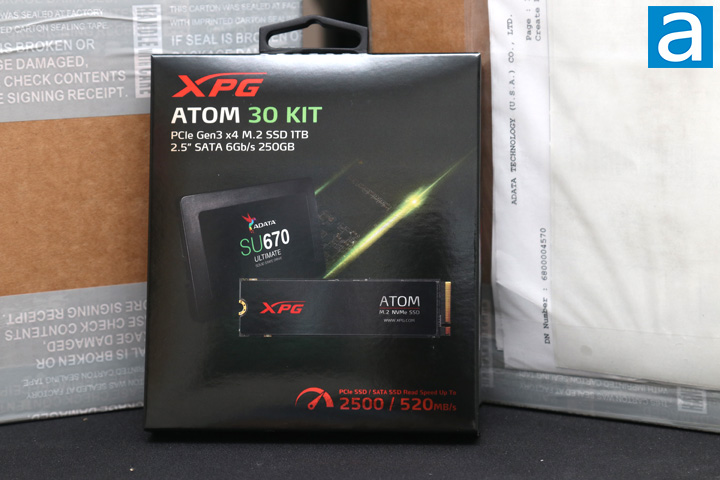 Looking at the XPG Atom 30 Kit, you can see they clearly are showing off the bundle, with both the SATA SSD and NVMe SSD on the front of the box. This uses a black-and-green color scheme, although there are red accents as well for the XPG logo and speed specification. As you can see from the photo, there is an Atom 30 1TB M.2 drive, followed by an SU670 Ultimate 250GB 2.5" SATA one. Otherwise, XPG has advertised the peak read speeds for both drives. Around the box, we do not have a few more specifications and features for the drive. However, the box is pretty stealthy looking with its dark color scheme and generally looks pretty nice.
If you are interested, I have grabbed the specifications from the manufacturer's website for your perusal:
Capacity: SU670 : 250GB / ATOM 30 : 1TB
Form Factor: 2.5" / M.2 2280
NAND Flash: 3D NAND
Dimensions (L x W x H)
- ATOM 30 : 80 x 22 x 3.13mm / 3.15 x 0.87 x 0.12inch
- SU670 : 100.45 x 69.85 x 7mm / 3.95 x 2.75 x 0.27inch
Weight
- ATOM 30 : 9g / 0.32oz
- SU670 : 47.5g / 1.6oz
Interface
- ATOM 30 : PCIe Gen3 x4
- SU670:2.5", SATA 6Gb/s (SATA III)
Sequential Read (Max)
- ATOM 30 : Up to 2,500MB/s
- SU670 : Up to 520MB/s
Sequential Write (Max)
- ATOM 30 : Up to 2,000MB/s
- SU670 : Up to 450MB/s
4KB Random Read IOPS(Max)
- ATOM 30 : Up to 180K
- SU670 : Up to 30K
4KB Random Write IOPS(Max)
- ATOM 30 : Up to 200K
- SU670 : Up to 65K
Operating temperature: 0°C - 70°C
Storage temperature: -40°C - 85°C
Terabytes Written (TBW)(Max Capacity*)
- ATOM 30 : 600TB
- SU670 : 50TB
Shock resistance: 1500G / 0.5ms
MTBF: 2,000,000 hours
Warranty
- ATOM 30 : 5-year limited warranty
- SU670 : 3-year limited warranty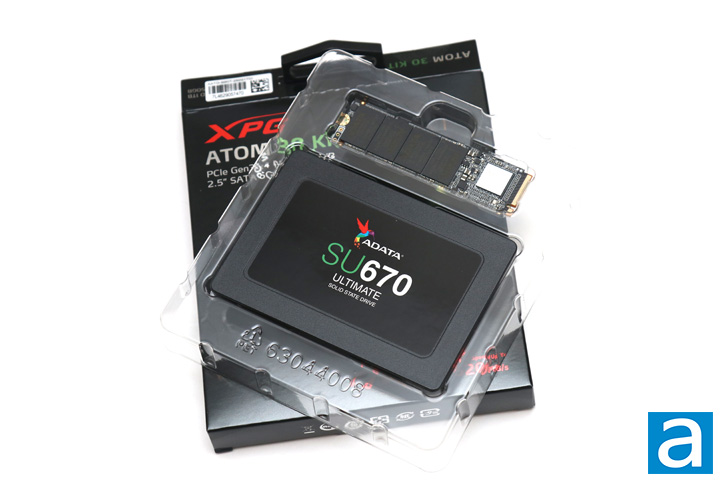 Out of the box, you can see the two solid state drives in a plastic shell. There really is not much else included in the box, but I do like the fact that ADATA put the two drives on the same shell to reduce plastic waste. Otherwise, if you need to find warranty information, you can find it on the manufacturer's website. The two drives have different warranty lengths though, as the Atom 30 is covered for five years while the SU670 is only three. As we do have two products here, going forward I will be referring to the M.2 drive as the XPG Atom 30 and the 2.5" one as the ADATA SU670 Ultimate.
---
Page Index
1. Introduction, Packaging, Specifications
2.
A Closer Look, Test System
3.
Benchmark: AIDA64 Disk Benchmark
4.
Benchmark: ATTO Disk Benchmark
5.
Benchmark: Crystal Disk Mark 8.0
6.
Benchmark: HD Tune Pro 5.70
7.
Benchmark: PassMark PerformanceTest 10
8.
Benchmark: PCMark 10
9.
Benchmark: 3DMark
10.
Conclusion