Page 9 - Benchmark: 3DMark
About 3DMark
3DMark includes everything you need to benchmark your PC and mobile devices in one app. Whether you're gaming on a PC, a tablet or a smartphone, 3DMark includes benchmarks designed specifically for your hardware.
Fast storage means shorter loading times and more time in the game. The 3DMark Storage Benchmark is a dedicated component test for measuring the gaming performance of your storage hardware. Using traces recorded from real games, it tests performance for activities such as loading games, saving progress, installing game files, and recording gameplay video streams.
From: Developer's Page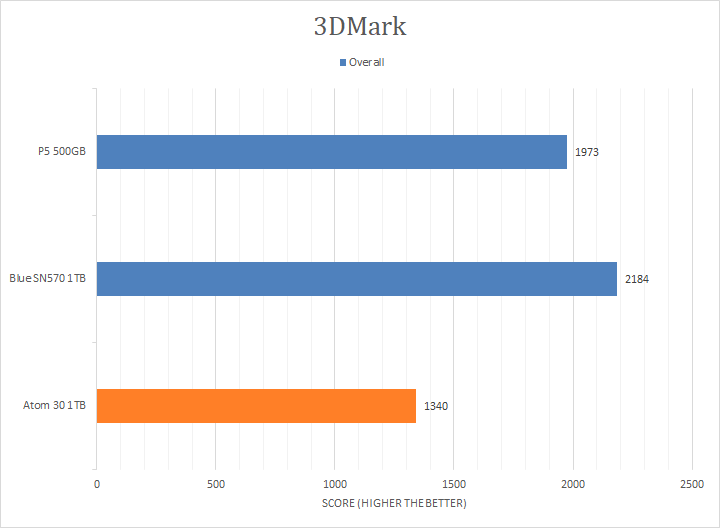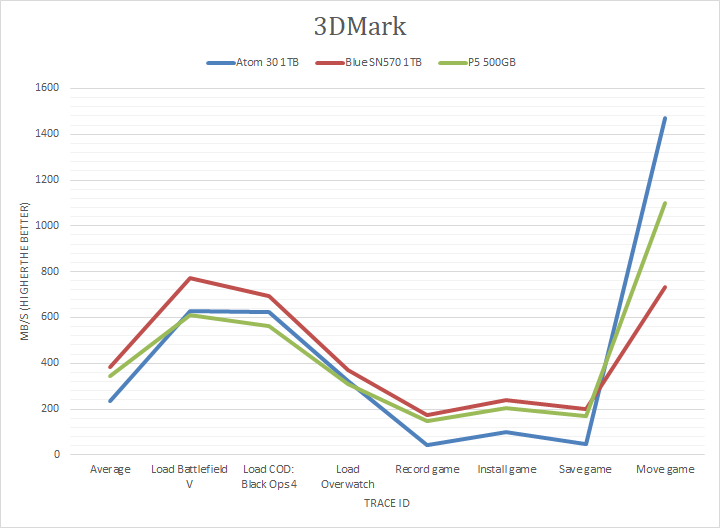 3DMark is the continuously updated version of the popular gaming benchmark from UL. We used 3DMark's Storage Benchmark to test the performance of the drive. According to UL, the Storage Benchmark uses traces recorded from popular games and gaming-related activities to measure real-world gaming performance. The following traces were used and defined as follows:
Battlefield V: Loading Battlefield V from launch to the main menu.
Call of Duty Black Ops 4: Loading Call of Duty: Black Ops 4 from launch to the main menu.
Overwatch: Loading Overwatch from launch to the main menu.
Game Move: Copying the Steam folder for Counter-Strike: Global Offensive from an external SSD to the system drive.
Game Recording: Recording a 1080p gameplay video at 60 FPS with OBS (Open Broadcaster Software) while playing Overwatch.
Installing Game: Installing The Outer Worlds from the Epic Games Launcher.
Game Saving: Saving game progress in The Outer Worlds.
Unfortunately, the XPG Atom 30 1TB was not a good performer in our newest suite of benchmarks, 3DMark's Storage Benchmark. With an overall result lower than both the Crucial P5 500GB and WD Blue SN570 1TB, the XPG Atom 30 1TB was unable to compete here. Breaking down the results, you can see on average, the XPG Atom 30 performed near the others at loading games, indicating a generally close read performance. However, in the record, install, and save game, the Atom 30 1TB dropped to speeds as low as 40MB/s in some instances, indicating generally relatively poorer write performance. Oddly enough, it was the fastest drive at 1470MB/s for game move. Otherwise, the Atom 30 1TB performed similarly in these tests as it did in the PCMark 10 benchmarks.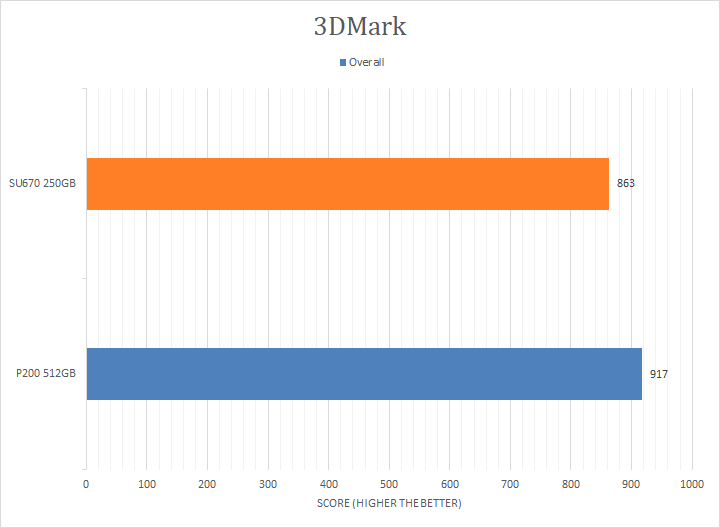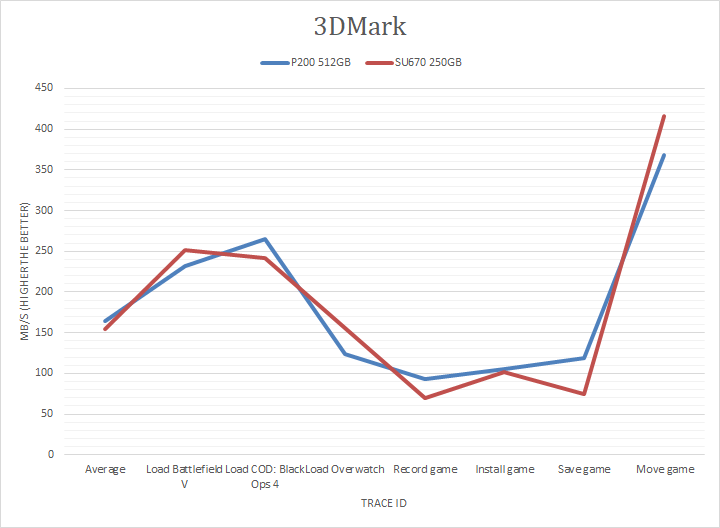 In a similar vein, you can see the end result of the ADATA SU670 Ultimate 250GB. On a good note, it finished in the top two overall, but on the bad side, there were only two drives tested here due to the novelty of this benchmark. This drive ranked about 50 points slower than the Patriot P200 512GB. In the details you can actually see the two drives traded blows across the board with the Patriot P200 only having a slightly higher overall average by 10MB/s. The largest difference between the drives once again occurred during the save and move game tests. Even so, both of these drives produced rather forgettable results. For your reference, according to UL, the popular SATA-based Samsung 860 EVO 1TB provided an overall result of 1193.
---
Page Index
1.
Introduction, Packaging, Specifications
2.
A Closer Look, Test System
3.
Benchmark: AIDA64 Disk Benchmark
4.
Benchmark: ATTO Disk Benchmark
5.
Benchmark: Crystal Disk Mark 8.0
6.
Benchmark: HD Tune Pro 5.70
7.
Benchmark: PassMark PerformanceTest 10
8.
Benchmark: PCMark 10
9. Benchmark: 3DMark
10.
Conclusion