By: Aaron Lai
November 18, 2016
Whenever you buy something, there are usually several options in differing price tiers targeting different audiences. For example, you might say you are looking to buy a compact car, but this could be met by anything from a Toyota Corolla or a Honda Civic all the way to a BMW 3-series or a Mercedes-Benz C-Class. Even though they are all compact cars, with room for five passengers at most, they are obviously targeting different people with different price points. You would not go to a poor student and tell them they need to buy a C-Class, unless you are Editor-in-Chief Jonathan Kwan. On the other hand, you probably will not be telling a CEO of a successful company that the 3-series is out of their league. The price point difference is also more than just about the brand name, as features, build quality, and performance all play a role into how these different products are priced. You really would never expect a Corolla to be similar to a 340i, and this is completely understandable. Today, we have yet another Bluetooth speaker in the form of the LG Music Flow P5. We have seen compact Bluetooth speakers in the past, but considering this one is approximately double the suggested retail price of other ones, it is only fair to ask where the price difference comes into play. Whether it is build or sound quality, I can only expect this speaker to be better overall. Is this truly the case? Read on to find out!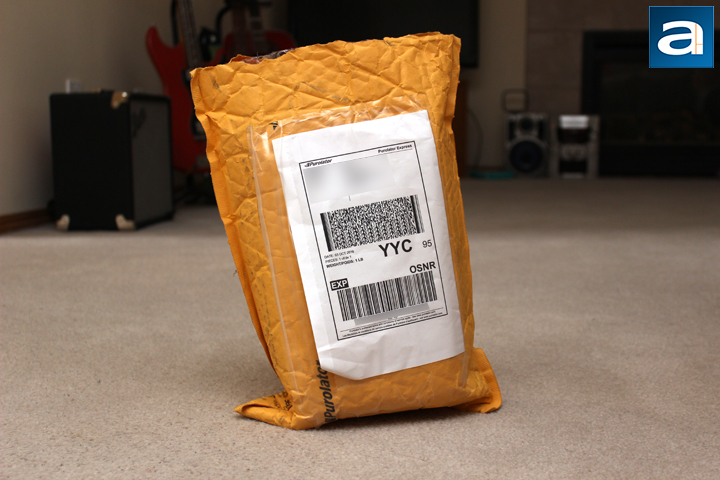 Today's review unit of the LG Music Flow P5 arrived via Purolator Express to our APH Networks location here in Calgary, Alberta. Traveling in a goldenrod yellow padded bag, this parcel arrived in average condition. There are quite a few folds and bends, but this is expected of a bag. This traveled from the big city of Toronto, Ontario, also known as the Center of the Universe. It also is the only Canadian city currently with an NBA, MLB, and NHL team. Otherwise, I am quite tired of talking about Toronto, so I impatiently opened up the bag to see what is inside.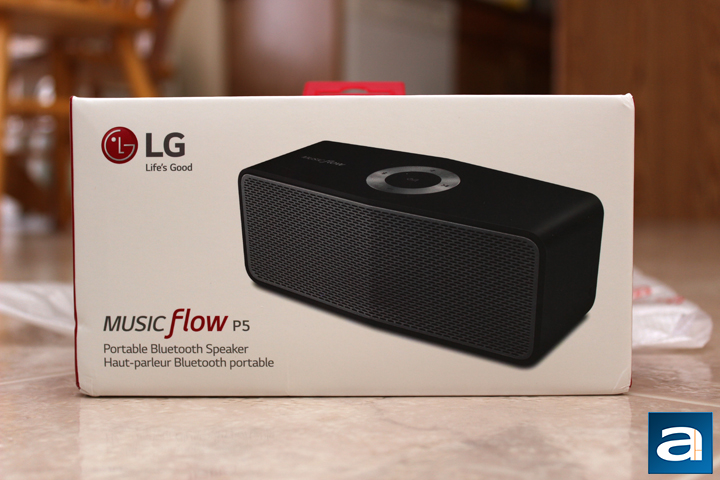 Inside, we have the LG Music Flow P5 speaker with a pretty standard appearance. It traveled in a foam bag to prevent any surface scratches, though you can see there are a few dings around the edges. Otherwise, the retail container is pretty standard, with the speaker occupying the front. LG's logo and the product name can be seen on the left side of the box. While most of the panels are white in background, the two sides are in the signature LG red. Several features and specifications can be found on the sides and the back of the box. Overall, the box is pretty typical from what you would expect with any Bluetooth speaker.
If you are so interested in the specifications, we have pulled them from the manufacturer's website for your perusal.
PRODUCT HIGHLIGHTS
Multipoint: Yes (two devices)
Dual Play: Yes
Bluetooth: Yes
TV Sound Sync: Yes
Built-in Li-ion Battery: Yes
SPEAKER
Channel: 2CH
Power Output: 10W
Solution: Passive Radiator
CONNECTIVITY
Bluetooth®: Yes
Portable Audio In (3.5mm): Yes
Micro USB (charging): Yes
DISPLAY
LED Indicator: Yes
AUDIO SOUND MODE
Dynamic Loudness Algorithm: Yes
Standard: Yes
Voice: Yes
User EQ: Yes
AUDIO FORMAT
SBC: Yes
CONVENIENCE
Multipoint: Yes (two devices)
Dual Play: Yes
Bluetooth Proximity: Yes (Android Only)
Upgrade Manager: Yes
Bluetooth Remote App: Yes
Sound Sync: Yes
Playback Controls in App: Yes
POWER
Battery Type: Lithium-ion
Battery Capacity: 2100 mAh
Battery Full Charging Time: 3 Hours
Battery Life: 15 Hours
Power Consumption (Charging status): 10W
DIMENSIONS / WEIGHT
Size (WxHxD): 6.02" x 2.28" x 2.34"
Net Weight: 1.32 lbs
INCLUDED ACCESSORIES
Instruction Manual: Yes
Warranty Card: Yes
Micro USB cable: Yes
WARRANTY
Limited Warranty: 1 Year Parts and Labor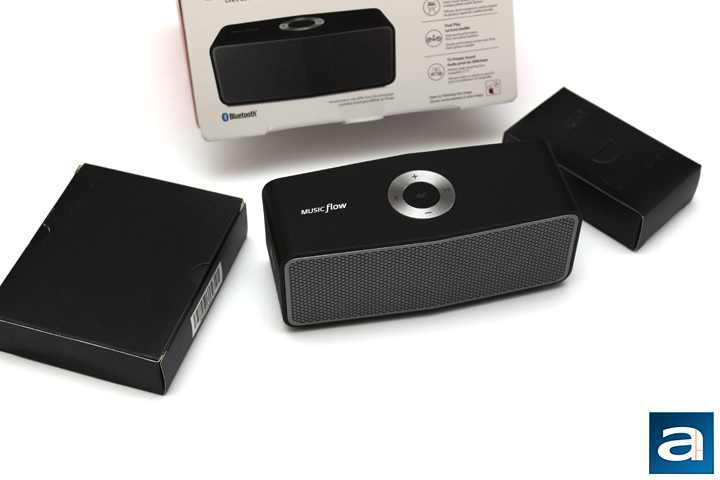 Out of the box, you will find the LG Music Flow P5 Portable Bluetooth Speaker nestled in between a foam pad and a plastic bracket. Underneath, we have two black boxes filled with three things. One box holds a USB cable used for charging the Music Flow P5 speaker. No AC adapter is included with the package, but this is pretty understandable, as most people will have a USB port, if not another adapter, for charging purposes. The other black box holds two pieces of documentation regarding how to use the LG Music Flow P5, and information about warranty. For your knowledge, there is a one year limited warranty for this portable Bluetooth speaker, which is on par for the course.
---
Page Index
1. Introduction, Packaging, Specifications
2.
Physical Look - Hardware
3.
Subjective Audio Analysis
4.
Conclusion