Page 2 - Physical Look - Hardware
While we have seen other portable Bluetooth speakers, such as the Inateck BTSP-10 Plus and the Turcom AcoustoShock HR-903, both of these have been built with a more rugged-looking design, especially with the rubber or soft-touch plastic. However, the LG Music Flow P5 is on another level altogether. With a metal body and grille, this one feels a lot more sturdy and minimalistic. Everything has a matte finish, which is great at hiding most handling marks. LG refers to this as their "Simple Design", with an intention to make the speaker blend in with its surroundings. While some products are not meant to camouflage in, I think speakers should get more attention for how it sounds rather than how it looks, and the Music Flow P5 is a good example of this. The body is black in color, with silver highlights and grilles on both sides. The silver grille is not flat, but instead it protrudes out. I think this adds a bit of flair despite being subtle. There are other colors available at press time, including a black shell and a red grille, or a white shell with a green, orange, or white grille. The entire construction is very symmetrical, as the grilles on the front and back are the exact same. In fact, there were times I was not entirely sure which was the front or the back. Overall build quality is very solid, and the LG Music Flow P5 feels like a rock without looking like one.
In terms of measurements, the LG Music Flow P5 is quite small at a width of 152.9mm, a height of 57.9mm, and a depth of 59.4mm. Compared to the Inateck BTSP-10 Plus, this speaker is smaller in width and height, but larger in depth. At a weight of 1.32lbs, it is quite dense and feels very solid. The majority of this weight is probably due to the passive radiator drivers. A total power of 10W is specified by LG in a two channel setup. Unfortunately, no frequency response is a listed, but a sound pressure level of 82dB and an impedance of 4 ohms are specified. If you are interested, a passive radiator setup is where, in a two driver setup, one driver is a standard active driver, while the other one is a suspended cone without a magnet assembly or a voice coil inside.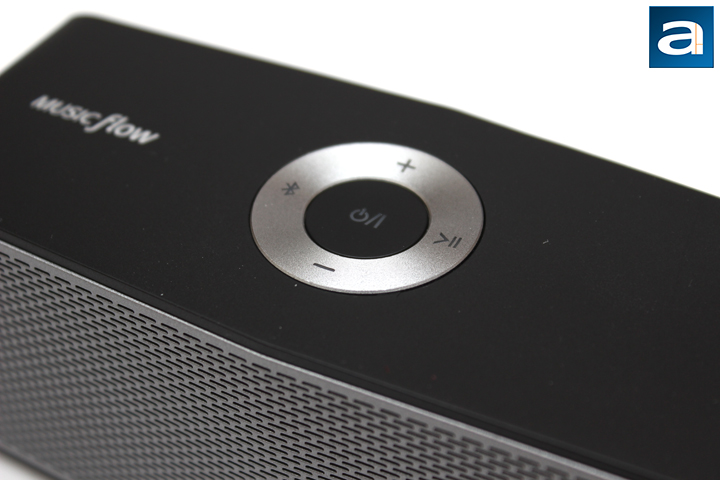 As for buttons and user input, all the controls for the LG Music Flow P5 are located on the top of the Bluetooth speaker in the middle. The large center button is used to power on and off the device. The top and bottom buttons around the circle are volume up and down buttons, respectively. To the left, we have a Bluetooth button, and holding it down allows the Music Flow P5 to be used to pair devices. As you may have read, this speaker actually can be paired to two devices simultaneously, with playback swapping between the two easily. I would have liked to see NFC tapping to pair as a feature here, just to make the syncing process simpler. Finally, the right button is used for playing and pausing music. Double tapping it proceeds to the next song, while triple tapping it goes to the previous track. Finally, the center, left, and right buttons are illuminated with an LED, depending on the mode you are in. If you are connected to the speaker with Bluetooth, the left button glows, while if you are connected with a 3.5mm audio jack, the right button glows. The center button shines only when powering on and off the device.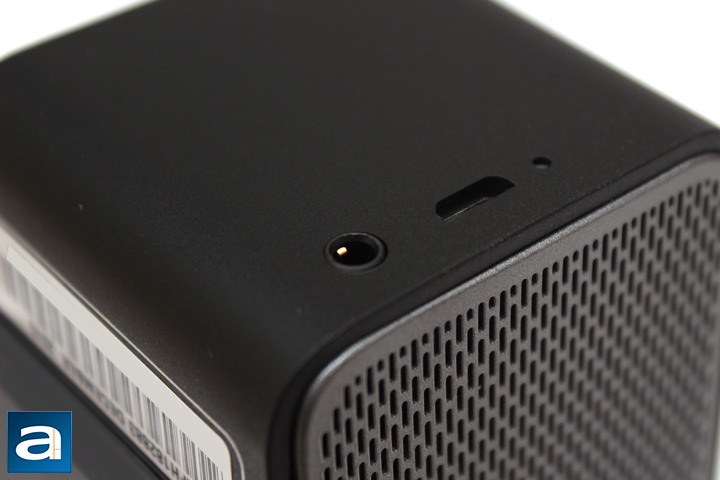 On the right side of the speaker, there are three more points of interest. On the left most side is a 3.5mm audio jack opening, and this allows you to directly plug in audio sources, such as laptops, mobile device, or even MP3 players, if you still have those. It would have been nice to see a short audio cable coming with the LG Music Flow P5, especially as not as many people may have this cable lying around. Next, we have a micro USB port, which is used solely for charging the Music Flow P5. Inside there is a 2100mAh battery, which is the same capacity as the Inateck BTSP-10 Plus. However, LG claims this speaker will last up to fifteen hours, while taking three hours to fully charge. We will see how these claims stand up when I look at the performance later in the review. Finally, you might think the last small hole is possible a reset button, but this is actually an LED light used to indicate when the speaker's charging status. It glows red while charging and green when it is finished.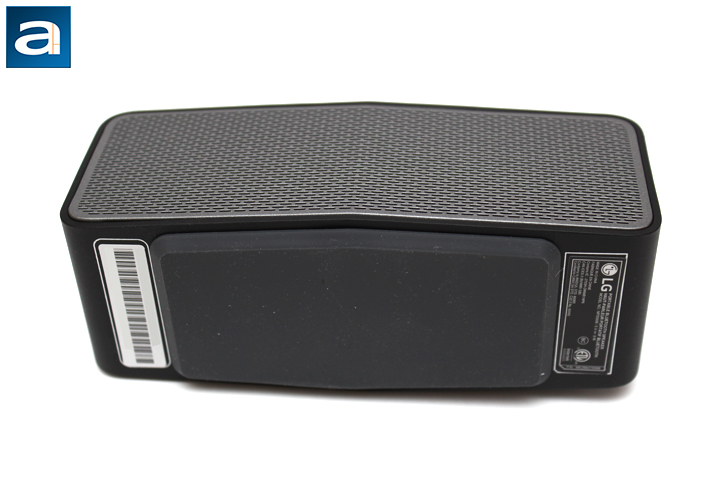 Finally, we get to the bottom and the back of the LG Music Flow P5, and as I have said before, the back mimics the front's appearance in terms of the grille. This being said, sound is only output at the front of the device. Otherwise, at the bottom, you can see several LG stickers and serial number information. In the middle is a large rubber pad to provide some stability for the speaker. As sound often creates vibration, this pad will reduce any sort of vibration caused between the speaker and the surface it sits upon. It also provides a very good grip, as the speaker should not slide around while it is in use.
As to some other features LG mentioned, the Music Flow P5 has Dual Play, which allows you to pair two Music Flow P5s to one device at the same time in order to produce a larger stereo sound. Unfortunately, we only had one speaker, so we were not able to try this out. In addition, LG mentions this small speaker can be paired with some LG TVs for wireless audio streaming. Finally, one feature I found pretty neat was called Multipoint. This allows two devices to pair to the speaker. While it does not support simultaneous streaming, it does allow you to swap between the two sources of music. Most of these features are made easier or are only available while using the Music Flow Bluetooth application found on the Google Play Store or Apple App Store.
---
Page Index
1.
Introduction, Packaging, Specifications
2. Physical Look - Hardware
3.
Subjective Audio Analysis
4.
Conclusion