By: Jonathan Kwan
July 30, 2010
Most of the time, as general consumers, we like to think that the lower the price, the more attractive a product is. In the speaker world, things tend to be a different. As audiophiles, we often like to think that the higher the price, the more attractive the product is. Case in point: When Logitech asked me if I was interested in reviewing their Z520 speaker system, I had my share of doubt. While Logitech has consistently produced reasonably good quality speakers for the price -- even for a sound-picky person like myself -- in the past few years, it is hard to believe how good can a 2.0 set could possibly be. Don't get me wrong; I am not the type that thinks the more speakers, the better -- but a missing subwoofer is a missing subwoofer. And then I looked at the price. Carrying a MSRP of $130 and purchasable at retail stores for just a tick under $100 at press time, suddenly the set became much more attractive to me! Yeah, they are pretty expensive for a pair of desktop computer speakers, and this is exactly the reason why I want to see why it commands this price. To fuel my curiosity in conjunction with plugging you some data to make an informed purchase decision, let's unbox a brand new Logitech Z520 and plug it into the brilliant Auzentech X-Fi HomeTheater HD for some subjective listening tests. Read on to see what I have found!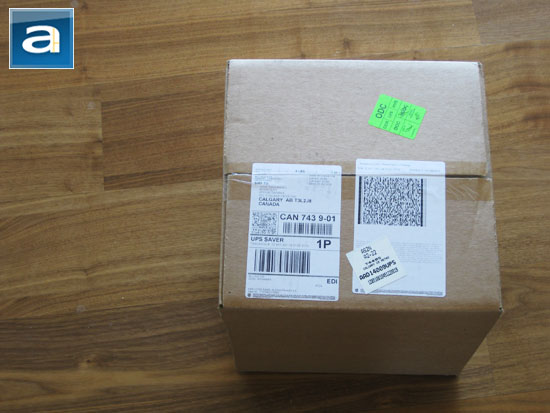 I was particularly excited to see the packaging for Logitech's Z520 speaker system waiting for me at my desk already by Thursday afternoon. Shipped inside a large brown corrugated cardboard box and carried over to our doorstep via UPS Saver, everything arrived in excellent condition for our review today. We enthusiastically cracked open the box to begin breaking in the speakers for the tests. It has actually been quite a while since we have last reviewed speaker systems -- with the Eagle Arion ET-AR402IR-BK review published one year ago already. (Actually, our most recent Logitech speaker review was written in February 2008 -- time sure flies by!)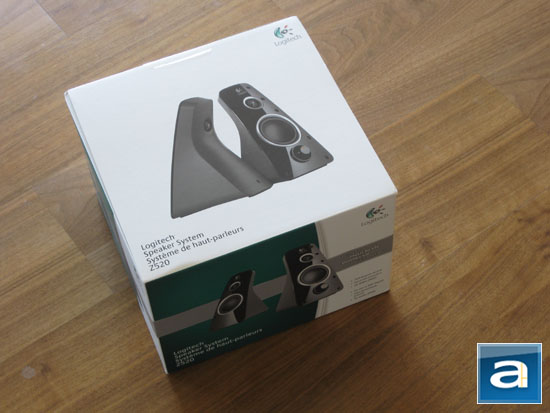 Logitech has been quite successful in the past in making their products extremely recognizable off the shelf by consumers and enthusiasts alike. In conjunction with keeping its retail box designs clean and modern, the teal, white, and gray shades used in the Z520 retail box's design is thematically coordinated with the rest of the Logitech product line. Photos of the speakers from various angles are prominently displayed at the center of three different sides of the box, as shown in our photo above. Meanwhile, feature highlights with respective diagramming is posted at the back of the packaging; focusing on its 360-degree sound, amplified two-way design, 26 watts of power, auxiliary input, and its simple two-speaker setup. Of course, my biggest question rolls around to its slogan of "Bring your music to life", and validation for truthfulness of this claim is probably why you are reading this review right now. If not, we still got some pretty pictures for you, haha.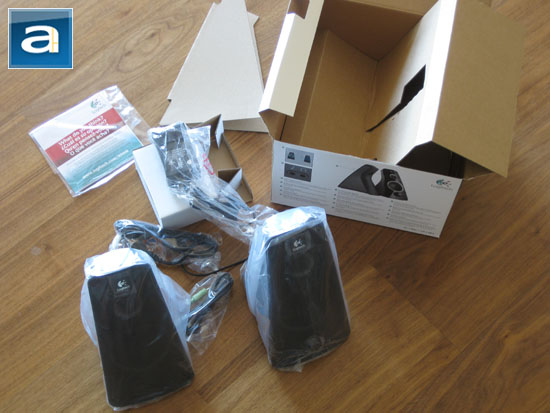 Everything inside the retail box is secured into their own little space by corrugated cardboard partitions. With each component carefully wrapped inside independent clear plastic bags, as well as peelable thin film plastic segments to protect its shiny surfaces, Logitech has done a commendable job in ensuring the Logitech Z520 stereo speaker system arrives in pristine condition to the consumer's hands -- all without excessive packing material. I am no environmentalist, but creating more junk wouldn't benefit me one bit, haha. Out of the box, you will receive the following contents:
- Logitech Z520 stereo speaker system
- Power supply
- Quick-start guide
Just everything you need is included out of the box to get the set up and singing as soon as possible. As far as technical information is concerned, Logitech does not have a lot to say about the Z520. Anywho, before we move on, let's take a quick glance at the specifications, as obtained from Logitech's website:
Power: 26 watts (RMS)
Frequency response: 70 Hz – 20 KHz
Dimensions: 8.8 cm x 19.8 cm x 8.8 cm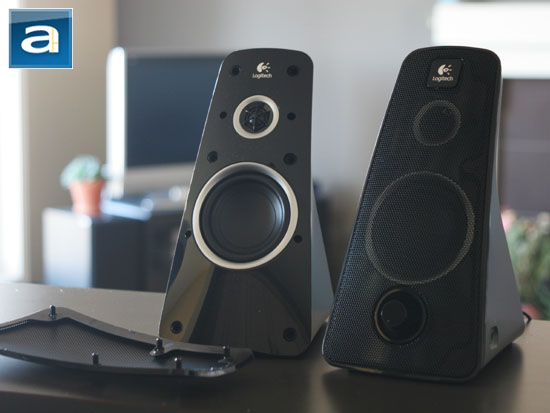 I found the Logitech Z520 stereo speaker set to be quite a sharp pair. Standing tall and proud next to my pair of LCD monitors (Obviously not referring to the photo above, but we are talking about the same speakers), they are literally 150% the size in real life than I first imagined them to be. Logitech puts the measurements at 8.8 cm x 19.8 cm x 8.8 cm. Both speakers have their front faces fully covered by a removable mesh grille; where Logitech's logo in silver can be found near the top, and hides two independent drivers behind. As expected in classical 2.0 desktop speaker designs, the difference between the right speaker and left speaker mainly boils down to the volume knob located on the right speaker's lower center. The shiny plastic surface of the dial is prone to fingerprint marks, but other than that, I have no real complaints. The Z520 turns off automatically when you turn it all the way to the left. Once you rotate the knob clockwise and move past a distinctive quality click, the speakers turn on, and volume increases according to its control position. How far it is turned, as well as its power status, is cleverly indicated by a small integrated orange LED located on the knob itself.
A quick pull detaches the mesh grille from the main unit, which is held on securely by six pegs in conjunction with an array of corresponding rubber grips. It seems that Logitech has well detailed the Z520 in a sense that they have actually been expecting users to take off the covers during use. The surface below comes in a slick glossy black finish -- admittedly, it does attracts its share of dust, as well as being extremely prone to fingerprint marks, but it looks very sharp. Logitech's logo is embedded at the top, just like the mesh grille as aforementioned. Two independent drivers are arranged in standard configuration as discussed earlier; with a larger 3" woofer in the middle, and a 1" tweeter located near the top. The combined RMS power for both speakers is 26W, with a rated frequency response of 70 Hz to 20 KHz.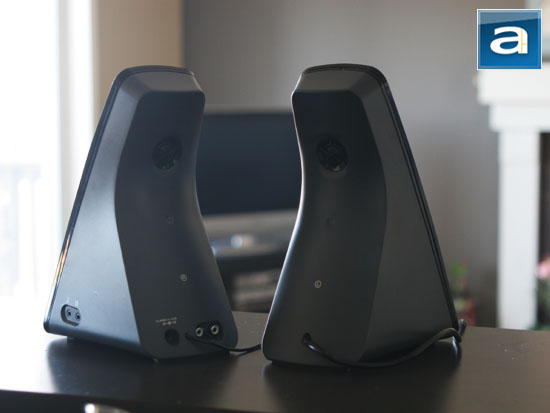 Let's take a look at the Logitech Z520 from another angle. If you flip the speakers around, you will notice a second identically sized tweeter located at the back. This tweeter is connected in parallel with the front tweeter to give the system its "360 degree sound" -- there is actually nothing magical going on here, haha. It works pretty well during our tests, even if we are sitting directly behind the Logitech Z520 speaker set. Meanwhile, the integrated solid triangular base tilts the Z520s backward, therefore orienting the drivers to fire upwards. For the average height user sitting at a normal desk, the emitted sound is aimed directly at the listener, making the overall effect quite optimal acoustically.
As far as connections are concerned, all the fundamental audio cables are hard-wired to the speakers. This includes the left speaker wire, which connects to the right speaker by a two pronged plug, as well as the analog audio cable on the right speaker, which connects to your computer. The 14.4V/2.5A (36W) power input delivered by the included AC adapter plugs into the back as well. Two 3.5mm jacks can be found on the right side of the right speaker -- one for connecting your headphones, and the second one for auxiliary audio input such as your digital audio player of choice.
-----------------------------------------
The Tests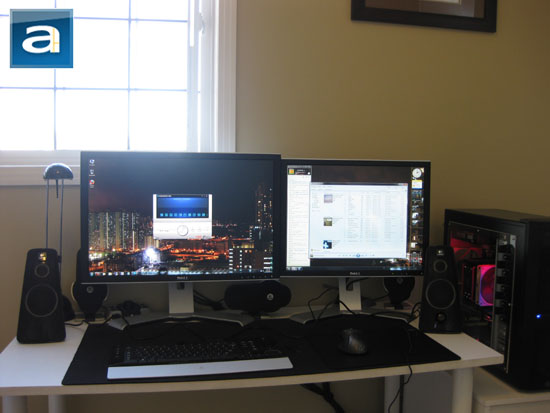 As we always say in our audio reviews, there are really no true objective measurements for speaker sound quality. As the reviewer, however, I'll put it through a series of subjective tests to try to come up with the most objective rating possible (Yes, it's quite a paradox haha). The tests were conducted primarily with the Auzentech X-Fi HomeTheater HD sound card with the Logitech Z520 speaker system plugged in directly to the front channel 3.5mm analog output. (Creative CA20K2 DSP/APU, National Semiconductor LME49720NA OpAmp, Cirrus Logic CS4382A DAC, Nichon MUSE ES capacitors.) This sound card is probably the best consumer/prosumer computer sound cards out there in the market today, and will reduce its potential to be a limiting factor in our benchmarking today.
After over 20 hours of break-in time (Well above the typically required period), we put the Logitech Z520s to the tests. All tracks are uncompressed CDs, FLAC, or LAME encoded MP3s at 192kbps or higher.
Being a set of 2.0 desktop speakers, anything in this size range and configuration probably won't produce tremendous bass to any extent -- and if anyone told you the Logitech Z520s produces impeccable low range effects, you can probably tell what degree of truth it encompasses (Or lack thereof, haha. - Editor). However, the three inch woofer plus front/back tweeter configuration actually provides surprisingly satisfying balance across the board. I am particular pleased with its midrange and treble performance for its price and size. The treble is sharp and clean; commendably wet and distinct that is sufficiently high for a comfortable listening experience. Combined with its front/back tweeter duo, Logitech has successfully designed the Z520s to be audibly pleasing to the ears both from the front and at the back. Running through songs that are heavy on percussion instruments -- such as the cymbals on a drum set -- demonstrates every beat and every note in this range with competence and precision.
Its midrange sound reproduction is also very good. I am generally a big fan of emphasized, wide range, and saturated midrange in sound reproduction; the Logitech Z520 certainly did not disappoint me in this regard. Producing warm output with clear vocals, I am particularly impressed by the resolution in both its midrange and treble as aforementioned -- the amount of depth and detail were significantly beyond my expectations. Things got a bit messy near the upper to high midrange frequencies, but the overall performance is very commendable in the areas discussed so far.
As aforementioned, the Logitech Z520s aren't designed for rumbling your house, as this is, in fact, a desktop 2.0 set that does not feature a subwoofer. Understandably, users who are indeed looking for prominent low frequencies probably won't be looking at a stereo speaker set anyway. The intended market is simply different, and I will address it accordingly. On the other hand, if you are thinking that the Logitech Z520s completely lacks all bass, then you are wrong again, haha. It is actually not bad for a relatively compact 2.0 system (Yes, I did say the Z520s are larger than I thought earlier on, but they are still RELATIVELY compact). I will agree the bass is slightly hollow, thus not very round; and it practically goes out when the associated knobs are touched on my X-Fi HomeTheater HD's equalizer software -- but left alone, it still carries some punch, and a degree of measurable authority from the bottom end. It won't rattle any panels in your house, but the bass is audible, the quality of which is generally acceptable for everyday listening without a subwoofer. This is an especially valuable asset if you don't want to annoy your neighbors while retaining some of the low notes intact. That said, there is still room for improvement, and Logitech can certainly do some work here.
Frequency reproduction analysis aside, the characteristics of the audio reproduced into the listening environment is just as important as the rest of the items on the checklist. And this is where the Logitech Z520 stereo speaker set shines. The first thing most listeners would notice is the surprisingly clean and detailed sound for $100 desktop speakers, with the midrange and treble being its sweet spot. As mentioned earlier in this review's testing section, the Logitech Z520s exhibits impressive resolution and detail across the range, other than its bass (understandably). The overall sound layering is very precise, with no missing chunks from the bass up. In conjunction with its great frequency separation performance in contributing its part to the positive sound properties as described, the end result is integrated and cohesive sound. Along with the speaker's excellent definition as well as brilliant detail, especially from its mid to high frequencies, that makes the listening experience particularly enjoyable for the end user. This is very important in reproducing the sound as naturally as possible, while being able to pick up the big and small details. This successfully allows the Logitech Z520 set to make its case for awesome overall clarity in its intended market.
Relatively wide soundstaging is yet another thing to compliment on the Logitech Z520. Its precise detail and commendable audible depth paints a clear virtual environment into the air -- not a flat boring picture you'd come to expect, but actually a three-dimensional setting. It is clear where and what instruments are playing as your favorite media player's progress bar scrolls across your screen. All this coming from a set of desktop stereo speakers is actually quite a feat, and Logitech has done a very good job with the Logitech Z520s. Overall, the Logitech Z520 are bright sounding speakers with excellent dynamics and detail. I am quite impressed!
-----------------------------------------
When my cousin asked me how are the Logitech Z520 desktop speakers, I half-jokingly replied that they are "pretty darn good... and it is only $130 (MSRP) for a 2.0 set". Obviously, he shouted back with an element of surprise -- saying that he would expect "at least a 2.1 set -- or heck, even a 5.1 [for that price]". "Quality, not quantity", I typed back on Windows Live Messenger as I hit the 'Enter' key. While there are companies out there who charge ridiculously high prices for poor grade speakers to give them an illusion of being high end models, don't be fooled by smart marketing teams convincing you the more speakers, the better. The Logitech Z520 are premium desktop speakers delivering surprisingly good audio performance across the board. From its surprisingly clean, natural, and detailed sound, to commendably wide soundstaging, as well as very good midrange and treble, the bright sounding Logitech Z520s are bound to satisfy everyone other than bassheads. Generally speaking, if you are in the market radar for these desktop speakers -- where you don't want a subwoofer, or don't have room for one, and aren't particular picky on big bass, but want great audio quality in a relatively compact package -- these high performance desktop speakers have well balanced audio characteristics that are made to satisfy your demands. For about $100 retail at press time, if you can justify the cash for a pair of good desktop stereo speakers, don't miss out on the Logitech Z520.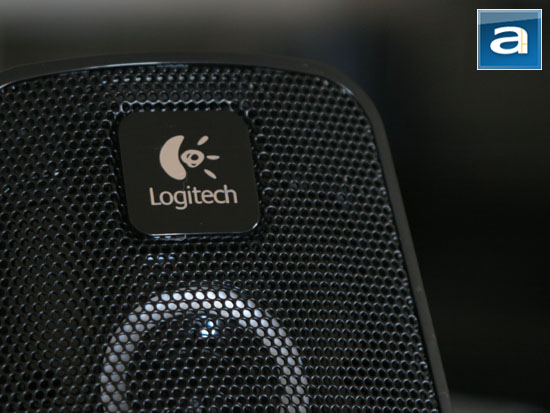 Special thanks to Pam over at Logitech for making this review possible.

APH:Renewal Award | APH Review Focus Summary:
8/10 means Definitely a very good product with drawbacks that aren't likely going to matter to the end user.
7/10 means Great product with many advantages and certain insignificant drawbacks; but should be considered before purchasing.
-- Final APH Numeric Rating is 7.6/10
Please note that the APH Numeric Rating system is based off our proprietary guidelines in the Review Focus, and should not be compared to other sites.
If you're looking for big bass, then you are eating at the wrong restaurant. The Logitech Z520 desktop speaker set is a pair of speakers that delivers surprisingly good sound in a compact package!
Do you have any comments or questions about the Logitech Z520? Drop by our Forums. Registration is free, and it only takes a minute!