By: Aaron Lai and Jonathan Kwan
March 18, 2022
I have a friend who is constantly eating. No matter where she is, no matter what she is doing, no matter what time of the day it is, it seems she always has food with her. I am pretty sure I have seen her on Zoom calls late at night and she was still eating. Now, if you are thinking all the food went into her body weight, you will be wrong. She weighs just under a hundred pounds, which, if you are then wondering where all the food ended up, I will say that is a fair question. I do not think any of us have a verifiable answer, but we all have different theories. The most prominent one is it all went to her attitude and big personality. She has quite a personality, so you will be hard pressed to find anyone who knows her who would disagree with that theory. If a small person can eat a lot and it all turns into a big personality, will this theory also apply to heatsinks? The Noctua NH-L-series coolers we have reviewed in the past are incredibly small and low-profile coolers that has delivered proven performance on various CPUs, like the NH-L9a-AM4 on an AMD Ryzen 7 3700X or NH-L9i on an Intel Core i5-6600K. But today, we have the NH-L9i-17xx, which, as its name suggests, is built exclusively for the new Intel LGA 1700 socket. To push the limits, I paired it on an Intel Core i7-12700K to see what it can do. Does this new Noctua heatsink have enough attitude up against powerful CPUs and hold its own against big coolers in our worst-case load tests? Read on to find out!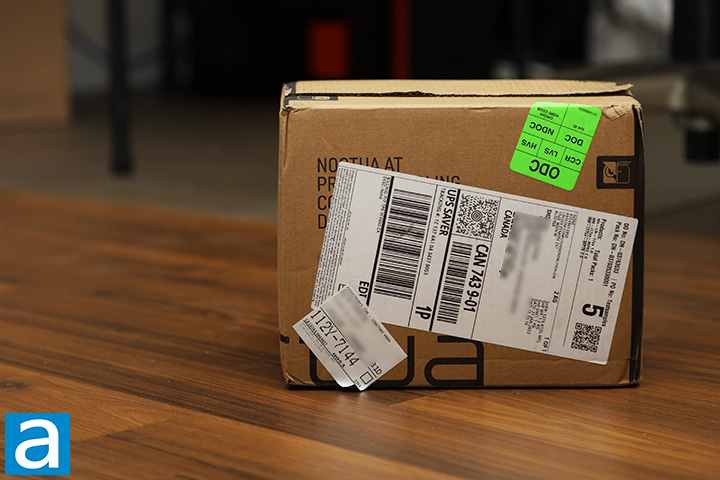 Today's review unit of the Noctua NH-L9i-17xx arrived from Noctua's offices in Vienna, Austria. Traveling with UPS and their Worldwide Saver shipping, this box arrived in good condition. There were a few dents and bumps around the box, but not anything to be worried about. As we have already seen, Noctua sent us their products in a company-branded box. Inside, they included additional packing material with our review sample to cushion any bumps or knocks it might face while in transit. The company also included a few LGA 1700 mounting kits for heatsinks we already own.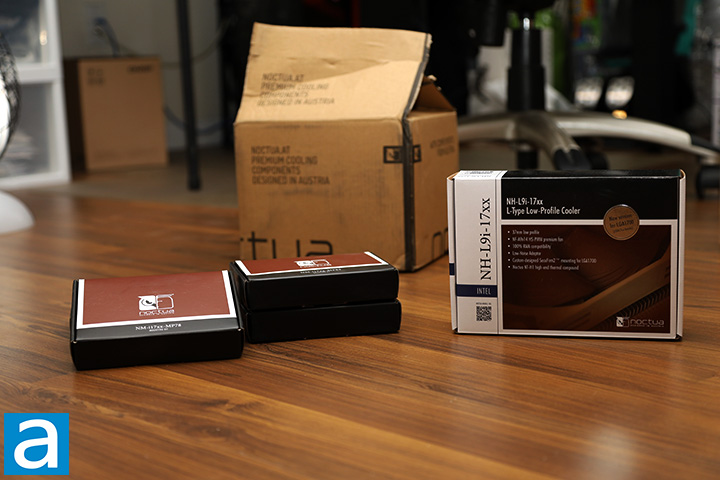 Noctua does not generally change their formula much for their retail box design, and this is the same with the NH-L9i-17xx. The left side shows the product name along with an Intel tag and a QR code pointing to Noctua's website. The product name and description, "L-Type Low-Profile Cooler", is printed on a tile at the top. The bottom tile with the NH-L9i-17xx in the background has a list of feature highlights. These point to its 37mm height profile, NF-A9x14 HS-PWM fan, 100% RAM compatibility, low-noise adapter, SecuFirm 2 mounting system for LGA 1700 CPUs, and the included NT-H1 thermal compound. A glossy silver sticker highlights the fact this is a new version for LGA 1700 CPUs only, in case you could not tell by the name. Otherwise, we have features and specifications for the heatsink on the remaining sides of the box.
Speaking of which, I have grabbed the specifications from the manufacturer's website for your perusal:
Cooler Specification
Socket compatibility: Intel LGA1700
Height (without fan): 23 mm
Width (without fan): 95 mm
Depth (without fan): 95 mm
Weight (without fan): 355 g
Height (with fan): 37 mm
Width (with fan): 95 mm
Depth (with fan): 95 mm
Weight (with fan): 430 g
Material: Copper (base and heat-pipes), aluminium (cooling fins), soldered joints & nickel plating
NSPR: 59
Max. TDP: see NSPR
Fan compatibility: 92x92x14mm, 92x92x25mm
Scope of delivery:
- NF-A9x14 PWM premium fan
- NA-RC7 Low-Noise Adaptor (L.N.A)
- NT-H1 high-grade thermal compound
- SecuFirm2™ mounting kit
- Screws for 92x92x25mm fans
- Noctua Metal Case-Badge
Warranty: 6 Years
Fan Specification
Model: Noctua NF-A9x14 HS-PWM
Bearing: SSO2
Max. rotational speed (+/- 10%): 2500 RPM
Max. rotational speed with L.N.A. (+/- 10%): 1800 RPM
Min. rotational speed (PWM, +/-20%): 600 RPM
Max. airflow: 57,5 m³/h
Max. airflow with L.N.A.: 40,8 m³/h
Max. acoustical noise: 23,6 dB(A)
Max. acoustical noise with L.N.A.: 14,8 dB(A)
Input power: 2,52 W
Voltage range: 12 V
MTTF: > 150.000 h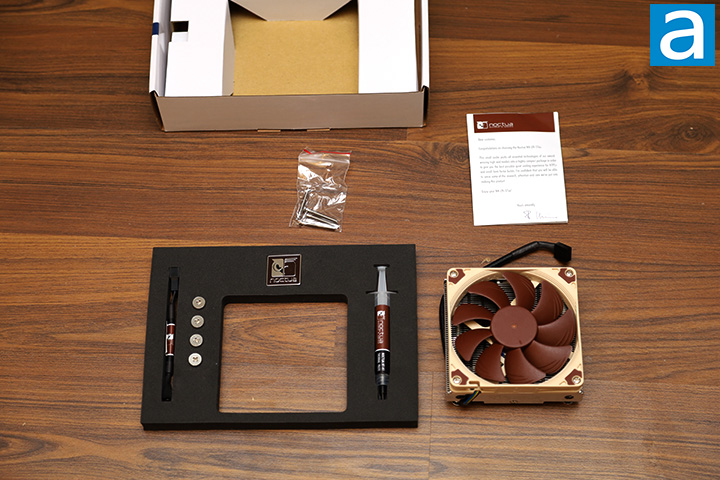 Opening this box up, the Noctua NH-L9i-17xx comes in a single cardboard cutout with a foam cutout on top to hold the accessories. As you can see, we have the CPU cooler with the fan attached in the middle of the box. The foam cutout holds accessories like the mounting screws, low noise adapter, Noctua case badge, and a tube of Noctua NT-H1 thermal grease. It is a shame that we still have yet to see their newer NT-H2 with their coolers yet, considering the NT-H1 has been around since 2008. There is a set of longer screws included, and this is actually so users can install 92mm fans that are 25mm thick as opposed to the 14mm fan that is currently mounted here. Finally, the SecuFirm2 mounting kit included allows the Noctua NH-L9i-17xx to work with Intel's LGA 1700 CPUs, as its name suggests. If you want to use it with other CPUs, you can get the NH-L9i or NH-L9a-AM4. Full compatibility with processors and their specified thermal design power can be found on Noctua's website. In addition to all this, Noctua has included a manual to show you how to install the cooler. The instructions are generally clear with easy-to-understand instructions.
---
Page Index
1. Introduction, Packaging, Specifications
2.
Physical Look - Hardware; Installation
3.
Test Results
4.
Conclusion