By: Aaron Lai
September 4, 2020
If I were to ask a group of people what their favorite flavor of ice cream is, there would probably be many different answers. Interestingly enough, a 2018 YouGov survey polled American citizens, and fourteen percent of Americans preferred chocolate over vanilla, which came in second at thirteen percent. Looking further into the data, the younger age group of 18 to 34 preferred cookies and creme or cookie dough over the aforementioned flavors. On the other hand, those over fifty-five preferred butter pecan, which is a flavor I have never tried. Personally, I prefer green tea, black sesame, and mango, but this is probably because they are more novel ice cream flavors that you do not see in every store. Ice cream is not the only thing that comes in flavors. In fact, most consumer goods and foods come in different variants, so users can get the one they are suited to the most. They usually have some sort of baseline "original" flavor like vanilla ice cream or salted potato chips, and these are often the first one and are the most preferred just because they are the most standard. In addition, many people like the combine different flavors to get a different taste altogether. Today, we have the Noctua NH-L9i chromax.black, a cooler that seems to be a combination of variants. For one, we have the chromax.black line making its appearance once again, which is a shift from the typical tan-brown color scheme. However, we also can see this cooler is meant specifically for the Intel platform, unlike the AMD AM4 version we saw a couple of weeks back. Are there more differences to these flavors than meets the eye? Let us read on to find out!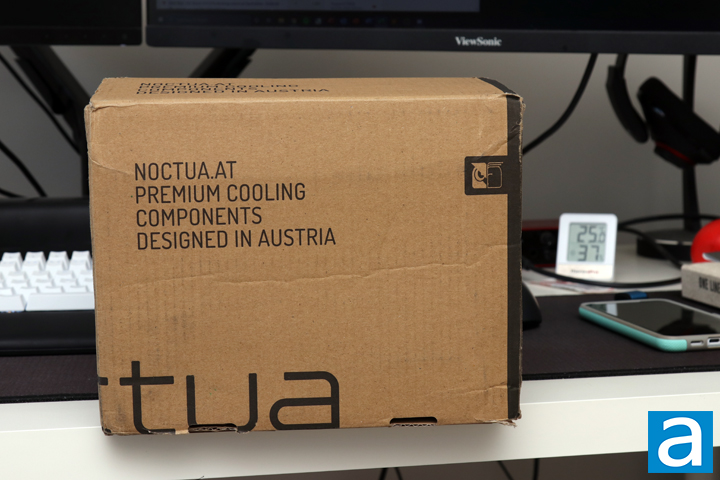 Today's review unit of the Noctua NH-L9i chromax.black arrived from Noctua's offices in Vienna, Austria. Traveling with UPS and their Worldwide Saver shipping, this box arrived in good condition. There were a few dents and bumps around the box, but not anything to be worried about. As we have already seen, Noctua sent us their products in a Noctua marked box. Inside, they packaged a few air pockets with our review samples to cushion any bumps or knocks it might face while in transit. In addition to the NH-L9i chromax.black we received today, Noctua also sent over the NH-L9a-AM4 chromax.black, which I have reviewed already.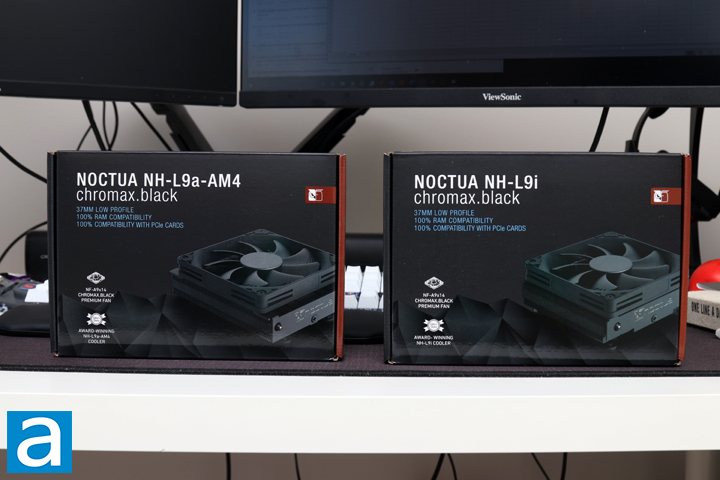 As we saw on other chromax.black coolers, Noctua has updated their retail containers for this lineup, and the same theme can be seen on the NH-L9i chromax.black box. The top left side shows the product name, with a few features described underneath. These three points all refer to the small size of the cooler, as it has a 37mm height profile, and a 100% compatibility with RAM and PCIe cards. On the right side, you can see a scaled down image of the cooler on the right side of the box. These retail boxes still look very much like a Noctua product should, but the separation that the chromax.black redesign has shown is nice to see on the outside. Otherwise, around the back we have several more features and specifications for the heatsink and the fan attached.
Speaking of which, I have grabbed the specifications from the manufacturer's website for your perusal:
Cooler Specification
Socket compatibility: Intel LGA1150, LGA1151, LGA1155, LGA1156, LGA1200, AMD AM4 with NM-AM4-L9aL9i
Height (without fan): 23 mm
Width (without fan): 95 mm
Depth (without fan): 95 mm
Weight (without fan): 320 g
Height (with fan): 37 mm
Width (with fan): 95 mm
Depth (with fan): 95 mm
Weight (with fan): 380 g
Material: Copper (base and heat-pipes), aluminium (cooling fins), soldered joints & nickel plating
Max. TDP: see CPU compatibility list
Fan compatibility: 92x92x14mm, 92x92x25mm
Scope of delivery:
- Black coated NH-L9i heatsink
- NF-A9x14 HS-PWM chromax.black premium fan
- Low-Noise Adaptor (L.N.A.)
- NT-H1 high-grade thermal compound
- Black SecuFirm2™ Mounting Kit
- Black Screws for 92x92x25mm fans
- Noctua Metal Case-Badge
Warranty: 6 Years
Fan Specification
Model: Noctua NF-A9x14 HS-PWM chromax.black
Bearing: SSO2
Max. rotational speed (+/- 10%): 2500 RPM
Max. rotational speed with L.N.A. (+/- 10%): 1800 RPM
Min. rotational speed (PWM, +/-20%): 600 RPM
Max. airflow: 57,5 m³/h
Max. airflow with L.N.A.: 40,8 m³/h
Max. acoustical noise: 23,6 dB(A)
Max. acoustical noise with L.N.A.: 14,8 dB(A)
Input power: 2,52 W
Voltage range: 12 V
MTTF: > 150.000 h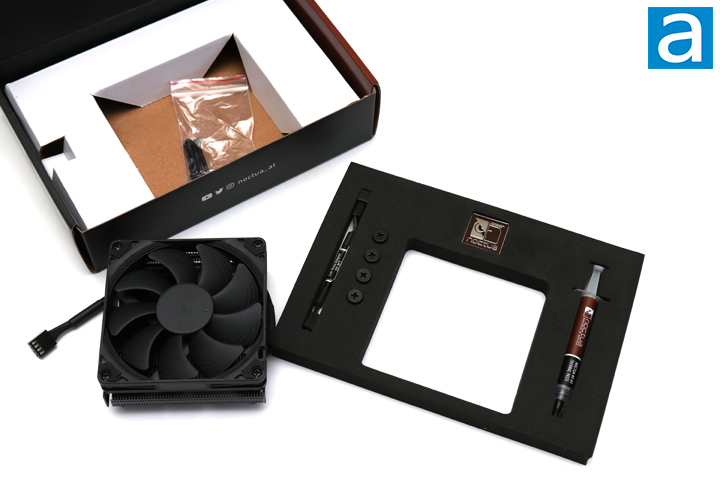 Opening this box up, the Noctua NH-L9i chromax.black comes in a single cardboard cutout with a foam cutout on top to hold the accessories. As you can see, we have the CPU cooler with the fan attached in the middle of the box. The foam cutout holds accessories like the mounting screws, low noise adapter, Noctua case badge, and a tube of Noctua NT-H1 thermal grease. It is a shame that we still have yet to see their newer NT-H2 with their coolers yet and I hope the update happens soon. There is a set of longer screws included, and this is actually so users can install 92mm fans that are 25mm thick as opposed to the 14mm fan that is currently mounted here. Finally, the black SecuFirm2 mounting kit included allows the Noctua NH-L9i chromax.black to work with Intel's LGA1150, LGA1151, LGA1155, LGA1156, and LGA1200. It also works with AMD AM4 sockets, assuming you get the Noctua NM-AM4-L9aL9i adapter. Alternatively, team red is also covered by the Noctua NH-L9a-AM4 chromax.black. Full compatibility with processors and their specified thermal design power can be found through Noctua's website. In addition to all this, Noctua has included a manual to show you how to install the cooler. The instructions are generally clear with easy to understand instructions.
---
Page Index
1. Introduction, Packaging, Specifications
2.
Physical Look - Hardware; Installation
3.
Test Results
4.
Conclusion