By: Aaron Lai
April 23, 2021
As I have mentioned in my recent review of the Cooler Master MasterAir MA624 Stealth, I talked about calling my cell phone provider to renew my cell phone contract. The cell phone provider I have been with has always provided great service and decent value, so I had no qualms with renewing. In addition, they had an offer for a free phone and bill credits. As such, I was very eager to jump on the deal. Thanks to their excellent customer service, the renewal was quickly processed and I received the free phone a few days later. Usually, I am accustomed to getting cheap, burner phones from these sorts of free deals, but I was genuinely surprised with the "free" cellphone they provided, especially as it was a pretty large phone and the specifications marked it as similar in performance to the current phone I am using. It is quite clear that wallet-friendly phones nowadays do not necessarily mean poorly built or low-quality products anymore and you can get a very good experience without needing to pay flagship pricing. Noctua has seemingly wanted to continue in this mindset as they recently released their NH-U12S redux. Boasting to be based on the excellent NH-U12S, this redux version comes with a lower price tag, at least when compared to the vanilla version. Obviously, there must have been some other redux-tions in the product or included accessories to align with this price. What are these cuts and how will it affect the user experience and performance? Let us read on to find out!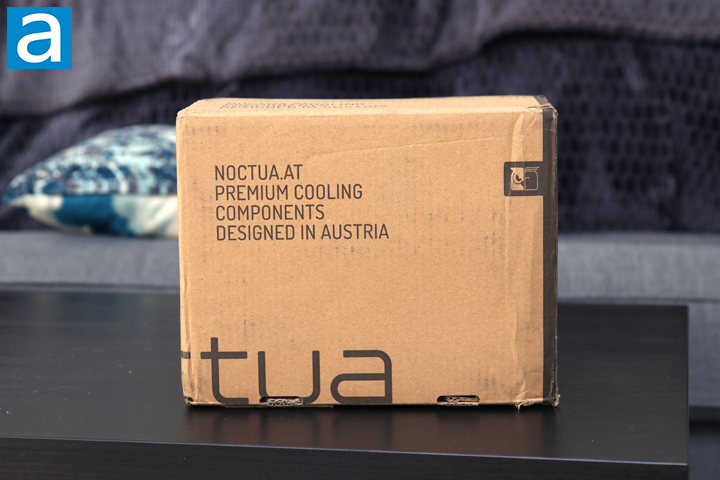 Today's review unit of the Noctua NH-U12S redux arrived from Noctua's offices in Vienna, Austria. Traveling overseas with UPS and their Saver service, the Noctua-branded box arrived in generally good condition, but with some slight bruises near one edge. Even so, I still really like the fact that Noctua has often sent us their products in their own boxes marked with Noctua logos. Inside, Noctua has provided us with their NH-U12S redux, as well as their NA-FK1 redux kit, which is a second fan kit to add to the heatsink. We will be using this as part of our testing in this review.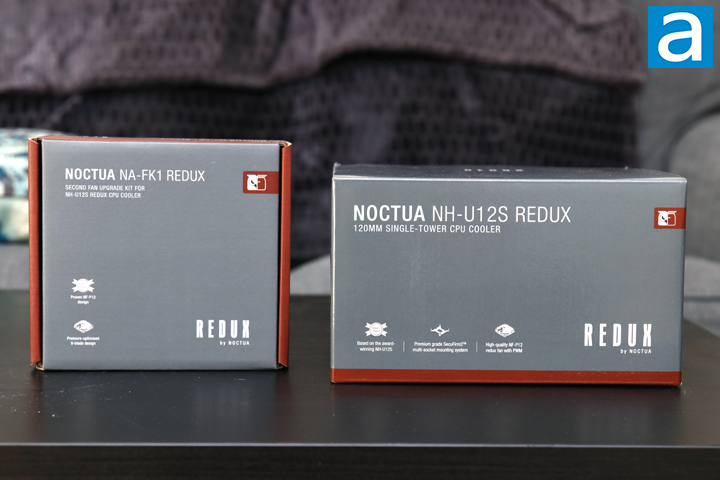 The redux lineup of Noctua, according to the manufacturer, is targeted at "price-conscious users" and is a "streamlined, more affordable" set of fans. As such, you can sort of see this more straightforward packaging when it comes to the retail box design. Rather than any sort of fancy graphics, we have a pretty plain box on both the NH-U12S redux and the NA-FK1 second fan kit. This uses a flat gray color, although some Noctua brown is used for accent colors. The product name is found at the top left corner with a descriptor of "120mm Single-Tower CPU Cooler" underneath. A few highlighted features are on this panel, including the fact this cooler is based on the well-reviewed NH-U12S, has the same mounting mechanism, and uses a redux version of the NF-P12 PWM fan. Other specifications can be found around the box.
For your viewing pleasure, we have grabbed the specifications from the manufacturer's website:
Cooler Specification
Socket compatibility: Intel LGA2066, LGA2011-0 & LGA2011-3 (Square ILM), LGA1200, LGA1156, LGA1155, LGA1151, LGA1150 & AMD AM4
Height (without fan): 158 mm
Width (without fan): 125 mm
Depth (without fan): 45 mm
Height (with fan): 158 mm
Width (with fan): 125 mm
Depth (with fan): 71 mm
Weight (with fan): 755 g
Material: Nickel plated Copper (base and heat-pipes), aluminium (cooling fins)
NSPR: 129
Max. TDP: see NSPR
Fan compatibility: 120x120x25
Scope of delivery:
- NH-U12S redux heatsink
- NF-P12 redux-1700 PWM fan
- 4x NA-AVP1 chromax.grey anti-vibration pads
- Fan mounting clips (one pair)
- NT-H1 high-grade thermal compound (pre-applied)
- SecuFirm2™ mounting kit
Warranty: 6 Years
Fan specification
Model: NF-P12 redux-1700 PWM
Bearing: SSO
Max. rotational speed (+/- 10%): 1700 RPM
Min. rotational speed (PWM, +/-20%): 450 RPM
Max. airflow: 120,2 m³/h
Max. acoustical noise: 25,1 dB(A)
Voltage range: 12 V
MTTF: > 150.000 h
NA-FK1 specifications
Scope of delivery:
- NF-P12 redux-1700 PWM fan
- 4x NA-AVP2 grey anti-vibration pads
- Fan mounting clips (one pair)
- NA-YC1 4-pin PWM y-cable
- 2x NA-RC14 Low-Noise Adaptor (L.N.A)
Warranty: 6 Years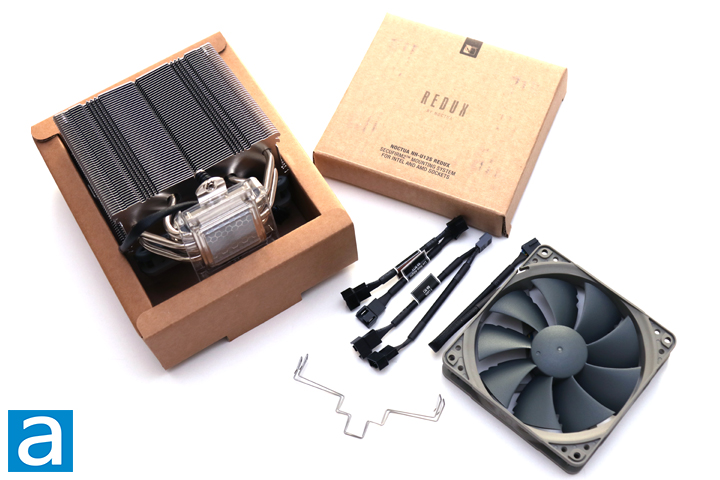 Once you open the box, you can see a few more areas have been cut in the packaging of the Noctua NH-U12S redux. The cooler itself contains two cardboard boxes. The larger one is more of a tray and it holds the Noctua NH-U12S redux with a NF-P12 redux fan attached. The smaller box holds all of the mounting accessories. This includes the SecuFirm2 mounting kit to mount into Intel's LGA2066, LGA2011-0 & LGA2011-3 (Square ILM), LGA1200, LGA115x sockets, as well as AMD AM4 socket. Interestingly, this does not include the older AMD sockets, although this makes sense since AM4 is the most popular one today. The Intel-specific and AMD-specific screws are held in separate plastic bags, while the two sets of mounting arms for the cooler are held in a single plastic bag. A single piece of documentation holds installation information for both Intel and AMD sockets. Unfortunately, there have been notable accessories that were cut from this cooler, including any tube of their thermal paste, low-noise adapter, screwdriver, second set of fan clips, or a case badge.
On the other hand, if you get the NA-FK1 second fan set, you can see we are provided with some of the previously missing accessories in addition to the second NF-P12 redux fan. This includes two low-noise adapters, splitter Y-cable to drive two fans with a single header, and a second set of fan clips. You also receive a set of rubber pads to reduce the vibration between the second fan and the metal fins.
---
Page Index
1. Introduction, Packaging, Specifications
2.
Physical Look - Hardware; Installation
3.
Test Results
4.
Conclusion