By: Aaron Lai
November 29, 2019
When I moved out into a new neighborhood, I was expecting there would still be a lot of construction around for several years to come. For one, many units have been built since I first moved in and the builders are still working on the actual last set of townhomes. Furthermore, even if they finished my specific area, there still is a lot of undeveloped land around my place that will probably be expanded into in the future. Finally, I also knew when I bought that there was a second phase coming to even my area. All in all, I could expect construction for quite a while. Even so, one of the recent developments that had me excited was a road, because it finally finishes a large link between two other major roads. For the longest time, I would detour onto a ring road for a single exit because there was no straightforward connection. With this completed, I can now use the new route for a more direct path to specific places like my local Costco. I also expect surrounding traffic to improve as this major road should reduce the traffic on the side ones. I know to some it may seem like a small change, but when these are the issues you see all the time, they start to become more noticeable. When NZXT announced their updated H-lineup, I was surprised to see there was not a whole lot of difference, at least when it came to the appearances. They did release one case with a facelift in the form of the stunning H510 Elite, but the rest of the line, including the H210i we have today, does not seem to be "new" in the same vein. Are we thus looking for more subtle changes that improve on daily conveniences? I guess we will look into this and more, so read on to find out!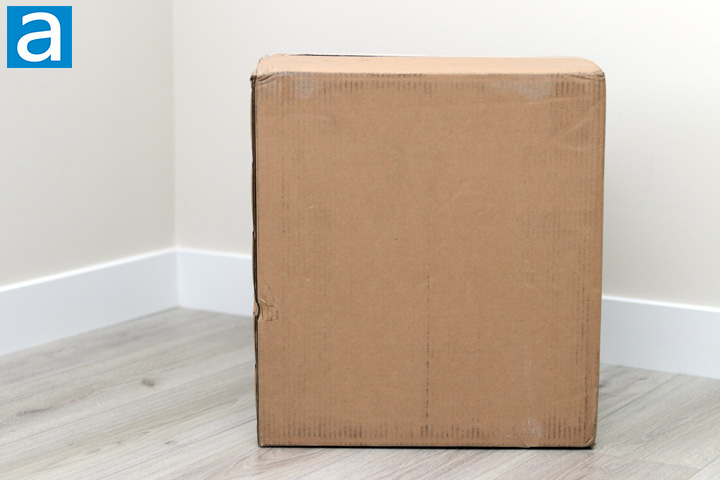 Today's review unit of the NZXT H210i arrived from NZXT's American offices in City of Industry, California. Traveling with FedEx and their standard Ground service, this box arrived in pretty good condition with only one small dent for me to be slightly concerned about. Even so, NZXT sent us their H210i in a second shipping container rather than using the retail case as the shipping case. Otherwise, there is not much else to speak about here, so I grabbed a pair of scissors and sliced this container open.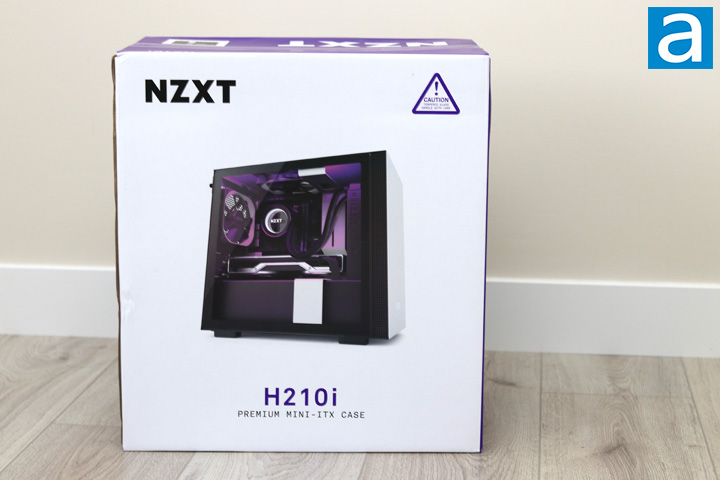 Much like most of the NZXT cases we have seen, the H210i comes in a color retail container. On one side, we have the case displayed in a scaled down version, with NZXT's logo at the top left corner and the product name at the bottom. Underneath, NZXT has described this case as a "Premium Mini-ITX Case". On the other side, we also have a closeup image of the case. Otherwise, you can also see NZXT has incorporated its white and purple color theme in the top and sides around the box. They have placed some more specifications and features on the box sides too for your information.
Before we move on, I have grabbed the specifications from the manufacturer's website for your perusal:
Dimensions: W: 210mm H: 349mm D: 372mm (with feet)
Material(s): SGCC Steel and Tempered Glass
Weight: 6 kg
Motherboard Support: Mini-ITX
Front I/O Ports: 1x USB 3.1 Gen 1 Type-A, 1x USB 3.1 Gen 2 Type-C, 1x Headset Audio Jack
Front I/O internal header: 1x USB 3.1 Gen 2 Internal Header, 1x USB 3.1 Gen 1 Internal Header, 1x USB 2.0 Internal Header, 1x HD Audio Header
Filters: All Air Intakes
Smart Device V2: 3x Fan channels with Max 10W per channel output*, 2x RGB LED port support up to 4x HUE 2 addressable LED strips or 5x Aer RGB or Aer RGB 2 fans, Built-in noise detection module
LED Strip(s): 1 integrated addressable LED strip
Included Accessories: Installation screws, 10 x Cable ties, 1x Headset Audio Jack splitter (4 pole to 3 pole), 1x GPU stand
Expansion Slots: 2
Drive Bays: 2.5": 3+1, 3.5": 1
Radiator Support: Front: 2x 120mm with Push or Pull, Rear: 1x 120mm
Fan Support: Front: 2x 120 / 2x 140mm, Top: 1x 120mm (1 AER F120 Case version included), Rear: 1x 120mm (1 AER F120 Case version included)
Fan Specs:
Aer F120 (Case Version)
- Speed: 1200 ± 200 RPM
- Airflow: 50.42 CFM
- Noise: 28 dBA
- Bearing: Rifle Bearing
Clearance: Cable Management: 16.3mm, GPU Clearance: Up to 325mm, GPU Max Thickness: 44mm, CPU Cooler: Up to 165mm, Front Radiator: 85mm, Rear Radiator: 42mm, PSU Length: 311mm
Warranty: 2 years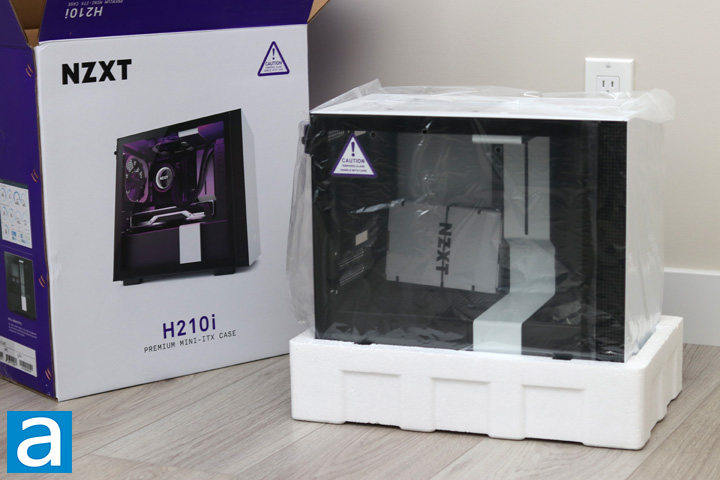 The NZXT H210i can be found sandwiched between two foam brackets with a plastic bag wrapping the case. This way the case is protected from any major impacts or any surface scratches before the consumer opens it. This is pretty typical for a computer case and everything arrived in excellent condition. An accessories kit can be found inside a box strapped to the motherboard area in the case. This includes the installation manual and screws to aid in installation. As for warranty, NZXT covers the case for two years, which is an acceptable length of time.
---
Page Index
1. Introduction, Packaging, Specifications
2.
Physical Look - Outside
3.
Physical Look - Inside
4.
Installation and Conclusion