By: Aaron Lai
September 20, 2019
It seems nowadays a lot of famous people are often monitored and judged by their social media content. Worse yet, media and news sources often scour into their past to dig up the dirt. I think it is fair to say all of us have made questionable choices, and these are often put on full display, as if to say that the person should have known better when they were younger. As such, I decided it was good for me to go through my Facebook timeline just to look through my own questionable choices. Thankfully, I really do not have anything to hide, but it was more for the entertainment value. After digging through my Facebook data spanning back to 2011, I can say there are quite a few things I cringed at as well as some real achievements I made. While I saw all my cringe moments in my teenage years, I was seemingly more willing to talk in a public setting, at least between Facebook profile pages. Some achievements I recalled included saying "pika" before I sneezed, waking up and getting on a bus within a five-minute time period, and catching a falling leaf between my eye and my glasses while walking outside. Another worrying trend was that most of my "liked" posts were of puns I posted back and forth between my friend. Unlike some of the politicians and celebrities, I think most of my social media content is worth sharing again, even if it clearly displayed a younger, less mature Aaron. When NZXT announced and sent us their H510 Elite, I definitely felt a bit of deja vu. It was only earlier this year when I reviewed the H500 and yet we already had a replacement. What is NZXT bringing that is new to the table that gives it the "Elite" status? Can we see growth by NZXT as a case manufacturer? Let us read on to find out!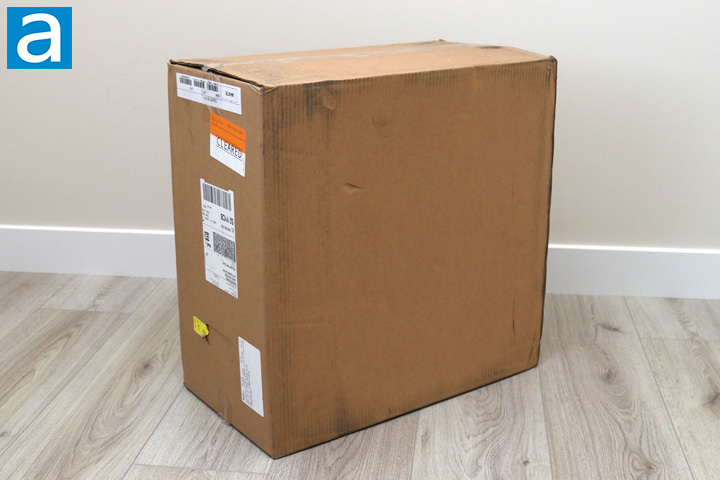 Today's review unit of the NZXT H510 Elite arrived via FedEx and their International Economy service. Traveling over 1500 miles or over 2500km, this box arrived in pretty good condition without too many dents or scratches to be concerned about. There is a slight dent on one side, but it is not deep enough to really make me worry. Otherwise, FedEx has done an excellent job in ensuring the contents of the box are safe. I grabbed my pair of scissors and opened up the box to get inside.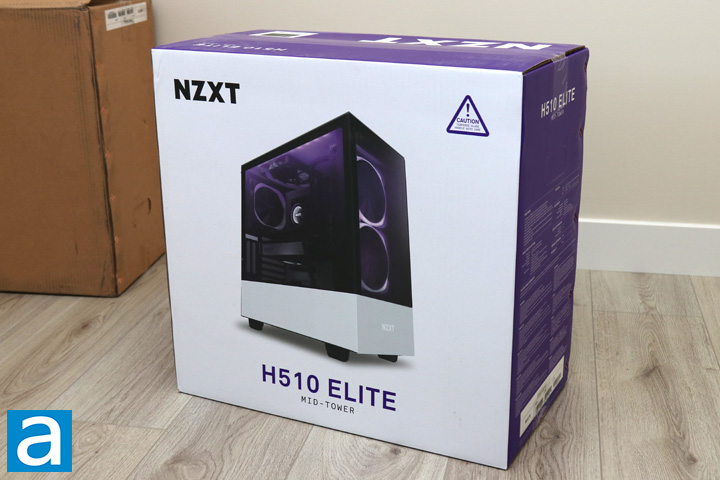 While the NZXT H500 I reviewed earlier this year used a standard monochrome retail box, the NZXT H510 Elite uses the full colored box for a more premium look. Just like previous NZXT cases, we have a scaled down image of the case, illuminated in all of its glory. Otherwise, NZXT has kept wording to a minimum, at least on this side of the case. On the other edge, we have the NZXT purple making its appearance here with white wording specifying various features and specifications for this case.
Dimensions: W: 210mm H: 435mm D: 428mm (without feet), W: 210mm H: 460mm D: 428mm (with feet)
Material(s): SGCC Steel, Tempered Glass
Weight: 7.5 kg
Clearance
- Cable Management: 19-23mm
- GPU Clearance: Up to 368.5mm
- Vertical GPU Mount Clearance: 40.64mm
- CPU Cooler: Up to 165mm
- Front Radiator: 60mm
- Rear Radiator: 60mm
- Reservoir & Pump: Up to 180mm (Along cable bar), Up to 86mm (Along bottom panel)
Motherboard Support: Mini-ITX, MicroATX, ATX
Front I/O Ports
- 1x USB 3.1 Gen 2 Type-C
- 1x USB 3.1 Gen 1 Type-A
- 1x Headset Audio Jack
Front I/O internal header
- 1x USB 3.1 Gen 2 Internal Header
- 1x USB 3.1 Gen 1 Internal Header
- 1x USB 2.0 Internal Header
- 1x HD Audio Header
Filters: All Air Intakes
Smart Device V2:
- 3x Fan channels with Max 10W per channel output
- 2x RGB LED channels, each support up to 4x HUE 2 addressable LED strips or 5x Aer RGB 2 fans
- Built-in noise detection module
RGB LED Lighting
- 2x Integrated Aer RGB 2 140mm Fans
- 1x Integrated addressable LED Strip
Vertical GPU Mount: 2 Slots
Drive Bays: 2.5": 2+1, 3.5": 2+1
Expansion Slots: 7
Radiator Support
- Front: 2x 140 or 2x 120mm with Pull *Note: Need to remove RGB fans if you plan to mount the radiator to the front
- Rear: 1x 120mm
Fan Support
- Front: 2x 120/ 2x 140mm (2x AER RGB 2 140mm included)
- Top: 1x 120mm/ 1x 140mm (1x AER F140 Case Version Included)
- Rear: 1x 120mm (1x AER F120 Case Version Included)
Fan Specs
Aer RGB 2 (140mm)
- Speed: 500-1,500 RPM
- Airflow: 30.39 - 91.19 CFM
- Noise: 22 - 33 dBA
- Air Pressure: 0.17 – 1.52mm-H2O
- Bearing: Fluid Dynamic Bearing
- Fan Connector 4-Pin PWM
Warranty: 2 Years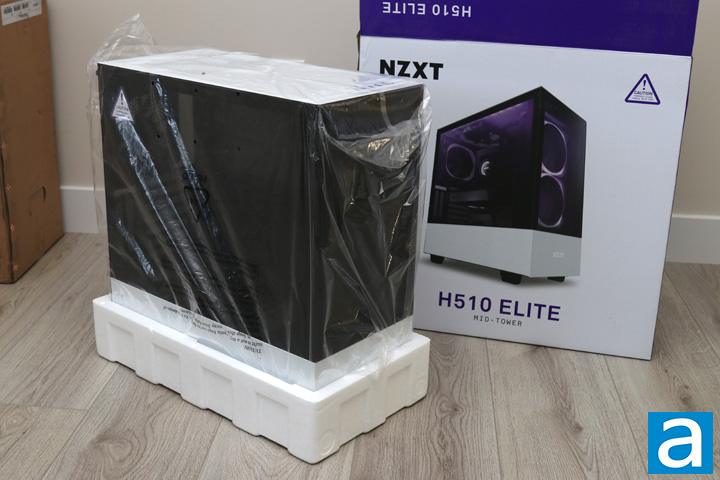 As expected with most cases, the NZXT H510 Elite comes to us wrapped in a clear plastic bag to prevent surface damage or other aesthetic issues before it is shipped to the end user. In addition, we have two large white foam brackets to further protect the large glass and metal box. Today's review unit is the White and Black variant of the NZXT H510 Elite, but this case also comes in a Matte Black version. Otherwise, a flat bag with a manual and a white cardboard box is included, providing users with information and accessories for working with the NZXT H510 Elite. As for warranty, NZXT covers the case for two years, which is an acceptable length of time.
---
Page Index
1. Introduction, Packaging, Specifications
2.
Physical Look - Outside
3.
Physical Look - Inside
4.
Installation and Conclusion