By: Aaron Lai
January 4, 2019
In Jonathan's review of the NZXT H700i, he talked about his own Myers Briggs Type Indicator, or MBTI for short. He explained that he was an ESTJ, which is characterized as "the executive". I laughed because the last time I took that test, I was an ISTJ, or "the inspector". To me, I think the traits seem to make sense, though according to statistics, this is one of the most common of the sixteen personalities. As I have written about before, I am ironically not shy about my introversion. I enjoy my time by myself, though it can be detrimental to some of my relationships with more extroverted friends. However, one thing I notice is that I can feel alone in a crowd of people. It is not because I am physically alone, but more so I run into trouble connecting with people and thus fade into the background. This sort of concept however may be unknown to extroverts like my colleague Jonathan, especially as they can become the life of the party. That is not to say extroverts do not feel this way either, as I am sure there are those who are categorized as extroverts but can have trouble connecting with people. When it comes to computer cases, we often see a similar effect, though this is less because of a certain manufacturer's personality. Instead, when there are so many other good choices within certain categories, case manufacturers need to stand out from the rest so that it can be "alone" in a crowd of competition. Thus, being alone in this case is actually a pretty good thing, as long as you stand out for the right reasons. Today, we have the NZXT H500, which is their entry into the compact ATX market. We have seen other cases in this region such as the Fractal Design Define C and, more recently, the MetallicGear Neo. Is the NZXT H500 a worthy choice or are there a few more corners cut than we would like? Read on to find out!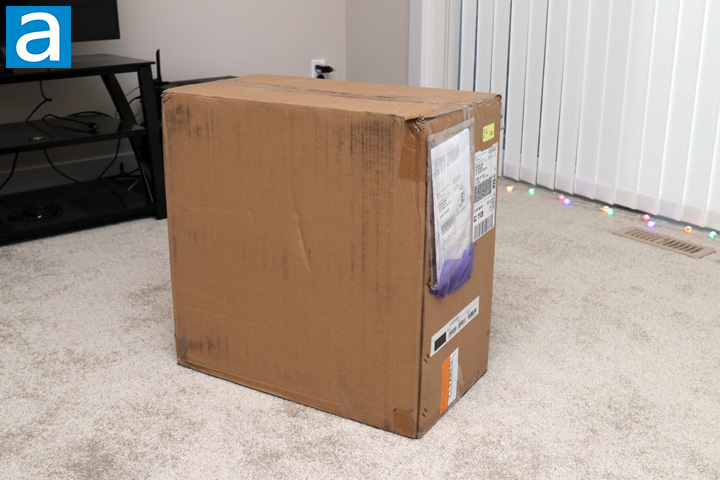 Today's review unit of the NZXT H500 arrived from NZXT's American offices in the City of Industry, California. Traveling via FedEx and their faster International 2Day service, the box arrived in pretty good condition. NZXT often likes to send their boxes in shipping containers, unlike other manufacturers, which means any damage we would see on this area should not affect the actual retail container. Thankfully, we do not have too much to be concerned about, other than a few scuffs and typical shipping marks.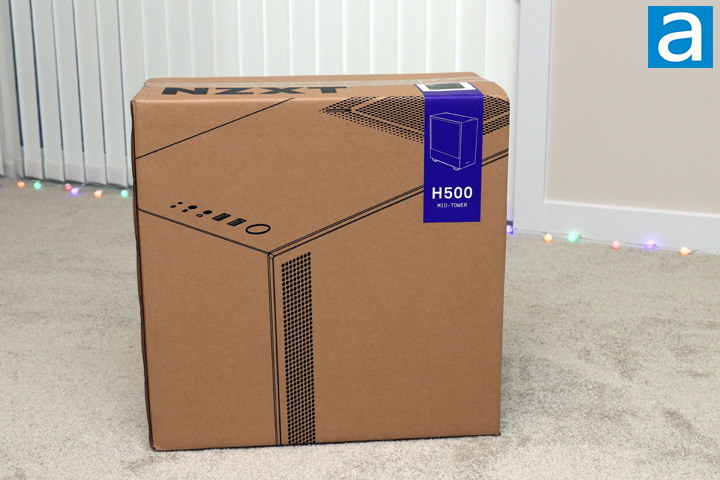 The retail container of the NZXT H500 is pretty simple. Unlike the larger H700i or the smaller H200i we have reviewed in the same series, the H500's container is a lot more basic. Instead of a full color box that we have grown accustomed to, the NZXT H500 comes in a brown corrugated cardboard box with black printing on it. The model name is shown clearly on one of the side panels. Some specifications can be found on the smaller sides too. Otherwise, there is not a whole lot else, so let us get inside.
Before we do so, here is a list of specifications obtained from the manufacturer's website for your perusal:
Dimensions: W: 210mm H: 435mm D: 428mm (without feet); W: 210mm H: 460mm D: 428mm (with feet)
Material(s): SECC Steel and Tempered Glass
Weight: 7 kg
Motherboard Support: Mini-ITX, MicroATX, and ATX
I/O Ports: 2 x USB 3.1 Gen 1, 1 x Audio/Mic
Filters: Front right side panel, bottom front and PSU intake
Expansion Slots: 7
Drive Bays: 2.5": 3+1; 3.5": 1
Radiator Support: Front: Up to 280mm; Rear: 120mm
Fan Support: Front: 2 x 120/2 x 140mm; Top: 1 x 120mm (1 Aer F120 Case Version included)/ 1 x 140mm; Rear: 1 x 120mm (1 Aer F120 Case Version included)
Fan Specs:
Aer F120 (Case Version)
- Speed: 1200 + 200 RPM
- Airflow: 50.42 CFM
- CFM Noise: 28 dBA
- Bearing: Rifle Bearing
Clearance: Cable Management: 19-23mm; GPU Clearance: Up to 381mm; CPU Cooler: Up to 165mm; Front Radiator: 60mm; Rear Radiator: 60mm; Reservoir & Pump: Up to 180mm (Along cable bar), Up to 86mm (Along bottom panel)
Warranty: 2 Years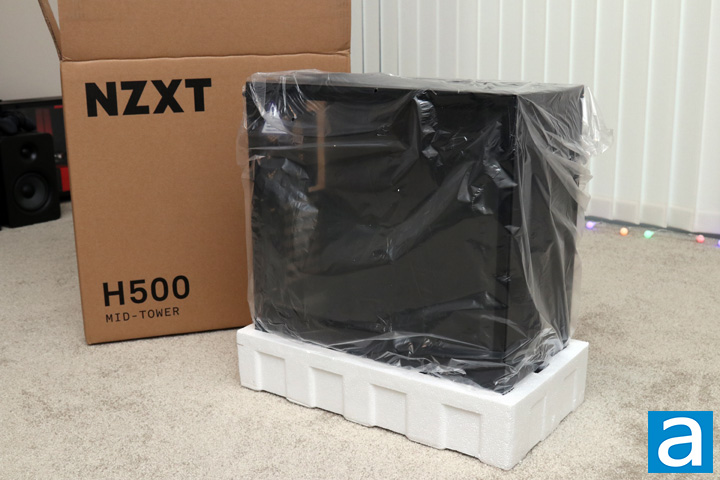 Inside, the NZXT H500 is packaged in a clear plastic bag and held between two foam brackets. These thick white pieces should take the brunt of any blunt force trauma the case may endure during shipping or movement, and they seem adequate for the task. NZXT also has a smaller accessory box that can be found inside the drive cage for mounting screws and such, but we will see what this entails later on. Otherwise, let us take a closer look at the chassis itself.
---
Page Index
1. Introduction, Packaging, Specifications
2.
Physical Look - Outside
3.
Physical Look - Inside
4.
Installation and Conclusion