Page 4 - Installation and Conclusion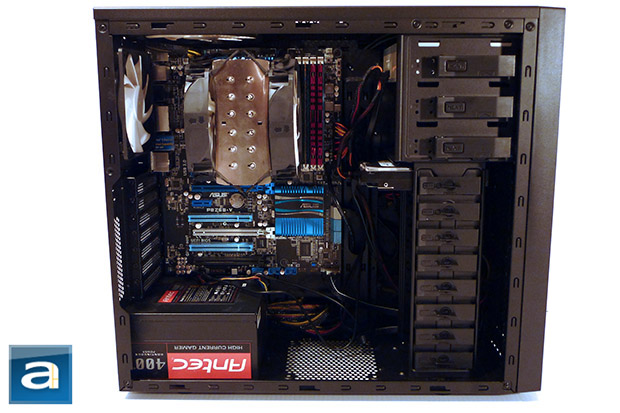 NZXT has done it again, and provided a chassis that is easy to install parts into without any real issues -- except for a minor one. Running the ATX 4-pin/EPS 8-pin power cable near the top rear corner fans proves to be challenging; however, it appears to be less of an issue to me, since I have done this a few times with the Source 210 Elite already. The power supply fits into the chassis effortlessly, and is very easy to secure into place. In addition, the holes adjacent to the motherboard are in the perfect location for running cables along the back of the tray. Just like the Source 210 Elite, the USB 3.0 cable was easy to route to the front, and I love the basic cable management already provided by NZXT from factory. The spacious interior of this chassis is exceptionally good, and you can install the parts in whichever order you like without worrying about something being blocked.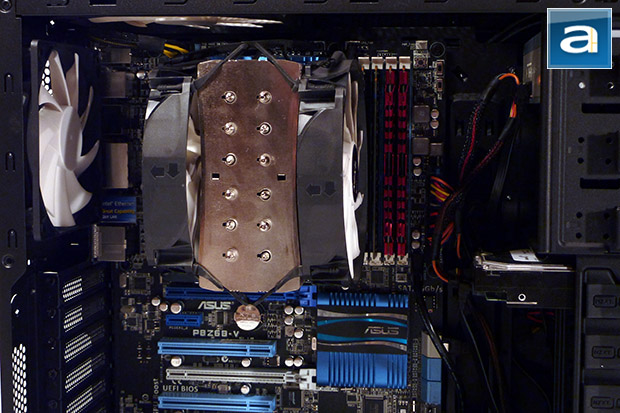 There was something very odd about the 5.25" drive bay on the Source 220. It seems the metal lips used to hold the drive into place are located about a millimeter higher than they should be. I had to tilt up the optical drive and push it in with a little bit more effort. It is no easy slide this time around, but it does give you a very secure fit almost without using the tool-free clamps. My system doesn't have a graphics card in it, simply because I have no need for it on this computer. However, for the purpose of this review, I installed my ATI Radeon HD 4870 X2 just to see how a large of a card it could fit. The end result is a perfect fit, with a lot of room to spare. If you are running a GeForce GTX 590 or Radeon 5990, then you can move the hard drives down to give yourself 330mm front to back -- but I'm thinking someone with this mid-tower case is unlikely to be using those graphics cards anyway.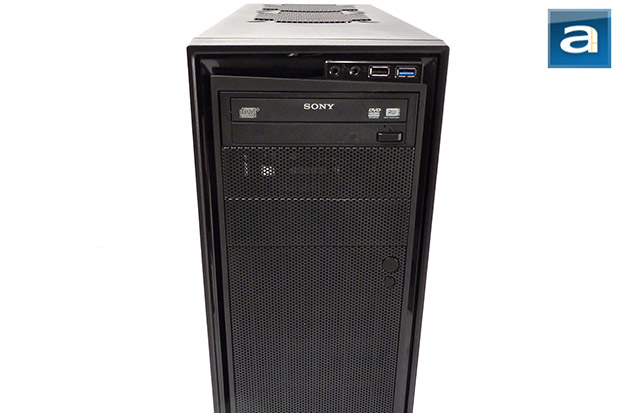 With everything in, I closed the case and set it up for usage. I have a feeling a number of people will be wondering where my keyboard, mouse, monitor are. The answer is, I don't have any hooked up to this computer, and I'm being dead serious. In fact, the only thing connected to the computer is the power cable and the network cable, since this is my personal server. How loud is the NZXT Source 220? Well, using the APH sound scale from 0.0 to 10.0, where 0.0 is outer space and 10.0 is a rocket launching in front of your face, I would rate the NZXT Source 220 to be at approximately 3.5. It certainly isn't silent; but also very far from being called loud. In regards to cooling, overall, I can say this case does a reasonable job for my build. Without a graphics card, it is a bit harder to tell. However, it definitely does remain cool even under heavy loads, and the stock fans don't get overly loud. To be honest, this case and fan setup is not designed to be super quiet in the first place. On the other hand, the Source 220 isn't designed to be enthusiast level either, so what we have here is a very reasonable chassis when it comes to cooling for the price you pay.
-----------------------------------------
With the NZXT Source 220 retailing for about $60 at press time, this chassis is about $10 more than the Source 210 Elite. The biggest difference between the two is the mesh on the front, 10mm increase in height, with black as your only color choice. Generally speaking, I am a huge fan of the tool-free design, which is completely effortless in the Source 220. If you really like the simple and sleek design of the chassis, the latest from NZXT will certainly win some points over in the aesthetic section. I am also very happy with the mesh on the front, as it makes adding fans worthwhile, but in return, the large opening is just asking for dust invaders. Dust filters would be nice, but I am not sure if it is a reasonable thing to ask for in a case of this price. The two fans at the back are great for the price bracket, but I could always wish there was one in front to really emphasize the feature of having a mesh panel. A spacious interior is always swell for those who want to add components, or just enjoy working in easy to access places. I'm still disappointed with the not tool-free design of the expansion slots, and a bit more room behind the motherboard tray; these really aren't difficult to add, and remains to be seen on the Source chassis. While I cannot argue against this chassis being a great value, I will leave it up to you to decide if the front mesh is really worth an extra $10 over the NZXT Source 210 Elite.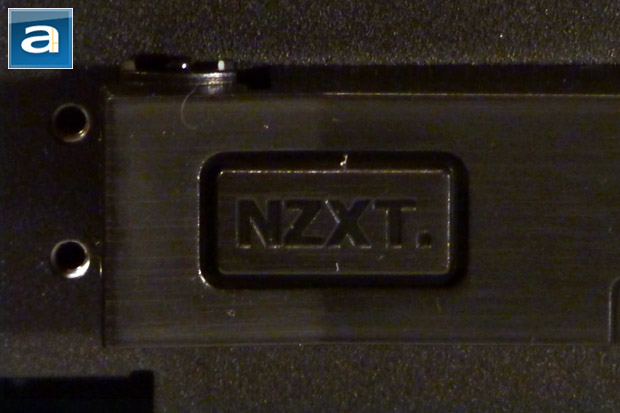 NZXT provided this product to APH Networks for the purpose of evaluation.
APH Review Focus Summary:
8/10 means Definitely a very good product with drawbacks that aren't likely going to matter to the end user.
7/10 means Great product with many advantages and certain insignificant drawbacks; but should be considered before purchasing.
-- Final APH Numeric Rating is 7.2/10
Please note that the APH Numeric Rating system is based off our proprietary guidelines in the Review Focus, and should not be compared to other sites.
A tight budget always means sacrifices in features; however, NZXT continues to do an excellent job in offering tons of great features at an affordable price with the Source 220 chassis.
Do you have any comments or questions about the NZXT Source 220? Drop by our Forums. Registration is free, and it only takes a minute!
---
Page Index
1.
Introduction, Packaging, Specifications
2.
Physical Look - Outside
3.
Physical Look - Inside
4. Installation and Conclusion