By: Aaron Lai
December 27, 2019
I always find it crazy to think how fast Christmas and the winter break flies by. The build up to Christmas seems like a slow rumble, but once it is over, it finishes quickly. When I was still in grade school, we had at least a week off before Christmas as well as a week off after before returning in the new year. In high school, this was extended even further as the month of January was spent studying for exams so we did not have much class time in the first month back either. University was back to the two weeks, but the university I attended would often start a week after all the other post-secondary institutes in Canada. Now that I have been working for a few years now, the break is a lot shorter, especially as my vacation only begins on Christmas Day until the second day of the new year. In addition, with all the plans I have made for the eight days I have off, it does not necessarily feel like I have much time off. I should not really complain, as some companies do not even shutdown during the Christmas break and make people take their own time if they want it off. However, I think amidst all the busyness and rush that the season brings, it is important to have some time to pause and slowdown from the rush. For myself, it helps me to stop and remember why I even celebrate Christmas in the first place. As part of this routine, I often just plug myself up with music. When this new company, paplio, decided to send us their wireless earphones, I thought what would be a better way to spend a few of the winter nights listening and using this during my break. What are my impressions with how it fares? I hope you will pause long enough to read this review and find out!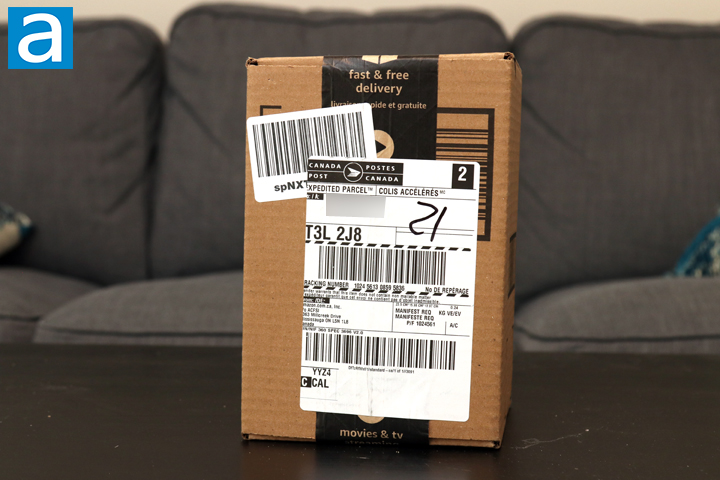 Today's review unit of the paplio Dash arrived from an Amazon fulfillment center in Mississauga, Ontario. This is not too surprising considering the company we have here today. Paplio, which will be referred to as "paplio" with a lowercase p from now on, is a company based in Taiwan. Searching through the aforementioned retailer, we can see paplio has primarily sold cables, USB chargers, and other smartphone accessories. Otherwise, traveling with Canada Post and their Expedited Parcel service, this Amazon-marked box arrived in excellent condition with no concerns of damage due to its pristine condition. Amazon has also packed large plastic pockets to prevent any damage to the product. I quickly grabbed a pair of scissors to get to our Dash earphones.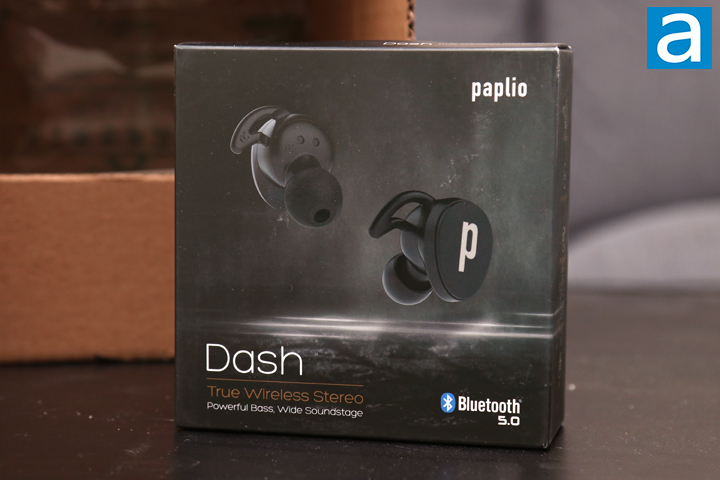 The retail packaging for the paplio Dash is pretty simplistic with a black color scheme. The wireless headphones are displayed on the front of the box with some interesting styling. The company's logo can be found at the top left corner and the product name at the bottom right side. A description of "True Wireless Stereo" and "Powerful Bass, Wide Soundstage" are printed underneath. Hopefully, these are aspects we find when we take a deeper listen in our audio testing. Otherwise, you can also see the Bluetooth 5.0 specification to show these pair of wireless earbuds fully support the more recent version. Around the edges and the back, we have some more specifications and features in English.
Before we continue on, I have grabbed the specifications from the manufacturer's website for your viewing pleasure:
Bluetooth version: Bluetooth 5.0
Profiles: A2DP, AVRCP, HFP, HSP, SPP
CODEC: SBC, AAC
Range: 20m or 65ft
Driver: 5mm dynamic driver
Sensitivity: 97dB@1KHz
Battery life: 5hrs per charge / 20hrs total
Charging time: 15 minutes for 1 hours use, 1.5 hours to fully charge
Microphone: MEMS omnidirectional microphone
Waterproof: IPX5
Weight: 5.5g or 0.19oz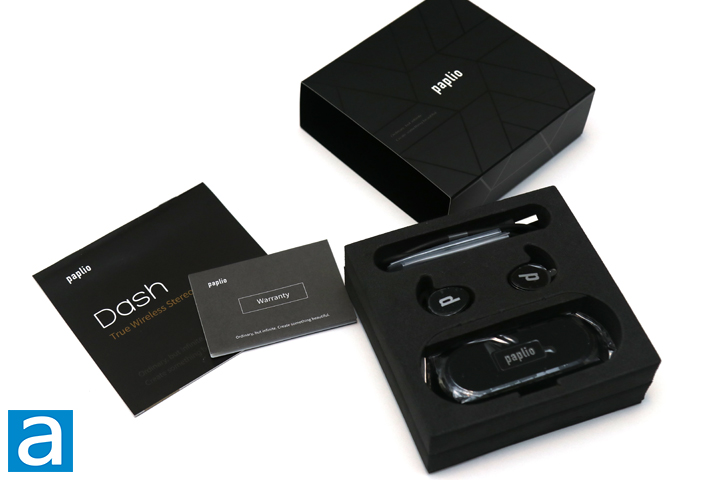 Once you remove the outer shell, you can see the paplio Dash is found in a second foam container with a paper sleeve around it. Inside this foam shell, we have all of the accessories and the headphones wedged in their foam spots. This includes the left and right ears of the paplio Dash, the charging case, three sets of ear tips, two ear fins, micro USB cable, and a small user manual. A smaller sheet of paper is included to outline the warranty information for the paplio Dash, which is one year in length.
---
Page Index
1. Introduction, Packaging, Specifications
2.
Physical Look - Hardware
3.
Subjective Audio Analysis
4.
Conclusion