By: Aaron Lai
October 22, 2021
I spent a day test driving some cars with colleague Jonathan Kwan during one of my days off. This included a Tesla Model 3 Performance. To say it was fast would be a bit of an understatement, especially when you first put your foot on the accelerator. I know this is well documented for electric cars, but it was not tangible until I sat in the car and felt my whole body pull back while I was going forward. The sensation of it was really such a shock and adrenaline rush. In fact, the first time I was in the passenger seat and Jonathan accelerated to full speed, all I could do was burst out laughing at how crazy that felt. When I was in the driver's seat however, the speed did not feel as apparent until Jonathan pointed it out on the dash. I think the speed also did not feel very real since there were no loud engine noises made by the Tesla. As such, we made our own engine noises so that we could "hear" the speed. On the other hand, when we get memory kits in for review, the speed differences are not always fully realized until we run our tests. We have seen high speed DDR4 memory kits up to the range of DDR4-4000, first in the form of the Ballistix Elite. Today, Patriot has sent us a new speed-topping DDR4-4133 kit, at least for what we have reviewed. We have seen the Viper RGB twice before in DDR4-3200 and DDR4-3600 flavors, but how does this RAM kit compare? Can all this speed really be experienced or felt in our benchmarks? Let us read on to find out!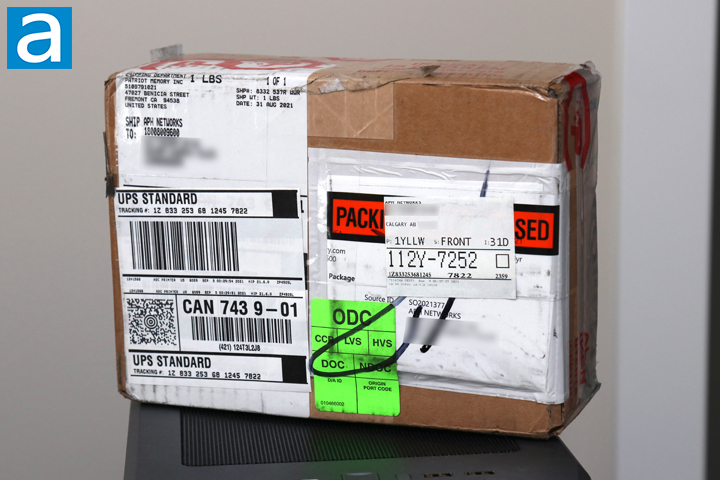 Today's review sample of the Viper RGB White DDR4-4133 2x8GB arrived from Patriot's offices in Fremont, California. Traveling with UPS and their Standard ground service, this small brown corrugated cardboard box arrived in relatively good condition with no marks or bruises to be concerned about. The box is taped up but easily opened to reveal the item inside. Along with the memory, Patriot packed this box full of packing material to make sure everything inside was in pristine condition and, thankfully, this was the case.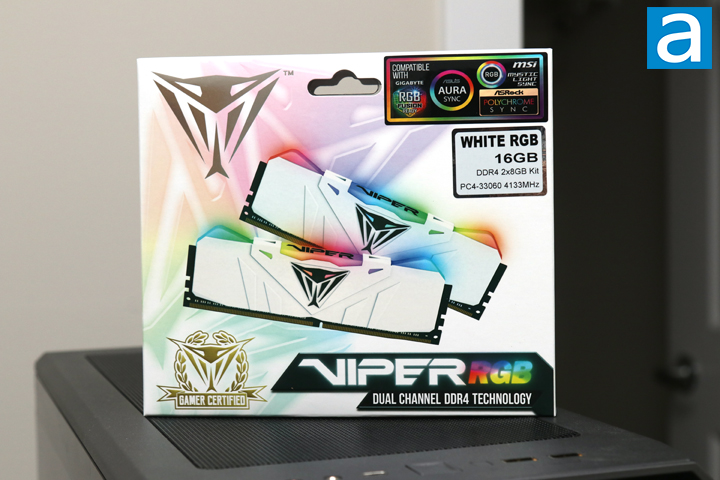 If you have read our other Patriot Viper RGB memory kit reviews, you will see very little has changed between the variations. They did send us the white version this time, so the box has a lighter color palette with a white background and the white kit displayed with all of its lighting illuminated. The Viper logo can be found on the top left with the many compatible RGB implementations on the right side. Patriot can keep on reusing the same box because the real differences can be found on a sticker on the box, which displays the overall amount of memory, the number of sticks inside, and the operating speed. Otherwise, the box maintains the same placement of everything else, including its Gamer Certified badge. This is not necessarily an actual certification, but it does tell us Patriot is targeting these kits at gamers.
Before we move on, I have grabbed the specifications from the manufacturer's website for your viewing pleasure:
Capacity: 16GB (2 x 8GB)
Base Frequency: PC4-17000 (2133MHz)
Base Timings: 15-15-15-36
Tested Frequency Profile 1: PC4-33000 (4133MHz)
Tested Frequency Profile 2: PC4-32000 (4000MHz)
Tested Timings: 19-21-21-41
Tested Voltage: 1.4V
Format: NON-ECC Unbuffered DIMM
Pin Out: 288-Pin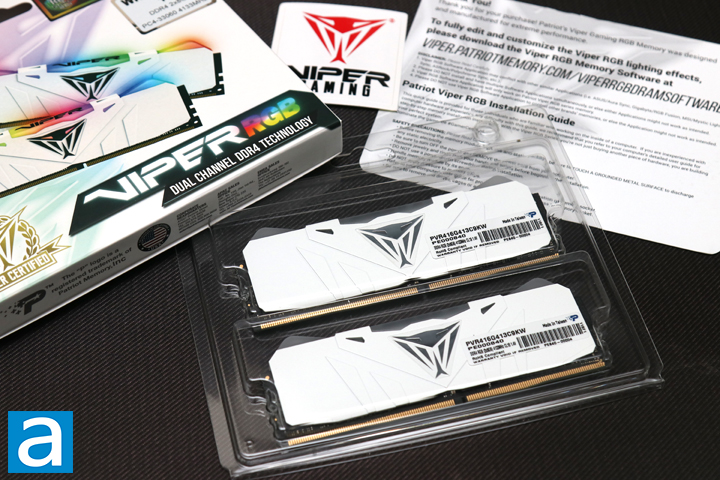 The box for the Patriot Viper RGB White DDR4-4133 2x8GB opens up to reveal the plastic shell the memory kit is held in. As expected, we have a Viper Gaming sticker and a sheet of documentation regarding installation and warranty. While we have the white version of this kit, a black one is also available to suit your needs. Finally, this memory kit has a limited lifetime warranty from Patriot, which is typical for what we have been seeing for RAM from reputable brands.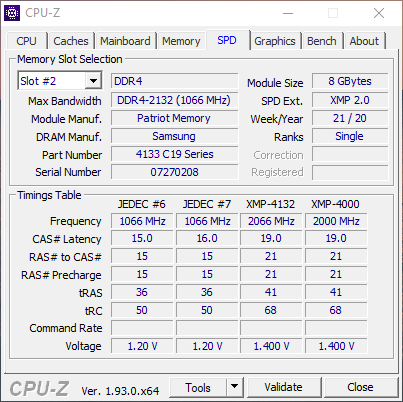 A screenshot of the memory tab in CPU-Z with the Patriot Viper RGB White DDR4-4133 2x8GB installed. The SPD timings in CPU-Z reads standard JEDEC specifications programmed into the memory as well as XMP/DOCP data for running the memory at various speeds. Using the latest BIOS revision, our ASUS Prime X470-Pro had no issues detecting and working with the Viper RGB out of the box. It should be noted, you may need to enter your BIOS to ensure the DOCP profiles are active. The Patriot Viper RGB White DDR4-4133 2x8GB retails for approximately $135 USD at press time.
---
Page Index
1. Introduction, Packaging, Specifications
2.
A Closer Look, Test System
3.
Benchmark: AIDA64 CPU
4.
Benchmark: AIDA64 FPU
5.
Benchmark: AIDA64 Memory
6.
Benchmark: PCMark 10
7.
Benchmark: 3DMark
8.
Benchmark: PassMark PerformanceTest 10
9.
Benchmark: SuperPI 1M, Cinebench R23
10.
Overclocking and Conclusion