By: Jonathan Kwan
April 28, 2023
In my 1MORE EVO review introduction, I talked about how I have been practicing professional style foosball tactics with my friends, which has dramatically increased our win ratios against random challengers we encounter. While we are still far from good enough from competing against world-ranked players, or even semi-professional players for that matter, our matches against casual players is simply unfair against them. In around October of last year, before we started using professional style tactics, we consistently recorded losses against these two guys that has a bit of an attitude. We ran into them again recently while practicing at a public table, and they challenged us to play. In the first game, they could not even score a single goal against us before the match ended. In the second game, they got one lucky goal, but the game ended with us nailing in five goals in less than three minutes. They left pretty quickly after with their attitude completely deflated, and my friend and I were quite amused at how the same guys who kicked our butts only a few months ago were too embarrassed to play any more on that day. It feels great to progress to a different level, and like our foosball play, we are now seeing a different level of DDR5 RAM compared to the first generation. SK hynix's A-die chips allows the latest DDR5 RAM to clock at 7200MHz and beyond, which is a whole gigahertz faster than last generation modules that cap out at DDR5-6200. You will need the latest CPUs to support these sizzling speeds, but will the next level clock speed translate to next level performance on 13th generation Intel CPUs? We took Patriot's newest Viper Venom DDR5-7200 2x16GB kit to find out.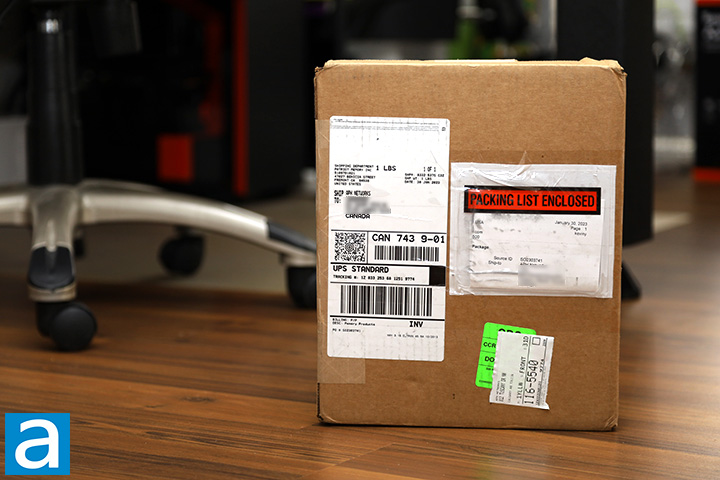 Our review unit of the Patriot Viper Venom DDR5-7200 2x16GB came in a small brown corrugated cardboard box from Fremont, California, USA as always. Using the UPS Standard service, everything arrived in excellent condition from Patriot's headquarters to us here in Calgary, Alberta, Canada for our review today.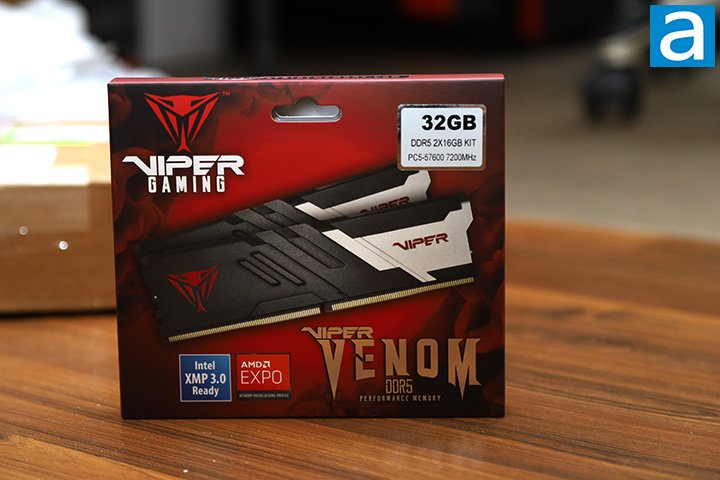 I have always found Patriot's retail memory packaging to be interesting, and the latest Viper Venom is no exception. As you can see in our photo above, the Patriot Viper Venom's retail box design is quite large for a memory kit. I am a big fan of products that come in an actual retail box and not a blister pack. The red background is clean, while a photo of the dual channel kit occupies the majority of the real estate up front. The red Viper Gaming logo is located at the upper left-hand corner. Meanwhile, on the upper right corner of the box, you will find a label indicating its capacity, configuration, and speed. Our particular variant is the non-RGB version as its name suggests, but an RGB version is also available. The Viper Venom DDR5 Performance Memory branding in silver text is at the bottom. An Intel XMP 3.0 Ready badge is located near the bottom left corner. Ours have an AMD EXPO badge as well, but ours is an early prototype run and the retail version will not have it as the platform does not support speeds above 6200MT/s. If you want to take a look at the RAM itself, two parallel windows show off the modules at the back.
Before we move on, let us take a look at the features and specifications of the Patriot Viper Venom DDR5-7200 2x16GB, as obtained from the manufacturer's website:
• On-Die ECC
• Thermal sensor
• Capacity: 32GB (2 x 16GB)
• Base Frequency: PC5-38400 (4800MHz)
• Base Timings: 40-40-40-77
• Base Voltage: 1.1V
• Tested Frequency Profile 1: PC5-57600 (7200MHz)
• Tested Timings: 34-42-42-84
• Tested Voltage for Profile 1: 1.45V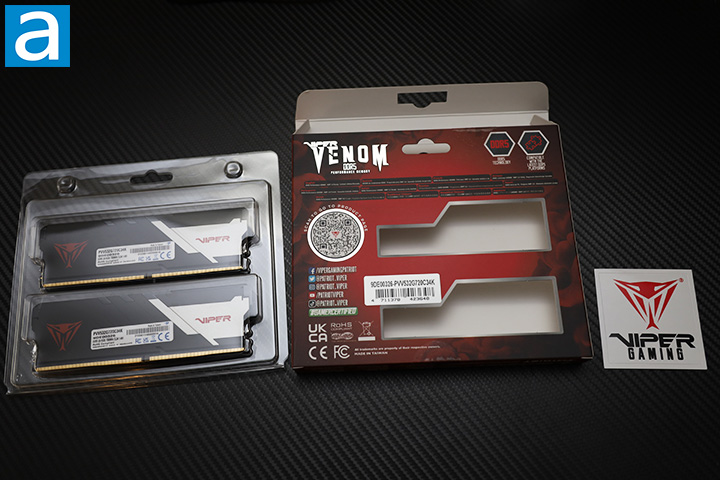 Out of the box, you will receive each memory module in the Patriot Viper Venom kit packaged in its own compartment in the clear plastic clamshell. Besides that, one Viper Gaming sticker is included for you to show off your brand pride. There is nothing else included, but I am not sure what else you can expect from a DDR5 kit either, haha.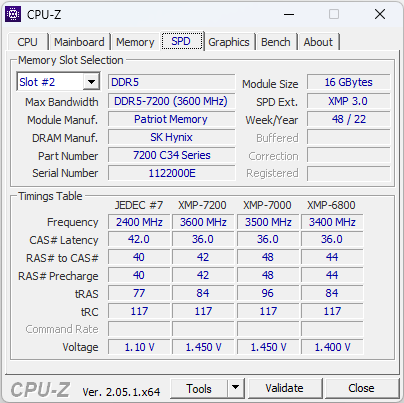 A screenshot of the memory tab in CPU-Z with Patriot's Viper Venom DDR5-7200 2x16GB installed. The SPD timings table in CPU-Z reads standard JEDEC specifications programmed into the memory as well as XMP data for running the memory at various speeds.
I tested the Viper Venom DDR5-7200 2x16GB with an Intel Core i7-13700K CPU on an MSI MPG Z690 Force WiFi motherboard. A 13th generation Intel CPU is required to operate RAM at 7200MT/s; it will not boot on any 12th generation Intel CPU at that speed from our experience. Another thing to note is even though it worked on our Z690 motherboard, a Z790 motherboard is highly recommended for better stability. The Patriot Viper Venom DDR5-7200 2x16GB retails for approximately $170 at press time.
---
Page Index
1. Introduction, Packaging, Specifications
2.
A Closer Look, Test System
3.
Benchmark: AIDA64 CPU
4.
Benchmark: AIDA64 FPU
5.
Benchmark: AIDA64 Memory
6.
Benchmark: PCMark 10
7.
Benchmark: 3DMark
8.
Benchmark: PassMark PerformanceTest 10
9.
Benchmark: SuperPI 1M, Cinebench R23
10.
Overclocking and Conclusion