Page 2 - A Closer Look, Test System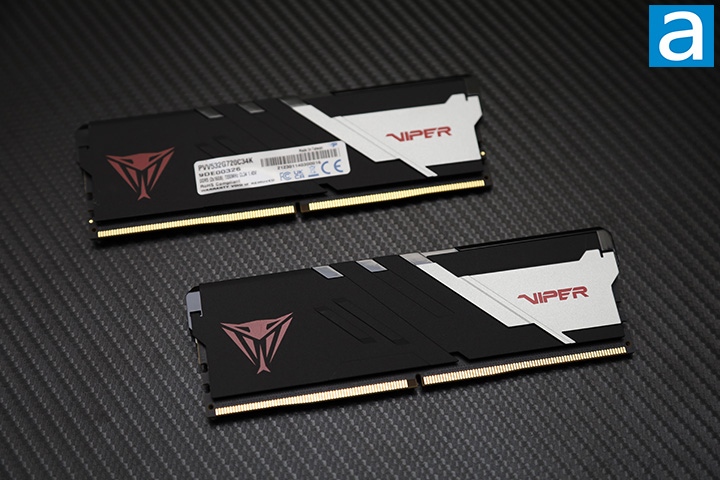 The Patriot Viper Venom DDR5-7200 2x16GB, being a part of the latest performance DDR5 line from the company, utilizes a set of medium-profile heatspreaders. The black heatspreaders with red Viper logo and silver nameplate is quite attention grabbing. The model we have does not have RGB LEDs, but you can buy a version that does. The Viper Venom's aluminum pieces are distinctively shaped and molded with sharp lines to give it lots of visual flare and complexity. Aluminum is lightweight and serves as a decent heat conductor. The Viper Venom is 43mm tall, or approximately a centimeter taller than modules with no heatspreaders at all. Since the heatspreader height is moderate, it is hard to imagine the Viper Venom will interfere with any modern processor cooler. Whether you like to call it marketing gimmick or whatnot, it is impossible to find performance memory without any form of a heatspreader attached for decades now. They do undeniably serve a purpose in dissipating heat, but for most memory modules, unless run at a voltage significantly over designed voltages -- which you will not, thanks to integrated memory controller voltage limits on Intel and AMD CPUs -- this feature is certainly not a requirement. But they look pretty cool in any windowed chassis.
The heatspreader design of the Patriot Viper Venom modules is asymmetrical when looked at straight on, but symmetrical between sides, which is logical, because memory can be installed in different directions depending on your motherboard manufacturer and design. Besides functional purposes, it also improves the look. The Viper logo in red on one side with the Viper branding over a silver background on the other. Patriot's logo is not permanently etched anywhere at all like many of their latest products. A specification label is found on one side. It lists information like the model number, in this case, PVV532G720C34K, bandwidth, CAS latency, voltage, and the kit's memory capacity. The Patriot Viper Venom DDR5-7200 2x16GB is made in Taiwan.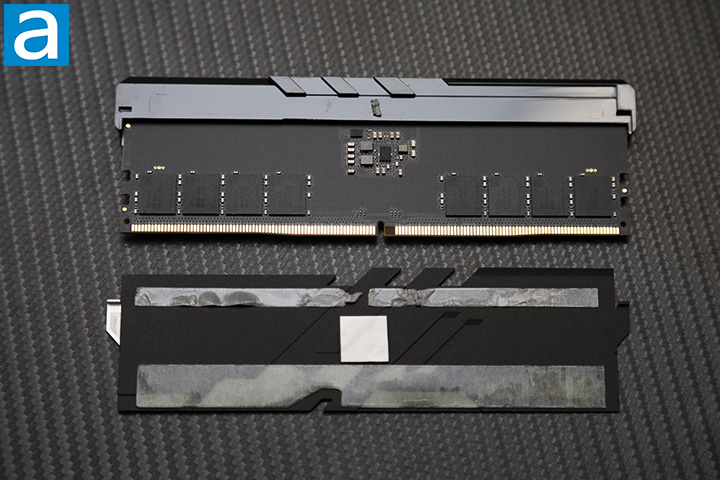 As you can see more clearly in our photo above, the Patriot Viper Venom DDR5-7200 2x16GB has a very nice black PCB. We can also spot the power management integrated circuit, commonly abbreviated as PMIC, near the center. Its heatspreader on top is composed of two separate pieces plus a plastic diffuser. In this case, it is solid black, but the RGB LED version will be translucent. The heatspreaders are held to the module itself by multiple strips of thermally conductive adhesive and are not physically locked together. The adhesive force between the two heatspreaders and memory ICs is pretty strong as always from the company, so if you ever do take them off, keep your hair dryer around.
From our above photo, it should also be clearer on how the heatspreaders are designed. The heatspreaders are mirror images of each other. The black plastic piece clips in between them. The pieces are made from solid aluminum, which feels solid in the hand and thick enough to resist easy bending. It is not thick enough to hold a lot of heat, so it should dissipate heat energy reasonably quickly into the surrounding environment. Either way, you will probably never remove them, since the heatspreader design is a selling point. In the unlikely event it will not clear your processor heatsink, then you might as well not buy this kit, haha.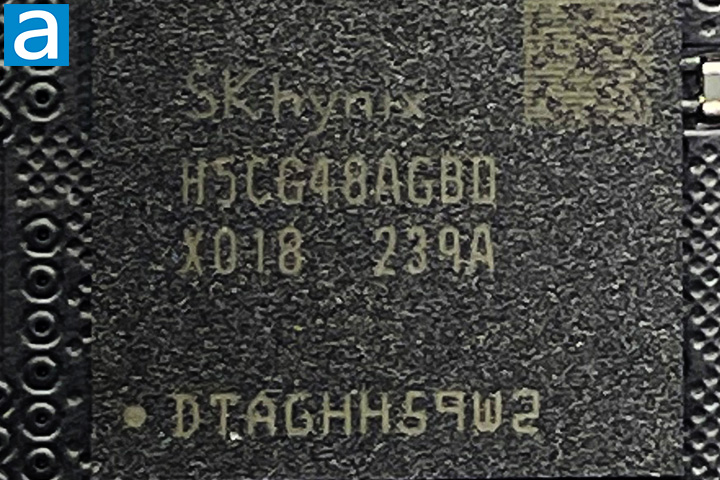 A closer look at the memory chips on the Patriot Viper Venom DDR5-7200 2x16GB dual channel memory kit. The photo above should be quite clear -- it says "H5CG48AGBDX018" on each IC. These are SK hynix-manufactured chips, with eight 2GB chips on one side only for a total of 16GB on each DIMM. As mentioned on the previous page, these RAM modules run at a frequency of DDR5-7200 with 34-42-42-84 latencies. These latencies are comparable but different than the competition, and we will see how they perform in just a moment. These modules operate at a stock voltage of 1.45V, which is higher than the base DDR5 voltage of 1.1V.
Special thanks to our former colleague Seth Claussen for letting us use his computer for benchmarking. Our test configuration is as follows:
CPU: Intel Core i7-13700K
CPU Cooling: Custom Water Cooling Loop
Motherboard: MSI MPG Z690 Force WiFi
Graphics: EVGA GeForce RTX 3080 Ti FTW3 ULTRA GAMING
Chassis: Thermaltake The Tower 900 Snow
Storage: XPG Atom 50 1TB
Power: EVGA SuperNOVA 1000 G5 1000W
Operating System: Microsoft Windows 11 Pro
Compared Hardware:
- Patriot Viper Venom DDR5-7200 2x16GB @ DDR5-7200 34-42-42-84
- Kingston FURY Renegade DDR5-7200 2x16GB @ DDR5-7200 38-44-44-105
- Thermaltake TOUGHRAM XG RGB D5 DDR5-5600 2x16GB @ DDR5-5600 36-36-36-76
---
Page Index
1.
Introduction, Packaging, Specifications
2. A Closer Look, Test System
3.
Benchmark: AIDA64 CPU
4.
Benchmark: AIDA64 FPU
5.
Benchmark: AIDA64 Memory
6.
Benchmark: PCMark 10
7.
Benchmark: 3DMark
8.
Benchmark: PassMark PerformanceTest 10
9.
Benchmark: SuperPI 1M, Cinebench R23
10.
Overclocking and Conclusion