By: Jonathan Kwan
May 12, 2023
I was chatting with a friend recently discussing the business evolution of technology companies that started off selling computer memory. Pretty much all of them -- ADATA, Corsair, G.Skill, Patriot, and Kingston -- expanded with product lines of chassis, cooling, power supplies, and/or peripherals with varying degrees of success. Of all of them, Corsair probably has the most comprehensive and successful lineup in all these categories, while Kingston ended up selling off their successful HyperX brand to HP. Traditional chassis, cooling, and power supply companies like Cooler Master and Thermaltake has also made very solid inroads into the peripherals market. And why would they not? RAM is a competitive category with low profit margins, and expanding into the aforementioned categories with much higher profit margins simply makes business sense. However, what I find interesting is how Thermaltake is the reverse of these companies, going from chassis, cooling, power supplies, and peripherals to RAM. I am not here to question their business decisions, but two years ago, we reviewed the TOUGHRAM XG RGB DDR4-4000 2x8GB, which proved to be a solid entry in this competitive space. In the era of DDR5, the company yet again offers the same elaborate heatspreader design with the TOUGHRAM XG RGB D5. The DDR5-5600 2x16GB kit we are reviewing today has relatively modest specifications, but the company promises great performance and overclocking potential with its 10-layer PCB and 2 oz copper inner layer. How well will it stack up? Read on to find out!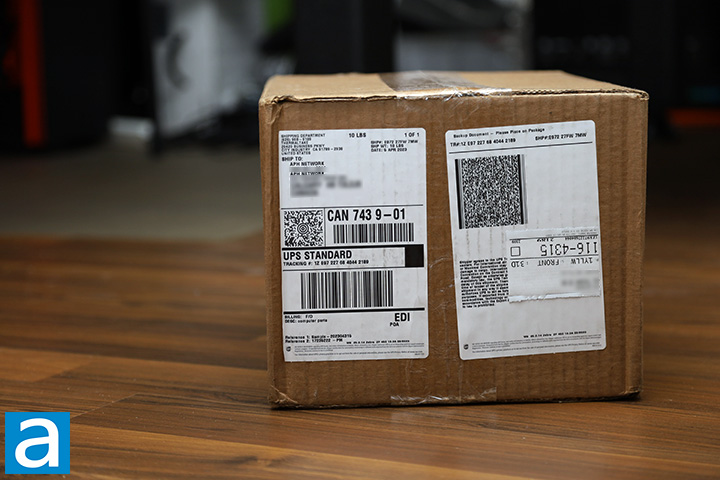 Our review unit of the Thermaltake TOUGHRAM XG RGB D5 DDR5-5600 2x16GB arrived in a medium-sized brown corrugated cardboard box from the company's American headquarters in City of Industry, California, USA. It came alongside the Thermaltake Toughpower GF3 850W, which I will take a look at in the coming weeks. Using UPS Standard, the shipping box arrived in great condition as did its contents to us here in Calgary, Alberta, Canada for our review today.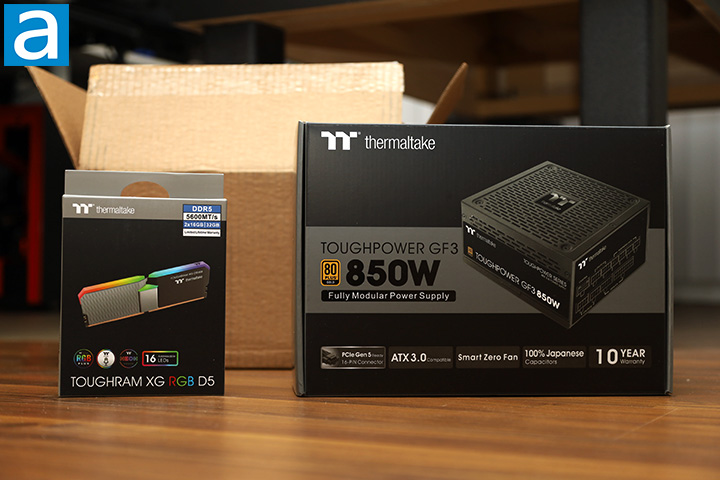 The retail box for the Thermaltake TOUGHRAM XG RGB D5 DDR5-5600 2x16GB is very similar to the TOUGHRAM XG RGB DDR4-4000 2x8GB my colleague Jonah reviewed back in June 2021. As you can see in our photo above, the Thermaltake TOUGHRAM XG RGB D5 comes in an actual box. The package art is clean with a black, gray, and white color scheme. A photo of one of the memory modules occupies the most prominent real estate up front. The Thermaltake logo is located in the upper left-hand corner. Meanwhile, near the upper right corner of the box, you will find a table indicating its capacity, configuration, speed, and type. Our particular variant is the DDR5-5600 2x16GB version. The TOUGHRAM XG RGB D5 branding in white text is at the bottom, except for the word "RGB", which is written in, well, RGB. An array of four icons above the branding text shows off its RGB capabilities. Feature highlights can be found at the back of the box.
Before we move on, let us take a look at the features and specifications of the Thermaltake TOUGHRAM XG RGB D5 DDR5-5600 2x16GB, as obtained from the manufacturer's website:
P/N: RG33D516GX2-5600C36B
Memory Type: DDR5
Capacity: 32GB Kit (16G x2), Hynix-M die 2GB
Tested Latency: 36-36-36-76
Voltage (V): 1.25 V
Speed: 5600 MT/s
Compatibility: Intel 600-Series, Intel 700-Series, AMD Ryzen 7000-Series
Module Type: DIMM
Performance Profile: XMP 3.0, EXPO
Package Content: 2 x 16GB memory module
Color: Black
Warranty: Limited Lifetime Warranty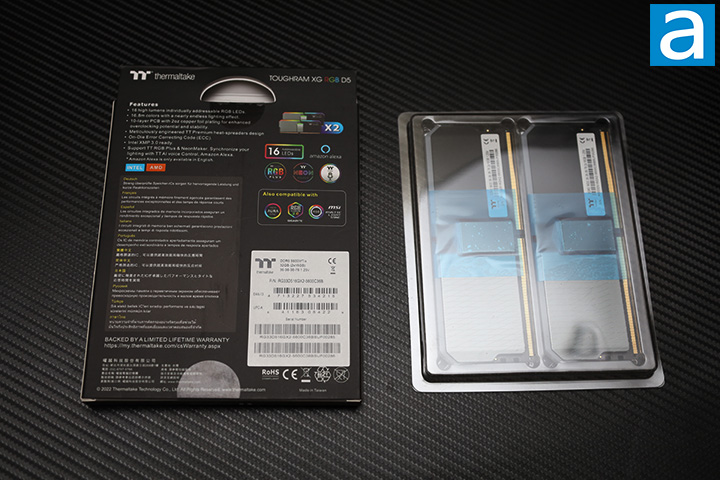 Out of the box, you will receive each memory module in the Thermaltake TOUGHRAM XG RGB D5 kit packaged in its own compartment in the enclosed clear plastic tray. There is nothing else included, but I am not sure what else you can expect from a DDR5 kit either, haha.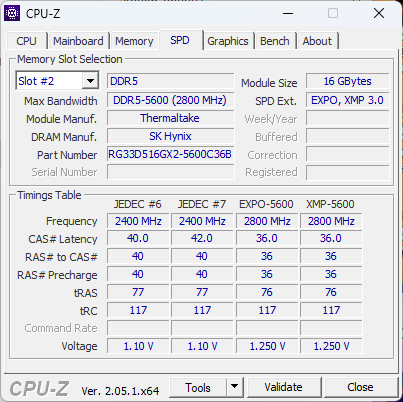 A screenshot of the memory tab in CPU-Z with Thermaltake's TOUGHRAM XG RGB D5 DDR5-5600 2x16GB installed. The SPD timings table in CPU-Z reads standard JEDEC specifications programmed into the memory as well as XMP data for running the memory at various speeds. Our MSI MPG Z690 Force WiFi motherboard used for testing had no issues detecting and working with the TOUGHRAM XG RGB D5 RAM right out of the box using the latest BIOS revision. The Thermaltake TOUGHRAM XG RGB D5 DDR5-5600 2x16GB retails for approximately $230 at press time.
---
Page Index
1. Introduction, Packaging, Specifications
2.
A Closer Look, Test System
3.
Benchmark: AIDA64 CPU
4.
Benchmark: AIDA64 FPU
5.
Benchmark: AIDA64 Memory
6.
Benchmark: PCMark 10
7.
Benchmark: 3DMark
8.
Benchmark: PassMark PerformanceTest 10
9.
Benchmark: SuperPI 1M, Cinebench R23
10.
Overclocking and Conclusion