By: Jonah Chow
June 11, 2021
I find one of the most interesting aspects of following popular media is when artists go outside of their comfort zone and try something new. To list some examples, Adam Driver and Scarlett Johansson did an amazing job playing a married couple in the drama Marriage Story, even though they are known mostly for their roles in big blockbuster action films. Jordan Peele proved to be an excellent horror movie director despite having been a comedian for most of his career. And recently, Dua Lipa made an incredibly catchy album capturing the retro sounds of the 70s and 80s, despite having started her career with a music belonging more in 2016. I think these examples highlight how the result of an artist trying something new can really pay off as a piece of work unique to them. This, of course, is not limited to the entertainment industry, as large companies will also step out of their comfort zone from time to time to try something new with an already well-established product. For example, Thermaltake is a manufacturer primarily known for its chassis, cooling, and peripherals. We have had the pleasure of reviewing Thermaltake products here at APH Networks over the years, including The Tower 100 Snow chassis and ARGENT K5 RGB keyboard recently. While these are products PC enthusiasts would expect from this company, a product most people might not expect from Thermaltake is a memory kit, bringing us to today's review of the Thermaltake TOUGHRAM XG RGB DDR4-4000 2x8GB. While this is not the first memory set Thermaltake has produced, it is still a relatively new product line for them, so I am looking forward to seeing their unique take on RAM. With that said, does the Thermaltake TOUGHRAM XG RGB DDR4-4000 2x8GB reach the same level of quality as its competition? Let us read on to find out!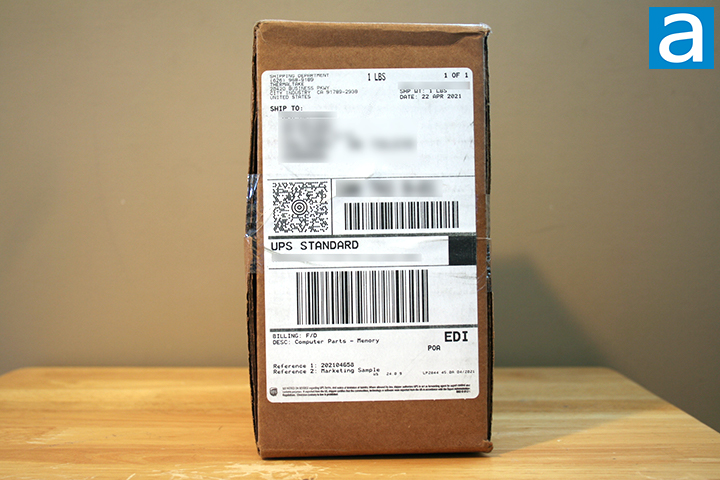 Our review unit of the Thermaltake TOUGHRAM XG RGB DDR4-4000 2x8GB arrived via UPS Standard from City of Industry, California. The shipping package arrived to us here in Calgary, Alberta, Canada. A small dent can be seen at the top, but nothing large enough to cause concern. Otherwise, the brown corrugated cardboard box arrived in good condition with no scratches or scuff marks.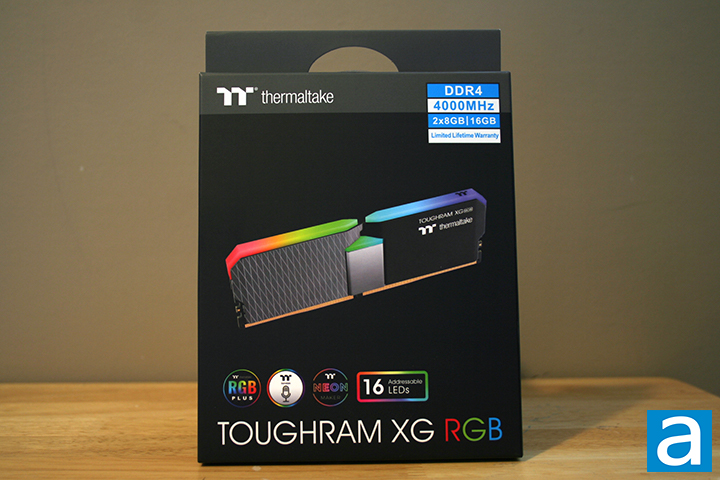 The retail packaging of the Thermaltake TOUGHRAM XG RGB DDR4-4000 2x8GB takes on a sleek black color, bringing attention to the bright text on the front side. The TOUGHRAM module is placed front and center of the box, showing off its unique appearance along with the X-shaped RGB LED diffuser. The top of the box is light grey in color with the Thermaltake logo located towards the left. The memory capacity and speed are located at the top right corner along with the limited lifetime warranty text. The TOUGHRAM XG RGB text is at the bottom of the retail box with all the compatible Thermaltake lighting control software programs just above. The back side contains additional information including the DIMM type, part number, CAS latencies, and all motherboard lighting control compatibilities.
Before we move on, let us take a look at the features and specifications, as found on Thermaltake's website:
P/N: R016D408GX2-4000C19A
MEMORY TYPE: DDR4
CAPACITY: 16GB Kit (8G x2)
TESTED LATENCY: 19-23-23-42
VOLTAGE (V): 1.35 V
SPEED: 4000 MHz
COMPATIBILITY: Intel 500, 400, 300 Series; AMD X570, B550
MODULE TYPE: DIMM
PERFORMANCE PROFILE: XMP 2.0 Ready
PACKAGE CONTENT: 2 x 8GB memory module
COLOR: Black
WARRANTY: Limited Lifetime Warranty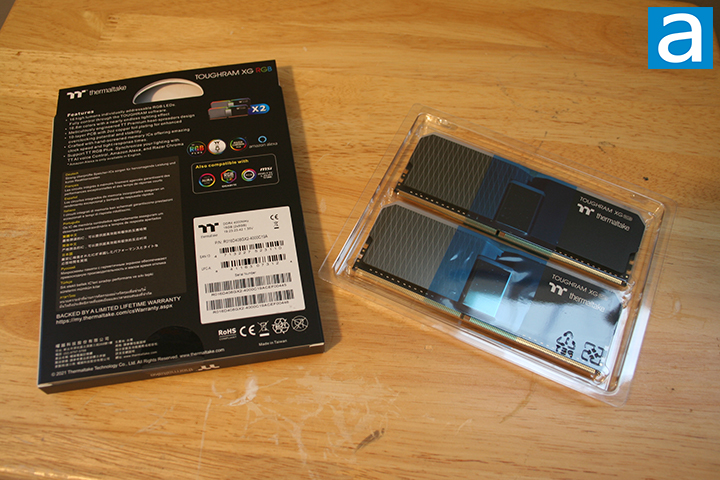 Opening the box, you have the two Thermaltake TOUGHRAM XG RGB memory modules. Both RAM sticks are inside a plastic shell, which helps protect the memory modules from scrapes and scratches. The center of the modules is also covered with a blue translucent sticker.
The photo above is a screenshot of the SPD tab in CPU-Z with Thermaltake's TOUGHRAM XG RGB DDR4-4000 2x8GB installed. The SPD timings table in CPU-Z reads standard JEDEC specifications programmed into the memory along with XMP/DOCP data for running the RAM at various speeds. My MSI MAG B550 Tomahawk motherboard used for testing was perfectly capable of getting all the information about the TOUGHRAM XG RGB RAM. It should be noted that you may need to manually set the DOCP profile in the BIOS depending on what motherboard you are using. The Thermaltake TOUGHRAM XG RGB DDR4-4000 2x8GB retails for $185 at press time.
---
Page Index
1. Introduction, Packaging, Specifications
2.
A Closer Look, Test System
3.
Benchmark: AIDA64 CPU
4.
Benchmark: AIDA64 FPU
5.
Benchmark: AIDA64 Memory
6.
Benchmark: PCMark 10
7.
Benchmark: 3DMark
8.
Benchmark: PassMark PerformanceTest 10
9.
Benchmark: SuperPI 1M, Cinebench R20
10.
Overclocking and Conclusion