By: Aaron Lai
March 26, 2021
When I was in grade six, I had two best friends and I thought that would never change. Looking back, I know it is a naïve idea to believe, but at the time I thought it was reasonable. Fast forward six years and not only had my group of friends changed, but I also lost contact with one of my original friends. In high school, we were self-dubbed as the "Stairwell C Protocol", mostly because that was where we sat for lunch during my three years there. There were quite a few people that were a part of this group, as evidenced in one of our graduation group photos, but there were about nine core members. We all attended post-secondary, but none of them took electrical engineering like me, so my friend group changed once again for those years. Every so often, we would try to hang out when everyone was back in town, but it became increasingly difficult to find the right time for all of us to meet up. Now that we are all working, the people I talk to on a daily basis are quite different from my university and high school years. There have been one or two people in my life that I have known for around twenty years or so, but for the most part they are all different. To me, it goes to show that starting friendships is a lot easier than maintaining them. All is not lost however, as you can reconnect with these same people. Sometimes, it requires some reaching out and reacquainting with them. It may not necessarily return to the same relationship as you had previously, but it is an opportunity to start anew. This is a very similar situation to what we had a few weeks back with ASUS and today is another rekindling of a working relationship with Thermaltake. Personally, I have never reviewed a Thermaltake product before, although I did have the opportunity to meet a handful of their representatives during our CES coverage back in 2016. Even so, today's Thermaltake The Tower 100 Snow is an exciting product to see here, as they have married the mini ITX form factor with tempered glass in a chimney design. What does the end result look like? Let us read on to find out!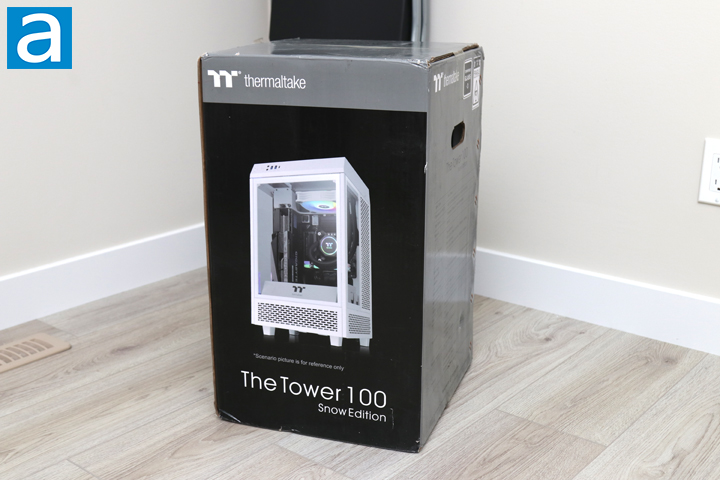 Today's review unit of the Thermaltake The Tower 100 Snow arrived from Thermaltake's offices in City of Industry, California. Traveling with UPS and their Standard ground service, this box arrived in decent condition with no real holes or dents to be too concerned about. As this computer case is relatively large, Thermaltake has shipped this box in its retail packaging. The retail box is pretty nice with a fully colored exterior. The front shows off a full build in The Tower 100 Snow, albeit in a scaled down fashion. The top shows off the Thermaltake logo and product name, while the bottom shows off the product name. I like the simplistic look of the overall box.
One thing that did bother me was the naming of this case, since it means The Tower 100 Snow will always sound a bit strange when you read "Thermaltake The Tower 100 Snow". This is just a small thing that bothers me as a writer more than anything else. Otherwise, you can see we have received the Snow Edition of this case, which means we have a full white exterior and interior. This enclosure also comes in a black variant if you are interested. Around the side of the box, we have a gray background with specifications and features about the case inside. Otherwise, there is not a whole lot else to point out, so let us proceed in opening the box.
Before we do so, I have grabbed the specifications from the manufacturer's website for you viewing pleasure:
SERIES: The Tower
MODEL: The Tower 100 Snow
CASE TYPE: Mini Tower
DIMENSION (H X W X D): 462.8 x 266 x 266 mm (18.2 x 10.5 x 10.5 inch)
NET WEIGHT: 6.1 kg / 13.45 lbs.
SIDE PANEL: Tempered Glass x 3 (4mm thickness)
COLOR: White
MATERIAL: SPCC
COOLING SYSTEM
- Top (exhaust): 120 x 120 x 25 mm Turbo fan (1000rpm, 16 dBA) x 1
- Rear(exhaust): 120 x 120 x 25 mm Turbo fan (1000rpm, 16 dBA) x 1
DRIVE BAYS
-HIDDEN: 2 x 2.5"(with side bracket); 2 x 3.5" (without rear fan)
EXPANSION SLOTS: 2
MOTHERBOARDS: 6.7" x 6.7" (Mini ITX)
I/O PORT: USB 3.2 (Gen 2) Type-C x 1, USB 3.0 x 2, HD Audio x 2
PSU: Standard PS2 PSU (optional)
FAN SUPPORT
- Top: 1 x 120mm, 1 x 140mm
- Rear: 1 x 120mm, 1 x 140mm
- Top of the PSU Cover: 1 x 120mm, 1 x 140mm
RADIATOR SUPPORT
- Top: 1 x 120mm
CLEARANCE
- CPU cooler height limitation: 190mm
- VGA length limitation: 330mm
- PSU length limitation: 180mm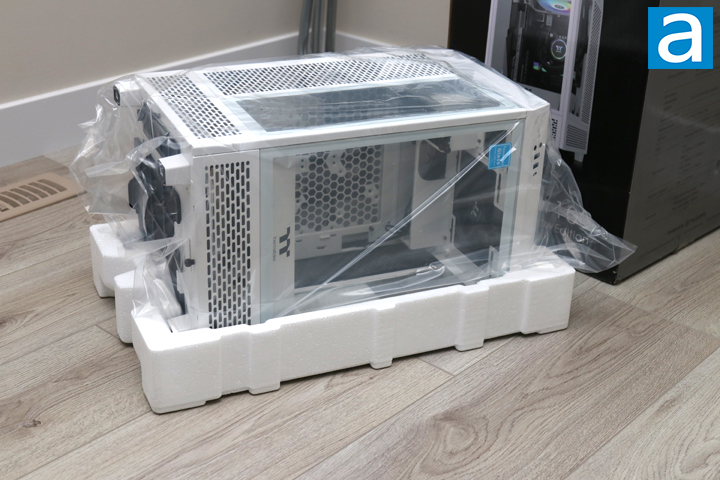 Out of the box, the Thermaltake The Tower 100 Snow comes packaged in a clear plastic bag. All of the glass panels have plastic wrap on the external sides to ensure the tempered glass is protected from scratches or other marks during shipping. The whole case is sandwiched between two large white foam brackets to further protect the large case. Otherwise, some documentation and installation information can be found in another resealable bag. There is not much else in this retail box, so let us take a closer look at The Tower 100 Snow.
---
Page Index
1. Introduction, Packaging, Specifications
2.
Physical Look - Outside
3.
Physical Look - Inside
4.
Installation and Conclusion