Page 4 - Installation and Conclusion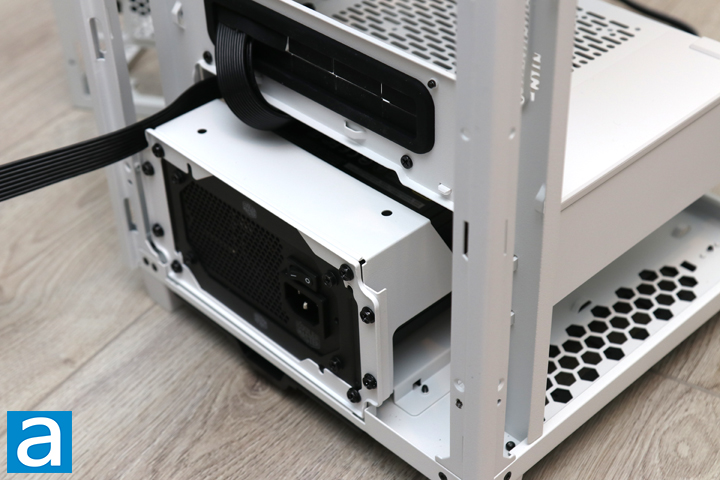 As usual, I started my installation process with the power supply, which allowed me to route the cables into the necessary positions before installing my motherboard. The power supply in question is the Cooler Master V850 SFX Gold 850W, which means I also used the SFX-to-ATX adapter included with the PSU. According to Thermaltake, users can install power supplies up to 180mm in length, which is pretty good for a case of this size. This does mean The Tower 100 Snow was made larger to accommodate these lengths, but I am still quite happy with the clearance here. I routed the 24-pin motherboard power connector through the black grommet, while the CPU 8-pin power connector was led to the side. Finally, I used a SATA connector to plug into my solid state drive.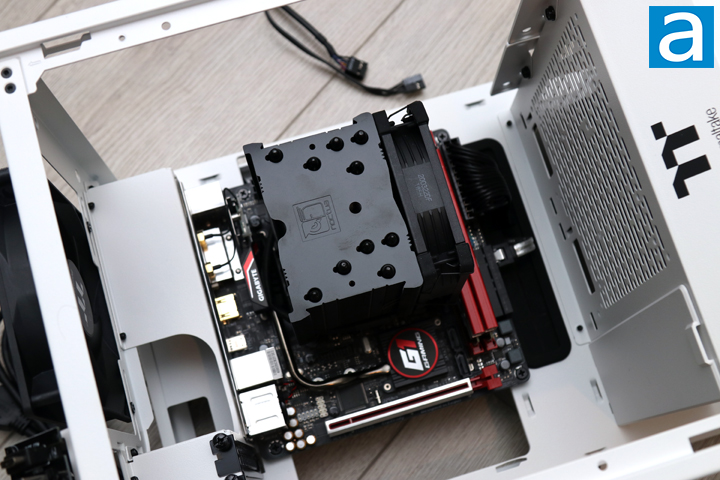 Inside, I installed the backplate for my motherboard and mounted the motherboard to the pre-installed standoffs. With all of the clearance around the motherboard, I had more than ample spacing to work in this area. I mounted the Gigabyte GA-Z170N-Gaming 5, which is holding an Intel Core i5-6600K under a Noctua NH-U9S chromax.black. The RAM on the motherboard is the Patriot Viper Elite PC4-24000 2x8GB. The Noctua NH-U9S, while it is not a large heatsink, looks small in the Thermaltake The Tower 100. Users have space to install coolers up to 190mm in height, which is quite a lot of space. Users can also install a 120mm AIO cooler at the top. While it is not seen in this photo, I also mounted the Gigabyte UD PRO 256GB to the side of The Tower 100 Snow. I also mounted my single-slot Elgato HD60 Pro, which is a capture card. This is a very small expansion card, but you can install video cards up to 330mm in length. For your reference, the most recent NVIDIA RTX 3080 Founders Edition measures 285mm in length. By length, The Tower 100 could hold an RTX 3090 if it were not for the triple slot design. Once again, it would have been nice to see support for a third expansion slot, since higher-end graphics cards seem to be getting chunkier by the generation.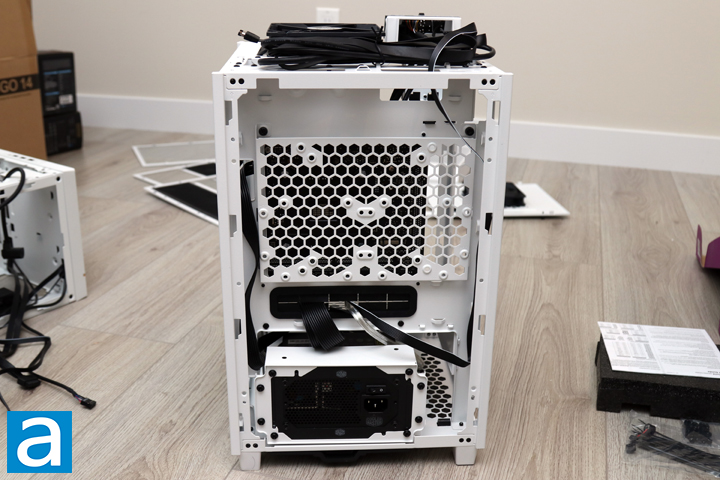 With everything cabled in place, you can see there is more than sufficient cabling space for my use. Even if you install a power supply with longer cables, you probably will not have an issue with longer cables here. I finished up wiring the front panel connectors while also tying up the ones I do not use and leaving them at the top. Overall, there was a decent amount of cable tie points on the back of the motherboard tray, as well as on the drive bracket at the back. There was also a sufficient amount of routing holes to bring cables to the main area of The Tower 100 Snow, which is great to see. I really enjoyed building in the Thermaltake The Tower 100 Snow, but this was mostly because of how much space and clearance I had. Although it is a smaller form factor of motherboards, this larger case and removable side panels made everything accessible.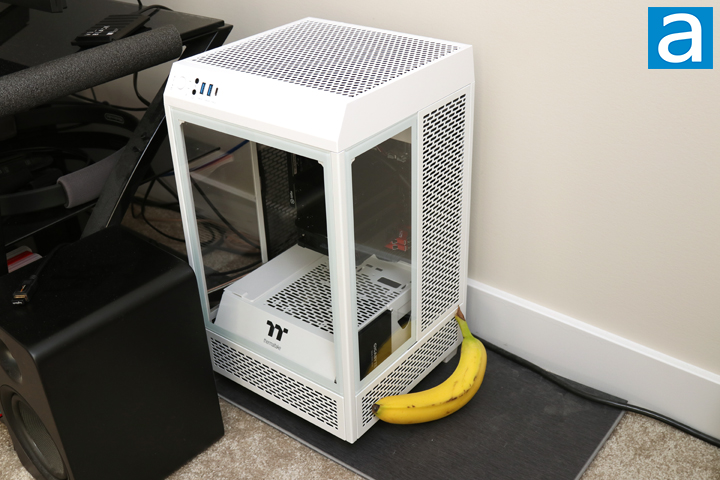 With everything plugged in, I connected the necessary outputs and routed them out the back of the enclosure and pushed the power button. My media PC flashed the blue LED light and everything powered on. As you can see, the banana shows a better scale of how much larger this is compared to some of the SFF computer chassis I have looked at recently, like the SilverStone SUGO 14 or Cooler Master MasterBox NR200. It does come down to the preference of what you may want, but I can see merits for both sides. With the system turned on and all of the fans spinning, The Tower 100 Snow is quite quiet. According to the standard APH Networks sound scale, where 0 is silence and 10 is loud, the Thermaltake The Tower 100 is 3.0/10 under full load. The rest of my components are quiet as my power supply fan does not spin normally and the 92mm Noctua fan is generally pretty silent on a day-to-day use. There is no form of noise dampening, but the included fans do not spin too fast and therefore stay silent.
-----------------------------------------
Rekindling a relationship will definitely take time, but Thermaltake's return to APH Networks is marked off with a very solid result in The Tower 100 Snow. I was immediately impressed with its large footprint, unique looks, and solid build. The metal and glass sides felt very premium while the many perforated metal panels were lined with mesh for a filtered airflow. Internally, we have generally good clearance for taller air coolers, longer video cards, standard ATX power supplies, and a sensible number of drive storage options for this form factor. Obviously, those looking for a compact enclosure will look elsewhere, but Thermaltake did not waste this extra space they gave. As for the build process, it was an enjoyable one. There was ample space to work in The Tower 100 Snow and a sufficient number of routing holes to lead cables in and out. There were also many tie-down points around the back with more than enough space to route excess cables. The end result is a stunning computer that shows off what users want to see and hides what should remain hidden. This being said, there are a few places that I would like to see improvement. For one, I would have liked to see two 140mm PWM fans here rather than the smaller, voltage-controlled ones we have. Secondly, I would have appreciated if Thermaltake added support for a third expansion slot. At the time of this review, the Thermaltake The Tower 100 can be found for $110 for the black version and $120 for the Snow edition. I think this is quite reasonable for the premium build and sheer size of a case. As such, Thermaltake has impressed me with The Tower 100 Snow, making me more excited to see their upcoming products.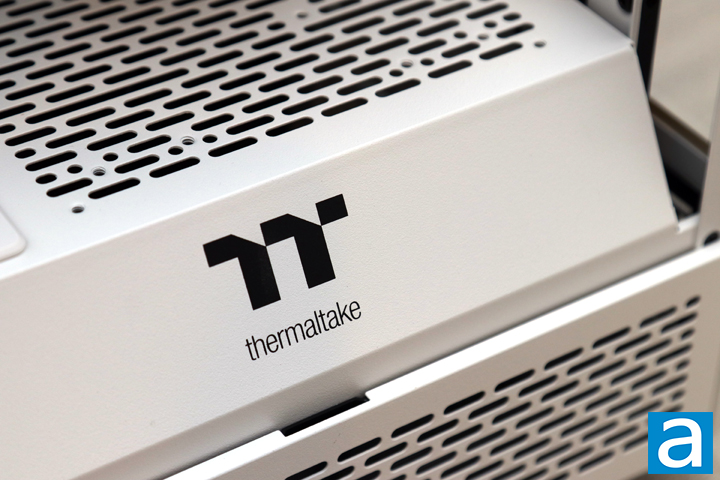 Thermaltake provided this product to APH Networks for the purpose of evaluation.
APH Networks Review Focus Summary:
8/10 means Definitely a very good product with drawbacks that are not likely going to matter to the end user.
7/10 means Great product with many advantages and certain insignificant drawbacks, but should be considered before purchasing.
-- Final APH Networks Numeric Rating is 7.7/10
Please note that the APH Networks Numeric Rating system is based off our proprietary guidelines in the Review Focus, and should not be compared to other publications.
The Thermaltake The Tower 100 Snow is a notably large SFF case with ample space to work in and admire when you are finished.
---
Page Index
1.
Introduction, Packaging, Specifications
2.
Physical Look - Outside
3.
Physical Look - Inside
4. Installation and Conclusion