By: Aaron Lai
January 8, 2021
As I wrote about last week in the Cooler Master MasterBox NR200 review, I was looking at this past winter sale on Steam looking for a game to play with a group of friends. We had looked at several games, but many did not pass our scrutinizing tests. For one, they had to be a game we all had interest in. Secondly, we would want to look for a cooperative game, but it was not a necessity. Thirdly, it needed to be a game we could play with at least five people. Finally, it should be relatively cheap, since we are all at different income levels. While there are a lot of multiplayer games on Steam, there are not a lot of games that can pass these four requirements. We had looked and looked, and even when we purchased a game, we shortly refunded it for various reasons including some technical difficulties. It was not the easiest to find games that all of us like, but we do enjoy the ones we do find. However, during our search, we stumbled across something that was quite literally putting a puzzle together. Not only is it a straightforward game, but coming from Overwatch and League of Legends, this was a notably slower pace engagement. Even so, I have since put quite a few hours into this game. When we evaluate cooling options for processors, we often have some requirements that just make sense. However, what if you have some extra constraints, such as a height restriction or cleaner looks? Today's Noctua NH-U9S chromax.black hopes to fit these requirements and more. Let us read on to see how it fares!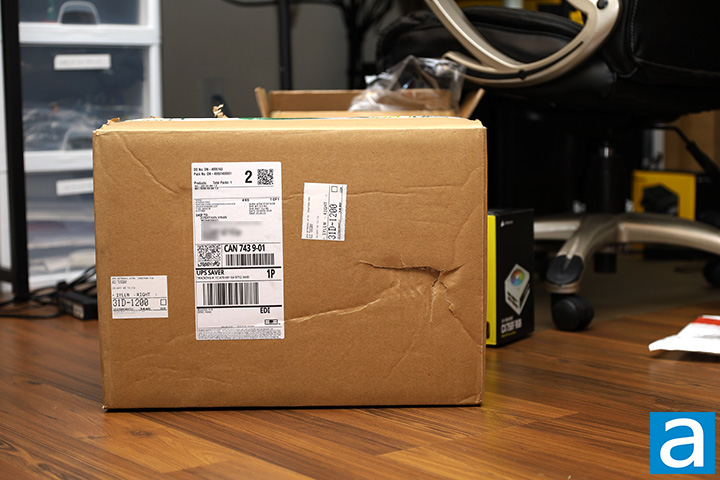 Today's review unit of the Noctua NH-U9S chromax.black arrived from Noctua's offices in Vienna, Austria. Traveling overseas with UPS and their Saver service, this box arrived in average condition, considering there is a notable dent and hole on the box. It is not necessarily ideal, but thankfully everything inside was protected well. Both of these boxes arrived to our APH Networks in Calgary, Alberta. In addition to the Noctua NH-U9S chromax.black we have today, we also received the NH-D15S chromax.black, which my colleague Jonathan Kwan has already reviewed last week. Otherwise, everything was packaged well enough so that we did not see any damage on the retail containers of the two CPU coolers.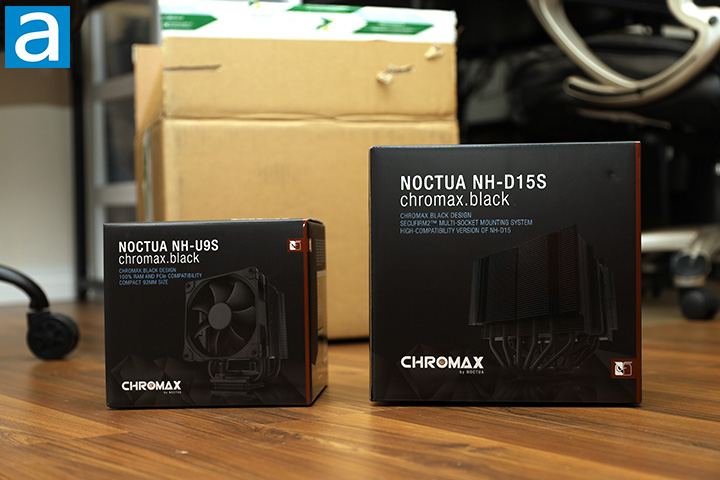 Noctua products have always had a consistent retail container between their lineups, so it is no surprise the Noctua NH-U9S chromax.black looks just like all of the other Noctua heatsink boxes from the chromax.black lineup. The retail container of the Noctua NH-U9S chromax.black comes in an all-black box. The heatsink and fan are displayed on the retail container for a very stealth like impression. The product name can be found on the top left corner with the Noctua logo on the right side. Underneath, there are three main features of the Noctua NH-U9S chromax.black, including the all-black design, 100% memory and PCI Express compatibility, and a compact 92mm size. Other features and specifications can be found around the box. We will explore these features and more later on in our review.
Before we continue on, I have grabbed the specifications from the manufacturer's website to quench your curiosity:
Cooler Specification
Socket compatibility: Intel LGA2066, LGA2011-0 & LGA2011-3 (Square ILM), LGA1200 LGA1156, LGA1155, LGA1151, LGA1150 & AMD AM2, AM2+, AM3, AM3+, FM1, FM2, FM2+ (backplate required), AM4
Height (without fan): 125 mm
Width (without fan): 95 mm
Depth (without fan): 68 mm
Height (with fan): 125 mm
Width (with fan): 95 mm
Depth (with fan): 95 mm
Weight (with fan): 618 g
Material: Copper (base and heat-pipes), aluminium (cooling fins), soldered joints & nickel plating
Max. TDP: see CPU compatibility list
Fan compatibility: 92x92x25
Scope of delivery:
- Black NH-U9S heatsink
- NF-A9 PWM chromax.black premium fan
- NA-RC7 Low-Noise Adaptor (L.N.A)
- NT-H1 high-grade thermal compound
- Black SecuFirm2™ mounting kit
- Black fan-clips for second NF-A9
- Noctua Metal Case-Badge
Warranty: 6 Years
Fan specification
Model: NF-A9 PWM chromax.black
Bearing: SSO2
Max. rotational speed (+/- 10%): 2000 RPM
Max. rotational speed with L.N.A. (+/- 10%): 1550 RPM
Min. rotational speed (PWM, +/-20%): 400 RPM
Max. airflow: 78,9 m³/h
Max. airflow with L.N.A.: 62,6 m³/h
Max. acoustical noise: 22,8 dB(A)
Max. acoustical noise with L.N.A.: 16,3 dB(A)
Input power: 1,2 W
Voltage range: 12 V
MTTF: > 150.000 h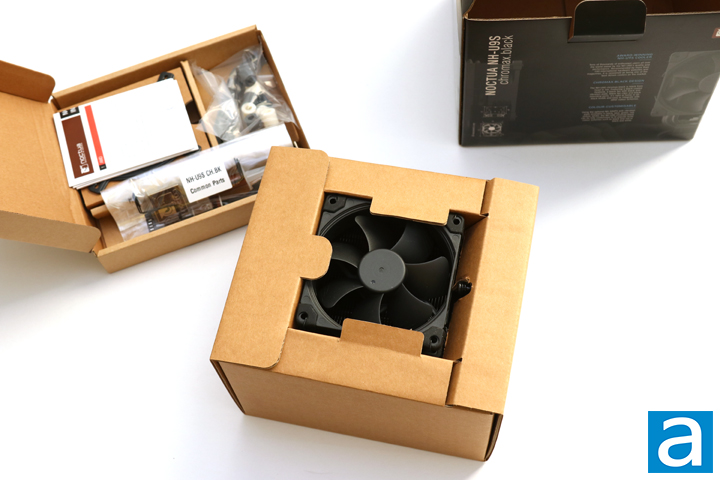 As with most of the Noctua packaging, the NH-U9S chromax.black comes with two more boxes inside. All of these are raw corrugated cardboard boxes with one printed and labeled in black ink to show you the contents. The bigger one with the exposed Noctua NF-A9 fan is none other than the NH-U9S chromax.black heatsink itself with the aforementioned fan attached. The smaller box holds mounting accessories with everything separated nicely into their own partitions and plastic bags if necessary. This includes a black SecuFirm2 mounting kit to mount into Intel's LGA1200 and LGA115x sockets. AMD's AM2, AM2+, AM3, AM3+, FM1, FM2, FM2+, and AM4 utilize a separate backplate or the backplate included with your motherboard.
Other accessories in this box include a low-noise adapter, L-shaped screwdriver, second set of fan clips, and a case badge. The NH-U9S chromax.black also ships with a 3.5g tube of Noctua's excellent NT-H1 thermal compound, although I wish they included the newer NT-H2. In addition to all this, Noctua has included a manual for three different socket types: Intel LGA 20xx, Intel LGA 115x, and AMD. The instructions are very clear and make installation quite a bit easier. Overall, I really like how Noctua have packaged their goods and accessories as it provides protection and ease of use in installation.
---
Page Index
1. Introduction, Packaging, Specifications
2.
Physical Look - Hardware; Installation
3.
Test Results
4.
Conclusion