Page 2 - Physical Look - Outside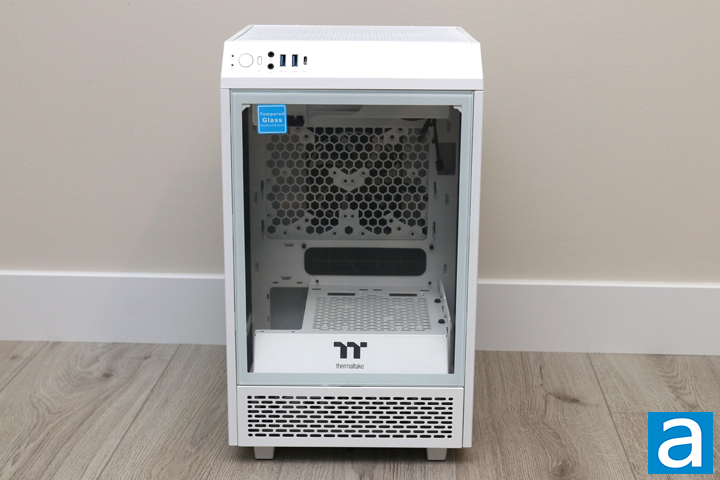 The Thermaltake The Tower 100 Snow is very unique in its design and finish, especially since it does not look like a lot of other products. When I posted a photo of this on social media, some people thought it was a 3D printer, while others thought it was like a fridge. Editor-in-Chief Jonathan Kwan asked me why I had replaced my computer with an aquarium. When I mentioned tempered glass, mini ITX form factor, and chimney design in the introduction, I first thought of a case I previously reviewed, the SilverStone Lucid LD03-AF. However, while they both share these aspects, you can tell these two cases look quite different from each other. If you take a look at Thermaltake's other cases, there is an extended ATX version called The Tower 900, so you could say this is a mini version. We have the Snow Edition, so we have a fully white exterior mixed with three tempered glass side panels. These are mixed with some mesh panels and a solid metal one at the back. These metal parts are made up of steel, while the top panel is plastic. All in all, I really like this take on a mini ITX enclosure, even if it does take up a bit more space. I like the three clear sides and how much you are able to see of your build because of it. I think this alone will make your whole build quite an eye-catching one. Thermaltake has kept its branding relatively clean with just the modern "TT" logo inside.
This may be made for a smaller form factor, but these dimensions are not exactly small. In terms of dimensions, The Tower 100 Snow measures at 462.8mm in height, 266mm in width, and 266mm in depth. This makes this enclosure a rectangular prism, which is a pretty neat shape, although we have seen a similar shaped case in the previously mentioned SilverStone Lucid LD03-AF. However, this one is a bit taller than the Lucid LD03-AF. Interestingly, these numbers make The Tower 100 Snow taller and wider than some ATX cases like the Fractal Design Meshify 2 Compact. The enclosure is also quite heavy at 6.1kg, but it is understandable when we consider the materials used here. The build quality here is excellent with solid materials used and minimal gaps between the panels. Everything fits well together, both in appearance and in structure.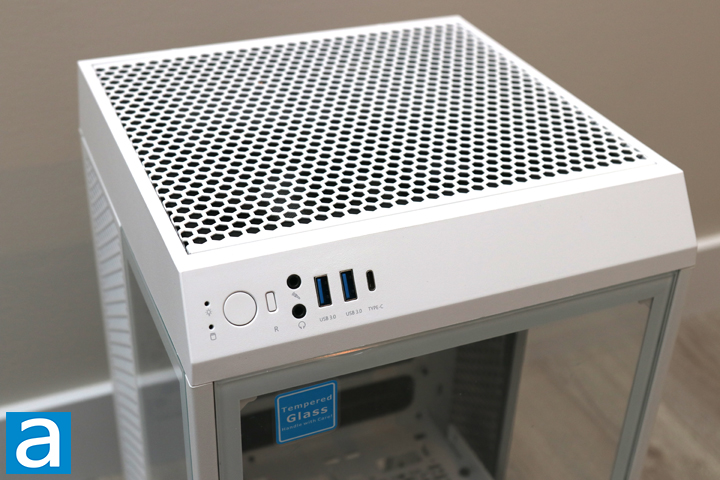 All of the front I/O can be found on the front-facing edge. Starting from the left, we have two circle pinhole lights for power and drive activity. The power light glows blue while the drive activity light blinks red. Next, we have a circle button for the power and a thinner rectangular button for reset. Next, we have two 3.5mm audio jacks for microphone and headphone, respectively. Next, there are two full-sized USB 3.1 ports and a single USB 3.2 Type-C port. I like that Thermaltake did not cut out one of the full-sized ports as some other case manufacturers are in the habit of doing. Moving towards the back, you can see we have a large honeycomb array for an exhaust grille. This area is also backed by a black mesh to prevent dust from settling in at the top. Otherwise, this top portion is held on with two push-activated notches and can be released by pushing down this panel to pop it off. This middle piece is made up of metal, but the rim around it is plastic.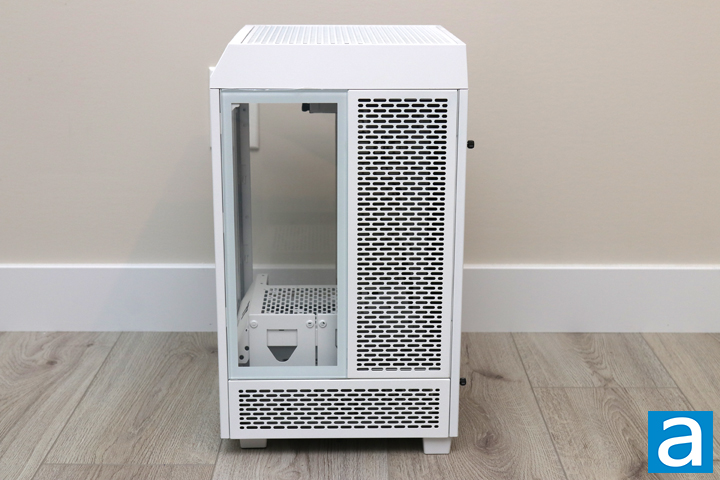 Moving to the sides, both the left and right side of the Thermaltake The Tower 100 Snow look the same. These panels are made up of two portions. The bottom portion is the sectioned off mesh with line holes. This area is removed from the bottom, where a single thumbscrew holds it in place. Meanwhile, the tempered glass and grille panel up top is held on with sliding clips. This should allow some air to pass through to the inner portion of the case while also giving users a clear view of their contents. Once again, these panels are quite solid with their metal construction, although I would like to see this whole side panel be one entire piece rather than two separate ones to make installation and removal easier.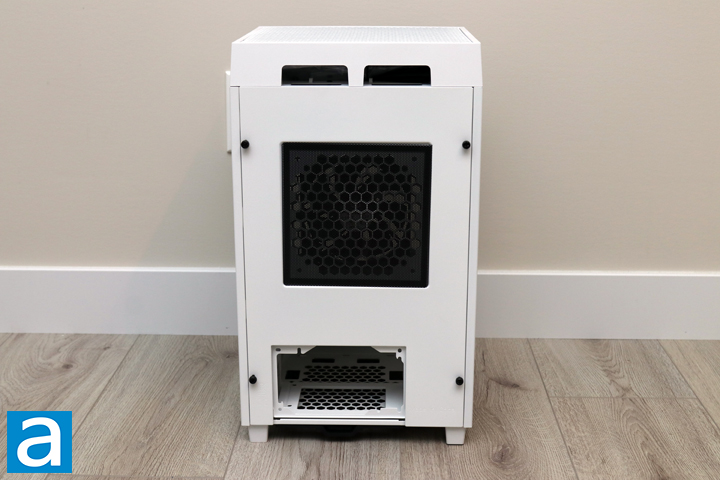 At the back, we have a few interesting holes to point out. First, we have two cabling holes at the top of the case located behind the top plastic rim. This allows users to pass their cables to the motherboard I/O, as you will see on the next page. Moving down, you can see four captive thumbscrews are here to hold the back panel to the rest of the Tower 100 Snow. In the middle, we have a large cutout with a black plastic mesh lining. Behind the mesh filter is a grille and mounting positions for a single 120 or 140mm fan. At the bottom of the enclosure is a large opening for a standard size ATX power supply. While it is nice to see the standard sizing of power supplies supported here, this should come to no surprise considering how large the Thermaltake The Tower 100 Snow is in the first place.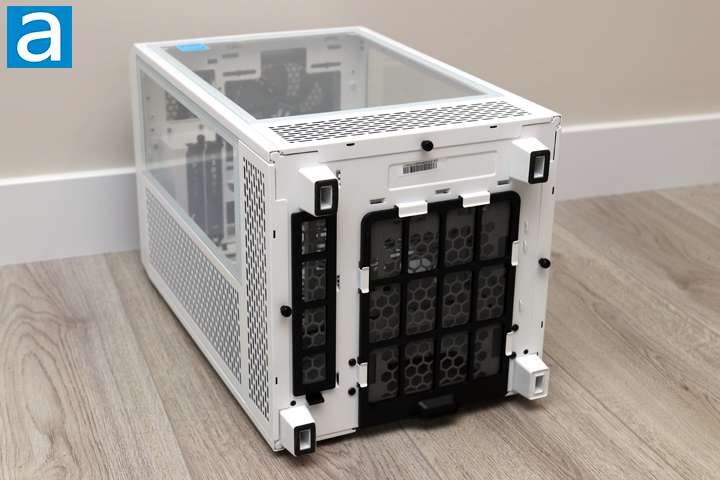 At the bottom of the Thermaltake The Tower 100 Snow, there are a few interesting things to point out. First, we have four feet that are lined with rubber rings to prevent vibration between the case and the surface it sits on. It seems we have lost one of the rubber rings on one of my feet, but I think this is just a one-off issue, no pun intended. We can see the three thumbscrews attached to the front and two sides to hold the bottom ventilation panels in place. Finally, we have not one, but two plastic mesh trays. These ensure the ventilation drawn in from the bottom is filtered. The larger area is for intake by the power supply, while the other one is for intake near the expansion card.
---
Page Index
1.
Introduction, Packaging, Specifications
2. Physical Look - Outside
3.
Physical Look - Inside
4.
Installation and Conclusion