By: Aaron Lai
September 25, 2020
Learning a new language is always a bit tricky because there are many nuances to it. If you know me, you will know that I can speak three languages fluently: C++, Python, and English. I also know a bit of JavaScript and Java if I need to use it. My parents taught me Chinese and spoke to me in Cantonese when I was growing up. I also learned Canadian French when I was in school. I always find it interesting that even though I do not use the last two languages as much in my day-to-day conversations, I can pick up both in passing conversation. Knowing Cantonese also helps when I watch Hong Kong dramas. This was partly my motivation to learn bits of Japanese during the human malware times, as it would make watching anime a bit easier. However, one thing that you cannot necessarily pick up without having immersion is slang. While you can learn typical vocabulary for languages, slang is based more on culture and people groups rather than the formal language. I did a search for some English slang phrases from the 90s, and found some recognizable words. For example, back in my junior high days, I had a friend who we referred to each other as our "homeslice". However, others are still being used, like "aiight", "whatever", "sup", and "for real". Maybe this is just Boomer Aaron speaking, but it is a bit funny to know what they mean. Nowadays, some common slangs are words like "sadge", "no cap", and "bet". If you are confused at this point, I do not blame you because slangs do not always make sense. When I was introduced to today's product, the SilverStone Lucid LD03-AF, I immediately saw the "AF" and asked, "What exactly is being emphasized here?" I will let you figure out what AF stands for, but in this case, AF stands for "airflow", as we have a revision of the original Lucid LD03, which we reviewed last year. In some ways, you could say this case is AF AF. But is this for real? Let us read on to find out!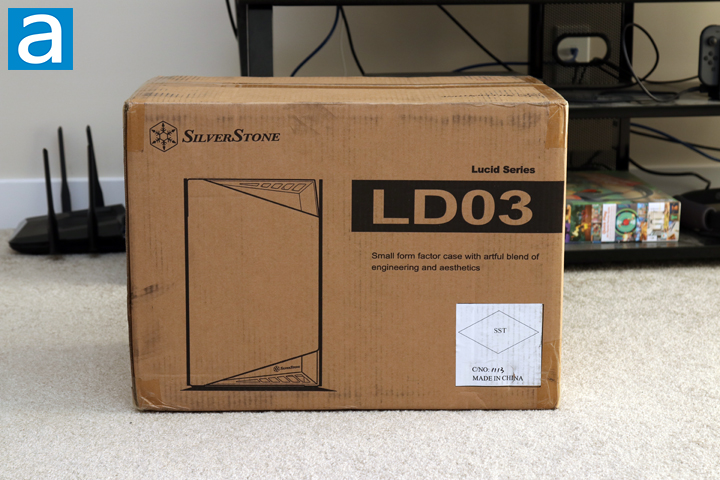 As expected for many cases, the SilverStone Lucid LD03-AF arrived in its retail package with no external shipping container. This box was shipped from SilverStone's American offices in Chino, California. The people at FedEx transported this box via their standard Ground service, and it arrived in excellent condition with no real dents or scratches to be concerned about. For this container, you can see SilverStone has not changed the appearance of the box at all, especially as we still have the standard black print on top of the brown corrugated cardboard box. On the longer panels, you can see the product name and an outline of the case from one perspective. The product description of "small form factor case with artful blend of engineering and aesthetics" is also the same. In fact, the only way you could tell this was the updated AF version is if you see a product sticker on the side. Otherwise, around the box we have some specifications about the Lucid LD03-AF.
For your perusal, I have obtained the specifications from the manufacturer's website:
Model No.: SST-LD03B-AF (Black, Airflow version)
Material: Tempered glass panels, steel body
Motherboard: Mini-DTX, Mini-ITX
Drive bay: Internal - 3.5" x 1 (compatible with 2.5"), 2.5" x 1
Cooling system: Top - 1 x 120mm fan (120mm fan x 1 included); Bottom - 1 x 120mm fan (120mm fan x 1 included)
Expansion slot: 2
Front I/O port: USB Type-C x 1, USB 3.0 x 1, Audio x 1, MIC x 1
Power supply: SFX & SFX-L
Expansion card: Compatible up to 12.1" (309mm) long, width restriction 6.59" (167mm)*
Limitation of CPU cooler: 190mm
Net weight: 5.22kg
Dimension: 265mm (W) x 414mm (H) x 230mm (D), 25.2 Liters; 10.43" (W) x 16.3" (H) x 9.06" (D), 25.2 Liters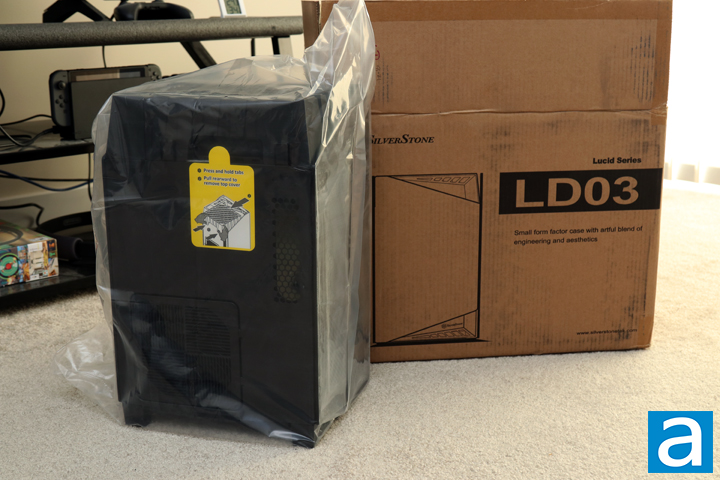 Out of the box, we can find the SilverStone Lucid LD03-AF in a large plastic bag and held between two large white foam brackets. These brackets ensure the case is kept secure and protected while in transit. The glass panels on the Lucid LD03-AF are all shrink wrapped to prevent surface scratches or similar damage. Once again, I was unable to find any documentation included with the case, but this is available on SilverStone's website. Documentation like this usually will cover installation instructions and warranty information. Just so you know, SilverStone covers their cases for one year, which seems like a standard amount. The other change that you can see here is the large yellow sticky note that can be found on two panels. These notes provide instruction as to how to open up the side panels, which is very helpful considering it just looks like a glass box otherwise. Thankfully, these instructions are quite easy to remember, so you can remove the stickers thereafter.
---
Page Index
1. Introduction, Packaging, Specifications
2.
Physical Look - Outside
3.
Physical Look - Inside
4.
Installation and Conclusion