By: Aaron Lai
September 13, 2019
This past weekend was our young adults retreat at a campsite. One of the things I really enjoy is making meals and eating together, which is something we got to do a lot of over the three days. If you were to think of camp food, you might think of typical items like hot dogs, burgers, beans, or anything that can be cooked over the fire. On the other hand, since we had access to a full kitchen, you could then guess any food that is easily made for large groups, such as pasta, tacos, or sandwiches. However, our first night of food was nothing other than a good old Chinese hot pot. Most of the prepping involved chopping and organizing the raw ingredients like vegetables, slices of meat, noodles, fish balls and dumplings for cooking. Next we brought several portable butane gas stoves and plopped a boiling pot of water on the stove. Once people arrived at the camp, we started the feast. All in all, it was an excellent meal, but one that you may not expect for a typical camp dinner. Now if I were to flip the question and ask of what you might think of when I say a mini ITX case, you may have many different ideas in mind. The fact is that we have seen many different forms of cases when it comes to the most popular small form factor size of motherboards, and today SilverStone brings us their take with the Lucid LD03. Can we at least still expect good build and compatibility, or will there be compromises appearing with this case? Let us read on to find out!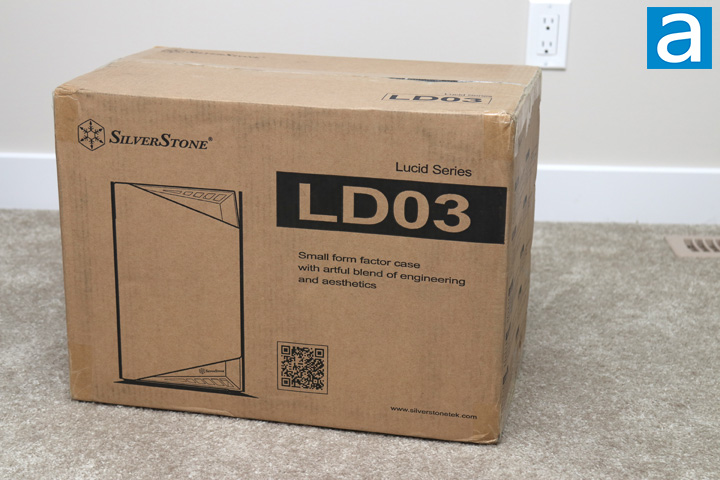 Today's review unit of the SilverStone Lucid LD03 arrived from SilverStone's offices in Chino, California. Traveling via FedEx and their Ground service, this box arrived in decent condition with no real issues to speak of. As this is a computer case, the box the Lucid LD03 retails in is also the box SilverStone shipped the case in. Despite this being a case intended for mini ITX builds, this box is a bit bigger than I might have expected, especially when compared to the most recently reviewed case, the MasterCase H100. As for the retail case, the Lucid LD03 utilizes a typical monochrome design with the name and product printed on this panel. A descriptor of "Small form factor case with artful blend of engineering and aesthetics" can be found right underneath the product name. A scaled-down, front-side view of the Lucid LD03 is also found on the left under the SilverStone logo. Otherwise, there are some features and specifications found around the box.
Before we continue on, I have obtained the specifications from the manufacturer's website for your viewing pleasure:
Model No.: SST-LD03B (Black)
Material: Tempered glass panels, steel body
Motherboard: Mini-DTX, Mini-ITX
Drive bay
- Internal: 3.5" x 1 (compatible with 2.5"), 2.5" x 1
Cooling system
- Top: 1 x 120mm fan
- Bottom: 1 x 120mm fan
Expansion slot: 2
Front I/O port: USB 3.0 x 2, Audio x 1, MIC x 1
Power supply: SFX & SFX-L
Expansion card: Compatible up to 12.1" (309mm) long, width restriction 6.59" (167mm)*
Limitation of CPU cooler: 190mm
Net weight: 5.34kg
Dimension: 265mm (W) x 414mm (H) x 230mm (D), 10.43" (W) x 16.3" (H) x 9.06" (D), 25.2 Liters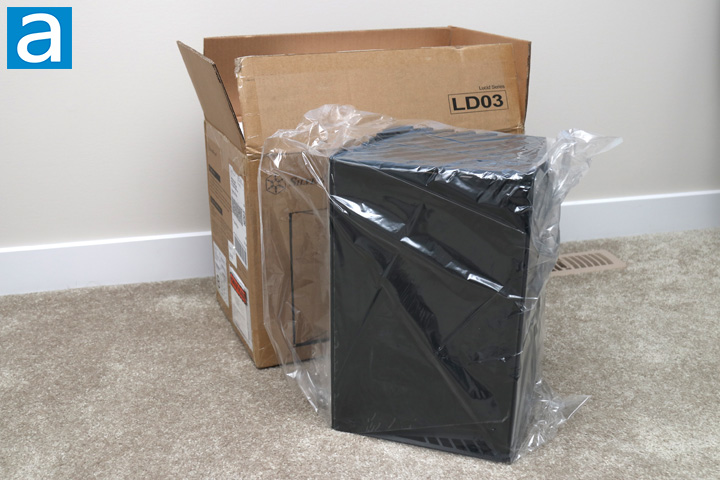 Out of the box, we can find the SilverStone Lucid LD03 in a large plastic bag and held between two large white foam brackets. These brackets ensure the case is kept secure and protected while in transit. The glass on the Lucid LD03 are all shrink wrapped to ensure surface scratches or similar damage is prevented. Interestingly, I was unable to find any documentation included with the case, but this is available on SilverStone's website. Documentation like this usually will cover installation instructions, but also warranty information. Just so you know, SilverStone covers their cases for one year, which seems like a standard amount. Otherwise, let us get a closer look at this little case.
---
Page Index
1. Introduction, Packaging, Specifications
2.
Physical Look - Outside
3.
Physical Look - Inside
4.
Installation and Conclusion