Page 2 - Physical Look - Outside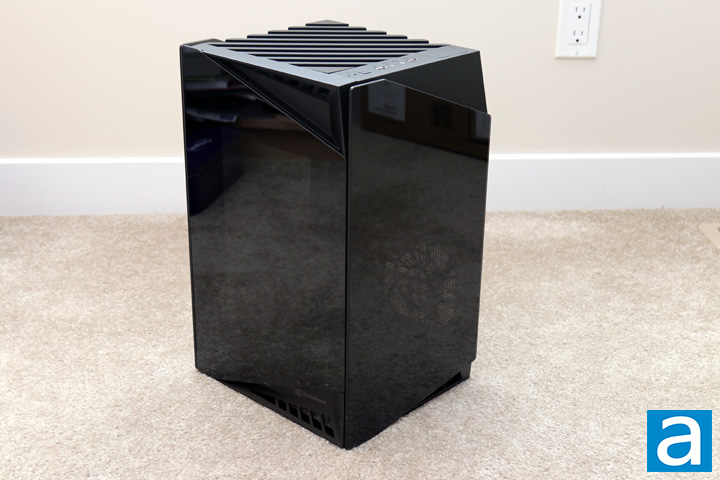 It is not often we see a new shape of chassis, but I am not surprised this is from SilverStone. From the beginning, you can see the Lucid LD03 may be in the same lineup as the Lucid LD01, but it definitely takes on a different style. While both of these feature a majority glass exterior, the Lucid LD03 has cut down on its depth. This LD03 also may not have as much visible metal on the frame of this case, but I can assure you that it is there. Three glass panels make up the front and sides with some flair added by sloping top and bottom edges in a trapezoidal-like fashion. The front panel is framed with a bit more plastic, but it shares the same sloping design. Interestingly, this makes the case asymmetrical, which is not common for cases in 2019. SilverStone keeps the branding to a minimum with just a logo and name at the bottom right side of the front panel. The top part shows some ventilation area as we will see later on. It also slopes slightly inward to create a gap between both the left and right-side panels. Overall, I think all of these elements make for a case that stands out from the rest without trying too hard.
While the SilverStone Lucid LD03 is designed for the smallest form factor of motherboards, it is not a tiny case either. At dimensions of 265mm in width, 414mm in height, and 230mm in depth, this case is taller than it is deep, but the reason behind this will be clear when we dig deeper into the Lucid LD03. As for the weight, the Lucid LD03 weighs in at 5.34kg, which is pretty hefty for a case of this size. A mix of plastic, glass, and steel that makes up the unique looking exterior. This composition of premium materials also makes this case feel quite solidly put together, even if it means being a bit of a fingerprint magnet.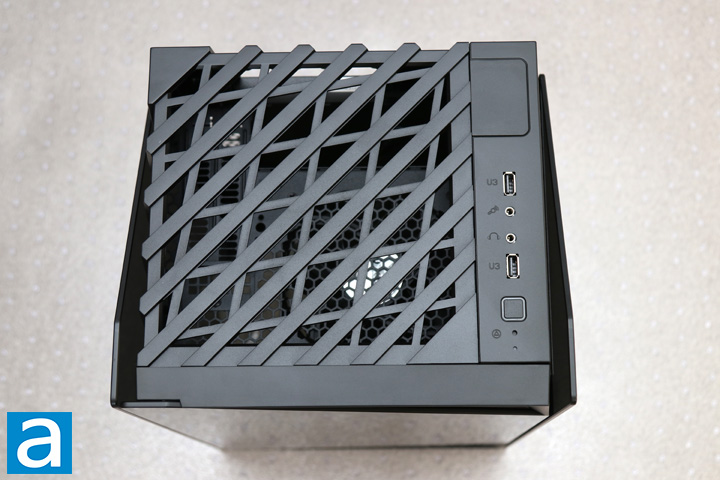 The top panel of the SilverStone Lucid LD03 brings some familiar items as well as some lesser expected ones. Majority of the panel here is made up of a hatched pattern to allow for maximum airflow. Due to the layout of the case, we actually have a stacked chimney-like design, so the top is where the air is expected to leave the enclosure. As such, we have as many holes as possible to let air flow out. I still would have liked to see a mesh pattern on the plastic frame to prevent air from settling inside the case. On the right side, we have all of the I/O you would expect. This includes two USB 3.0 ports, surrounding a microphone and headphone jack. Underneath, we have a square power button surrounded by a blue LED for power status, a pinhole reset switch, and a blue circle LED for the hard drive activity light. With the pricing of this case, I think users should expect a USB Type-C header exposed here at the top. You may notice at the top we have a rectangular cutout that can be actually removed. This is to allow for cables to run through here, as you will see shortly.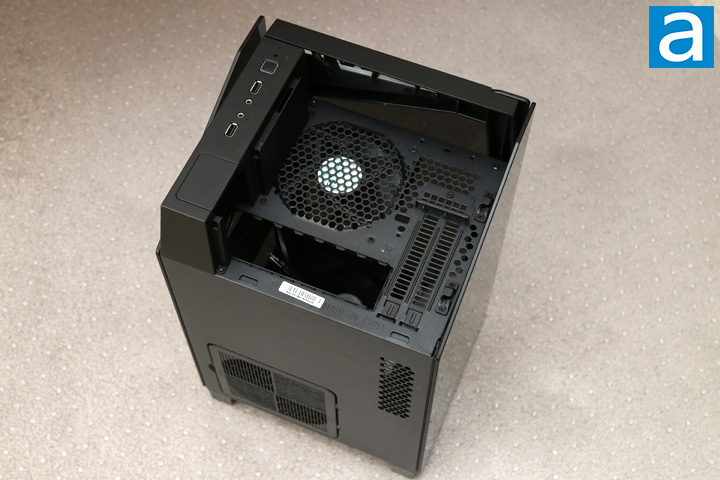 Removing the plastic top on the SilverStone Lucid LD03 requires users to push down on two tabs at the back and slide the shell off. This reveals what would be the "back" of the case in terms of what is normally here. As you can see, we have a motherboard cutout at the back of the case. A honeycomb cutout area is where you can see the exhaust fan area. There are two expansion card slots on this panel to let you install a single dual-slot card here. Finally, the rectangular cutout that I mentioned previously covers up the power plug area, so users could remove the aforementioned cutout to route the power cable here.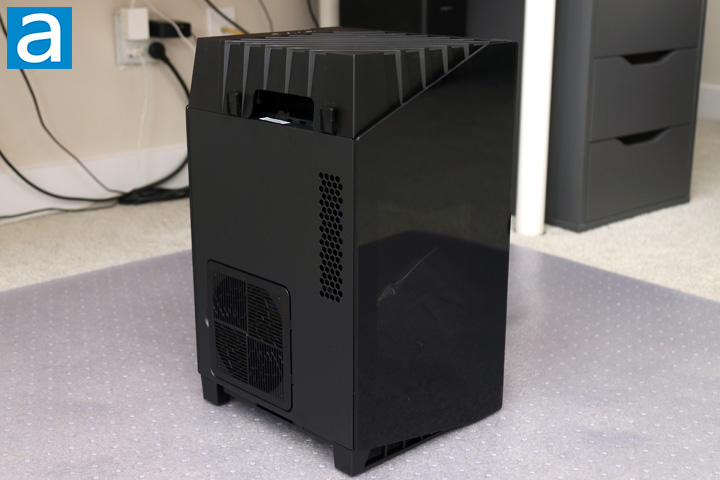 From the other side of the SilverStone Lucid LD03, you can see there is not a whole lot else to speak of. You can see we have a similarly cut tempered glass side panel. At the very back of the case, we have two ventilation areas. The one nearer to the side is located where you would normally slot an expansion card such as a video card. Since graphics cards specifically generate a lot of heat and we are still in a smaller case, it is good to see some extra ventilation here. Underneath, we have a square ventilation area where you can find a plastic frame on top of the steel body. This plastic frame holds a fine mesh to keep dust from entering in this area. In addition, behind this ventilation spot is where users can mount their power supply, which would explain this opening.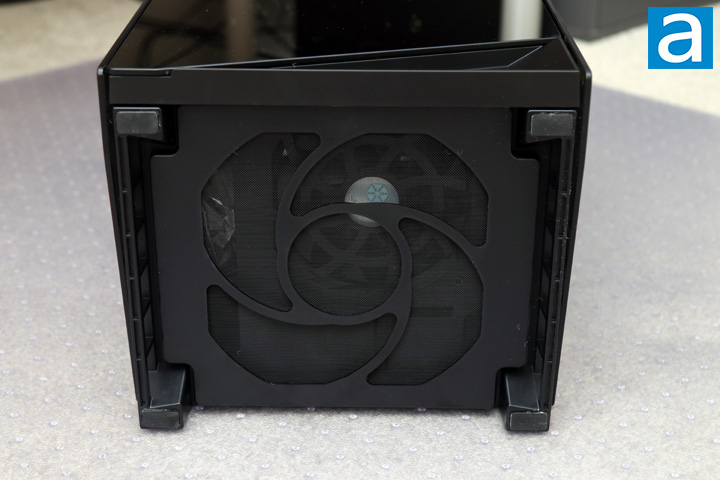 At the very bottom, we have a few things to note. In each corner, we have an extended foot to raise the SilverStone Lucid LD03 off the ground. Each foot is padded with a rubber lining to prevent vibrations between the case and any hard surface it sits on. In the middle we have a massive opening with another plastic frame and mesh area. Once again, this prevents dust from entering here because this is actually the intake area of the SilverStone Lucid LD03, as we will see when we get inside the case. This plastic frame is easy to remove to keep clean off accumulated dust, which is good to see. Otherwise, it is time to take the glass panels off and peer inside.
---
Page Index
1.
Introduction, Packaging, Specifications
2. Physical Look - Outside
3.
Physical Look - Inside
4.
Installation and Conclusion