By: Aaron Lai
January 29, 2021
In early 2020, before everything was shut down, I went out for chicken wings with a friend. Originally, we were going to a place near my house, but we ended up going further near the center of Calgary. As we walked into the bar and took a seat, we looked around and noticed we were the youngest people in the bar as well as the only Asians there. After scarfing down approximately thirty wings each and having a good chat, we decided it was time to leave. At this point, I noticed there was an older Chinese man sitting by himself. We were about to pay when the waitress asked us if we could help this man out, because she was unable to understand him. As I noted in my Lucid LD03-AF review, my Chinese is rudimentary at best, while my Filipino friend ironically has better working Chinese than I do. As such, when I went over to this man, it turned out he only spoke Cantonese. In my broken words, I was able to grasp what he wanted to order and I translated it to the waitress. Despite my poor Cantonese, I did at least have a translation app to help with this. One thing I learned from this experience, apart from the importance of knowing other languages, is that appearances do not always match expectations. My friend and I may have been the most Asian people in this place, but it was a bit of a challenge to help this man and I was really bailed out by a phone app. When SilverStone asked us if we wanted to review their SUGO 14, I immediately thought of the last mini ITX case, the Sugo SG13, which was a capable but still limited mini ITX case. However, with recent tiny cases like the Cooler Master MasterBox NR200, we can see that small does not always come with compromise. So where does the SUGO 14 fall in today? Let us read on to find out!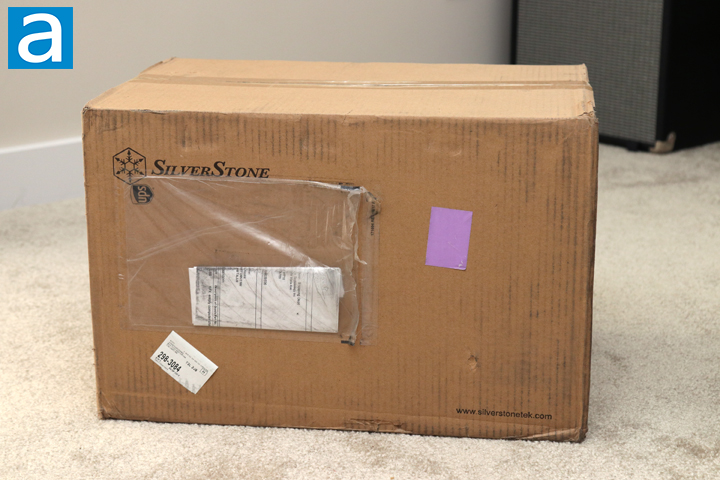 Today's review unit of the SilverStone SUGO 14 arrived from SilverStone's offices in Chino, California. Traveling with FedEx and their Ground service, this box arrived to our APH Networks offices in Calgary, Alberta. The box came to us with some notable scuffs around the sides, but it was still structurally sound with no holes or dents to be concerned about. Unlike what we usually see from SilverStone, the SUGO 14 was boxed inside a SilverStone-marked box to keep the retail box in pristine condition.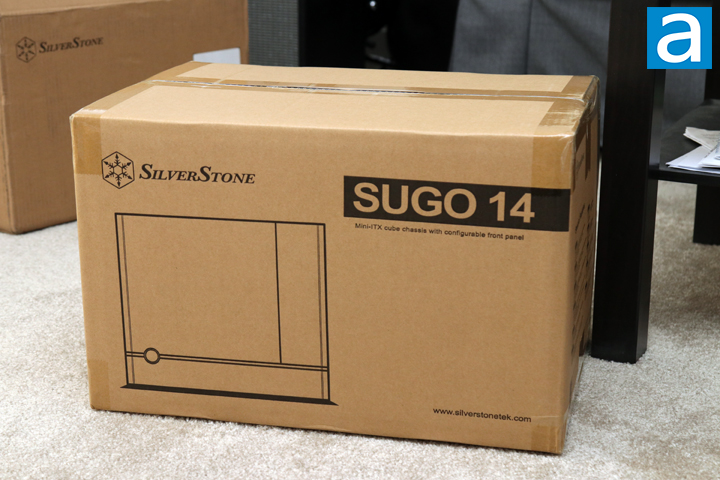 The retail container of the SilverStone SUGO 14 is pretty standard. SilverStone has printed all of the information on top of the brown corrugated cardboard box, making for a pretty typical box. The front panel shows off the SilverStone logo on the left corner. The name of the product can be found on the opposite edge of the front. A description of "Mini-ITX cube chassis with configurable front panel" is found right underneath. Finally, a scaled-down outline of the SUGO 14 can be found on the panel too. Around the box, the specifications and features of the SilverStone SUGO 14 can be found in various languages too. I grabbed the nearest pair of scissors and got into the box.
Before we continue, I have grabbed the specifications from the manufacturer's website for your viewing pleasure:
Model No.: SST-SG14B (black), SST-SG14W (white)
Material: Plastic front panel, steel body
Motherboard: Mini-DTX, Mini-ITX
Drive bay:
- External: 5.25" x 1 (without radiator and 3.5" x 1 installed)
- Internal: 3.5" x 2 (without radiator and 5.25" installed), 2.5" x 3
Cooling system:
- Rear: 120mm / 140mm x 1 (120mm black fan x 1 included)
- Side: 120mm / 140mm x 2
Radiator support:
- Rear: 120mm
- Side: 120mm / 240mm
Expansion slot: 3
Front I/O port: USB 3.0 x 2, USB 2.0 x 1, Combo audio x 1
Power supply: Standard PS2(ATX)
Limitation of VGA card:
- Length: 330mm
- Width: 148mm
Limitation of CPU cooler:
- Air cooler: 182mm (without top fan)
- 240mm AIO water block: 55mm
Limitation of PSU: 150mm
Net weight: 4.89 kg
Dimension:
- 247mm (W) x 215mm (H) x 368.1mm (D), 19.55 liters
- 9.72" (W) x 8.46" (H) x 14.49" (D), 19.55 liters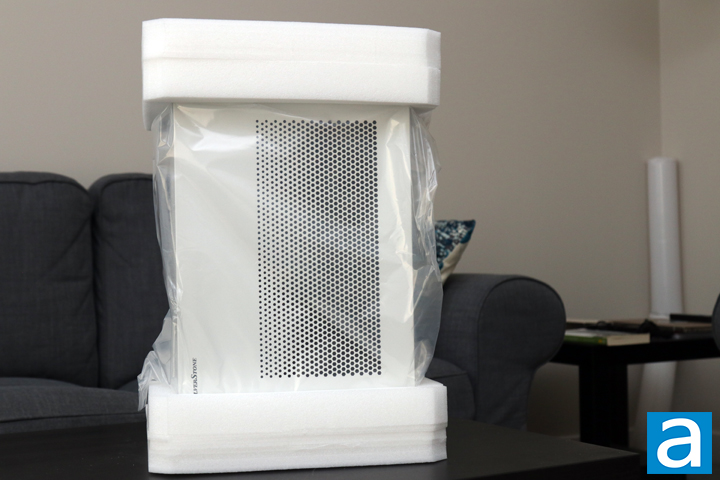 Upon opening the SilverStone SUGO 14 cardboard box, I was immediately impressed by the packing material used for this mini case. I know it is pretty silly to be impressed about these sort of things, but the included foam is clearly of a higher quality with good density and give at the same time. This foam also does not break apart into annoying particles to vacuum up, which is another bonus. Otherwise, the SUGO 14 is wrapped in a clear thick plastic bag to prevent scratches on the case, while the aforementioned foam should protect it from bumps during transit. The foam also has a small cut out section to hold the additional accessories and extra bracket, as we will see later on in our review. No documentation is included with the SUGO 14, but you can find installation and warranty information on SilverStone's website.
---
Page Index
1. Introduction, Packaging, Specifications
2.
Physical Look - Outside
3.
Physical Look - Inside
4.
Installation and Conclusion