By: Jadon Lee
May 21, 2021
A week or two ago, I decided I was going to take a day off from social media and cease from any form of internet-based communication. If necessary, I asked people to send a text message instead. From this, I found how important having a day to myself was and how I genuinely like time alone despite these isolating times. I do enjoy spending time with people, but as an introvert, people still tire me out, even if it is only online. In my time alone, I was able to clean my entire room and generally reorganize my life after my winter semester of university. I think everyone deserves time to themselves, so I encourage anyone to dedicate a day or two to it. I personally plan on having a personal day once a week. Speaking of taking time away, it has been a while since we at APH Networks have seen many products from Thermaltake. We recently reviewed Thermaltake's The Tower 100 Snow chassis, and now we have the Thermaltake ARGENT K5 RGB to test out. I am excited to see how Thermaltake has developed over the years and how good their keyboards are, especially considering the last one we reviewed was the Thermaltake Tt eSPORTS Knucker in 2013. Going into this review with an empty slate about Thermaltake keyboards, I hope to be pleasantly surprised. Will the ARGENT K5 RGB hold up to our standards? Let us keep reading to find out!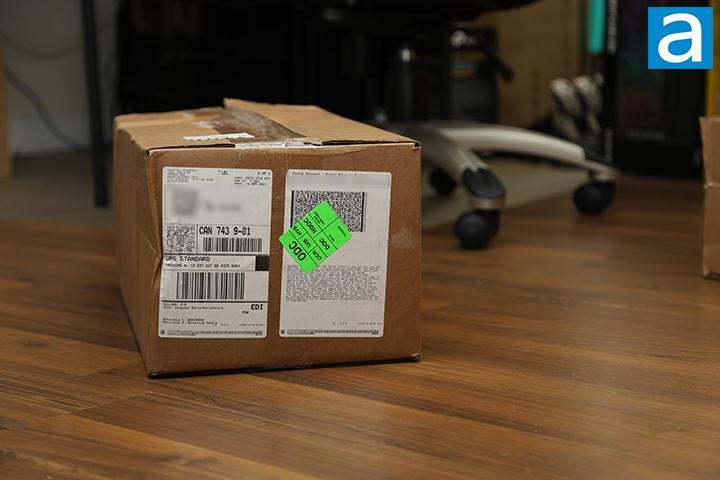 This review unit of the Thermaltake ARGENT K5 RGB came in a brown corrugated box from City of Industry, California. This package traveled with UPS Standard and was packed tightly and securely. The box itself sustained a couple of dents, but nothing too big to be worried about. Inside was the retail box containing the keyboard, which seemed to be in an almost perfect condition, having only a few unnoticeable marks on the box. I had no issue with the shipping at all as the product made it in one piece. Along with the ARGENT K5 RGB, Thermaltake also sent us their ARGENT M5 Wireless RGB, which will be reviewed in the following weeks by one of my fellow editors.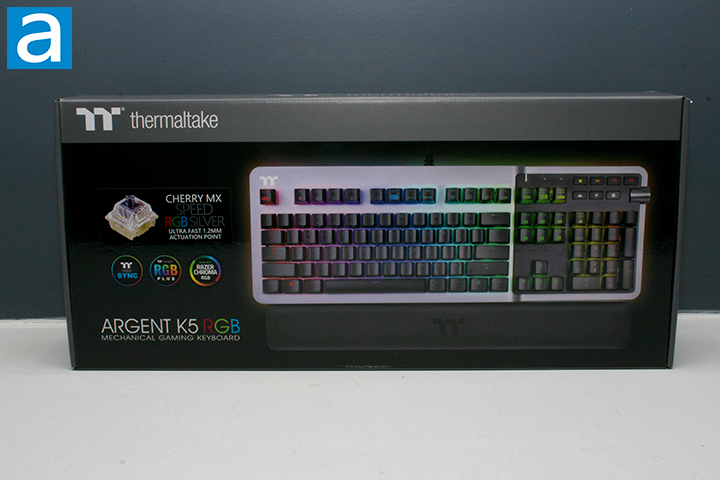 The Thermaltake ARGENT K5 RGB's box design is very standard to many other retail boxes. Thermaltake opted to use a black and grey color scheme, matching the keyboard. The Thermaltake logo can be found on the top left of the box with the features displayed below it. These features include RGB lighting software support and the Cherry MX Speed Silver switches inside. I had an interesting conversation upon receiving the box as a friend who witnessed the exchange, saw the image of the switch, and said, "That keyboard uses purple switches?" Despite the switch being grey, there was a hint of purple on the switch image. Underneath the features is the name, "ARGENT K5 RGB", followed by "Mechanical Gaming Keyboard". Prominently displayed across the rest of the box, we see an actual image of the keyboard itself. The sides of the box display more branding, while the back of the box continues to display more features as well as some specifications in eleven different languages.
Before we continue, here are the specifications for the Thermaltake ARGENT K5 RGB, as posted on their website:
Color: Titanium
Graphical UI: Yes
Weight: 1465 g
Gold-plated USB: Yes
Dimensions: 465 x 161 x 46 mm (L x W x H)
Anti-Ghosting Keys: Yes / N Key Rollover
On-board Memory Size: 4M bit
Polling Rate: 1000 HZ
Back-light: 16.8 Million RGB Colors
Wrist Rest: Yes (Magnetic, Detachable)
Audio and USB Pass-through: Yes
Multimedia Keys: 5+ Volume Wheel
Braided Cable: Yes
Cable Length: 1.8 M
Switch Type: Mechanical
Switch Name: Cherry MX Speed RGB Silver Mechanical
Actuation Point: 1.2 ± 0.4 MM
Key Stroke: 3.4 – 0.4 MM
Actuation Force: 45g with Optimized Tactile Feel
Key Lifespan: 50 Million Clicks Lifetime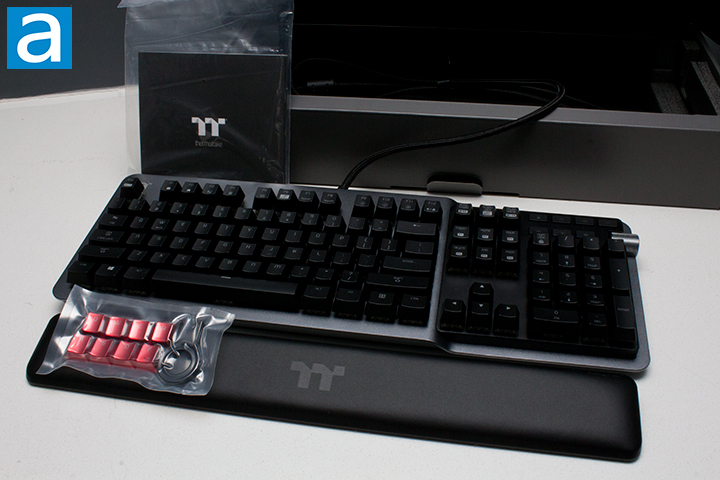 Out of the box, you will receive the Thermaltake ARGENT K5 RGB itself alongside some extra keycaps for the Q, W, E, R, A, S, D, and F keys, keycap puller, wrist wrest, user manual, and warranty documentation. The keyboard and wrist rest are securely wrapped in foam and plastic, respectively, and placed between two foam blocks. This method ensures there is no movement within the box, causing any damages. The user manual contains relevant information about keyboard features and key combinations. The packaging of the ARGENT K5 RGB is good and should prevent any damage to the product during transit.
---
Page Index
1. Introduction, Packaging, Specifications
2.
A Closer Look - Hardware and Software
3.
Conclusion