By: Jonathan Kwan
February 1, 2013
About a month ago, I was attending a rather large Christmas party. Everyone came with their significant other, but one particular sight stood out to me as one of the guys walked into the room with his mom. It was not until a while later that I found out she was actually his girlfriend. Mind blown. A lot of times in life, what appears to be true does not necessarily mean it is real. What something really is may require further inquiry from us. Late last year, we have received Thermaltake's Knucker keyboard from the company's Tt eSPORTS division for review. The Knucker promises to pack excellent tactile feedback for hardcore gamers and a low price tag of just about $40 at press time. Although it is not a mechanical keyboard, they claim their brilliant research in plunger technology has turned out a product that claims to be able to compete on its own merits against its mechanical counterparts. Is the Tt eSPORTS Knucker good enough to compete against the big boys with two to three times the price tag, or is it another keyboard filled with design compromises? Read on to find out what we have found! (On a side note to all the guys out there, it is not advisable to date a girl who looks like your mom.)
Our review unit of the Tt eSPORTS Knucker came in a relatively large, brown corrugated cardboard box from the company's American headquarters in California, USA. It looks like it took some beating along the way, but this is probably because most of the interior is empty. With the rest of the room filled up by mainly packing peanuts, our keyboard in its retail packaging arrived in perfect condition for our evaluation. As always, UPS Standard has done a great job in ensuring everything arrives safely to us here in Calgary from California in about a week.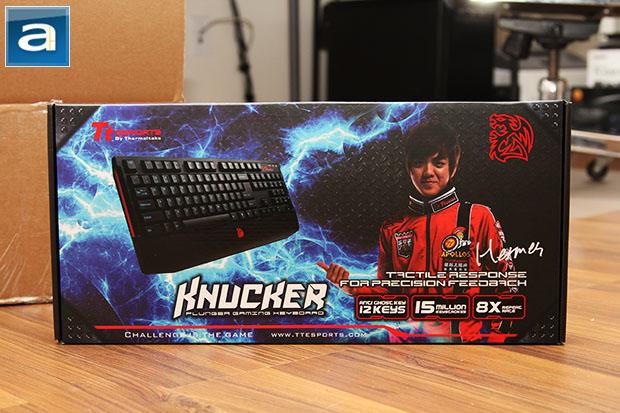 Those who are familiar with Tt eSPORT's keyboards will be intrinsically familiar with the Knucker's retail box design. If you do a side by side comparison with the Meka G-Unit, you will notice that, while the color scheme is definitely different, the way things are laid out is certainly identical. On the left, there is an image of the keyboard at 3/4 angle occupying a good chunk of the space. A sharp blue lighting pattern is distinguished from its black background. The model name is displayed prominently center-right, as shown in our photo above. Along the bottom is an array of icons that highlight some of the features, which includes its 12-key anti-ghosting system, 15 million keystroke rating, and 8X repeat rate capability. A picture of Hermes, a guy on the Tt Apollos team who plays CrazyRacing Kartrider in the Taiwan Esports League (Yes, that is a guy; it might be hard to tell from the photo, but a quick Google search confirmed it), takes up the rest of the space. Now I am not into guys, but if you are, more information about him can be found at the back of the box.
Before we move on, let's take a look at the specifications of the Tt eSPORTS Knucker, as obtained from the manufacturer's website:
Color: black
Interface: USB
Membrane, Mechanical, Plunger: Plunger
On-Board Fan Device: No
Anti-Ghosting Keys: 12 (USB) / 16 (PS2)
On-Board Memory Size: 0
No. of Game Profile: 0
No. of Macro Key: 0
Polling Rate: 250 Hz
Back-Light: No
Wrist Rest: Yes, undetachable
Graphical UI: Yes
On-Board Audio Jacks: No
Smart Cable Management: No, just SR
Gold-Platted USB: Yes
USB Cable Detachable: No
Multimedia Keys: 0
On-Board USB Port: 0
Keystroke Lifecycle: 15 million
Cable Length: 1.8m braided
Dimension (LxWxH): 450 x 185 x 28.5mm
Other Features:
- Plunger CHERRY Black switch feels like mechanical switch.
- Repeat Rage Adjustment: 1x/2x/4x/8x in PS/2 modeI
- Ideal for FPS game genre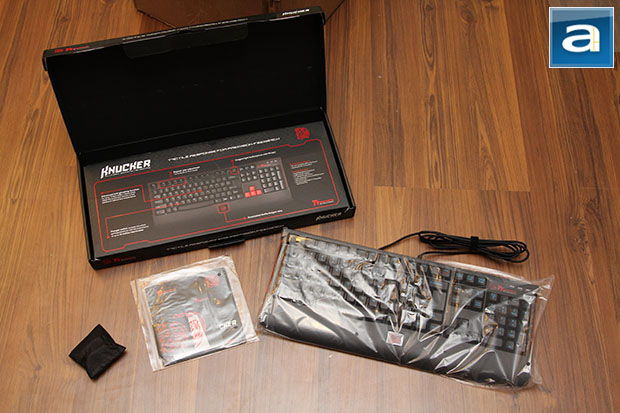 Flip open the flap top box, and you will be greeted by a cover going over the feature highlights of this keyboard. In other words, upon opening the box, you will see a picture of the Knucker before seeing the Knucker itself. Beneath the internal flap is none other than the keyboard itself; also included is a bag containing eight keycaps and a key remover, instruction manual, warranty policy guide, and a Tt eSPORTS battle dragon sticker. Notably missing is the driver software disc. The reason is simple: The Tt eSPORTS Knucker is a pure plug and play solution with no requirement for third party drivers. Whew, it has been a long time since I have used anything like this before.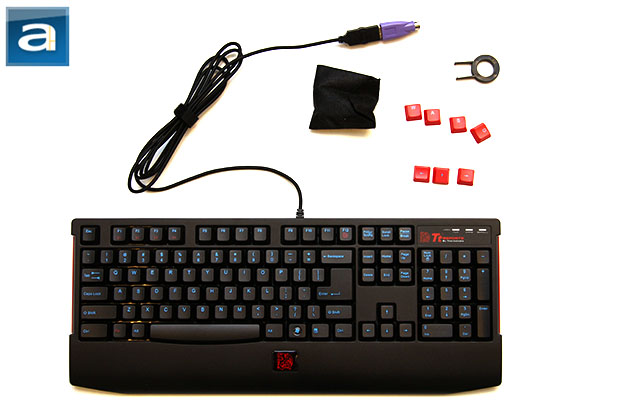 Remaining true to Christopher Latham Sholes, the Tt eSPORTS Knucker is in every way a classic keyboard. Okay, maybe not as classic as the typewriter, but nonetheless, a classic layout almost to a fault. No macro keys. No hotkeys. No media controls. With regards to subtle variants such as the dual row versus single row Enter key (The Knucker is the latter), in my personal opinion, this is certainly not my preference, but I am sure you can find someone who says otherwise. One interesting design element of this Tt eSPORTS keyboard is the Electric Cyan silk print on each key. Designed by the company's Industrial Painting Workshop, at first, I could have sworn the Knucker is backlit -- but it is just paint. The blue is truly outstanding, and really adds a lot of class to a keyboard that commands only about $40 at press time. Specified at 450mm width, 185mm depth, and 28.5mm height, the Thermaltake Tt eSPORTS Knucker is a relativaly compact device for its class. The wrist rest is integrated and is not detachable.
One of the highlights of the Tt eSPORTS Knucker is its plunger keyswitches. There are three main types of keyboards in the market today. The cheapest is the membrane keyboard, which is the easiest to make, but also has poor typing feel and response due to squishy keys. A scissor switch keyboard has its own independent keyswitch mechanism for each key, which delivers improved tactile response and typing experience. Modern scissor switch keyboards can be very good for everyday office use. Mechanical keyboards such as the Meka G-Unit costs the most, because each keyswitch is an independent part. So what the heck is a "plunger"? To be honest, these fifteen million keystroke rated units are not much more than rubber domes with plastic contacts, albeit really good ones. They are definitely no mechanical switches, but from my experience -- along with some tests from the people around the office -- the concensus is the Knucker definitely has a much more tactile feel to it. I especially enjoy its balanced light activation force versus tactility, quiet operation, and relatively traditional response signature compared to Cherry MX keys. The Tt eSPORTS Knucker is a pleasure to type on, and will not require much, if any, adjustment to your existing typing habits. However, if you are expecting a pseudomechanical keyboard kind of deal, then you simply have the wrong expectations. These are simply two completely different things. The plunger switches has its own intrinsic merits.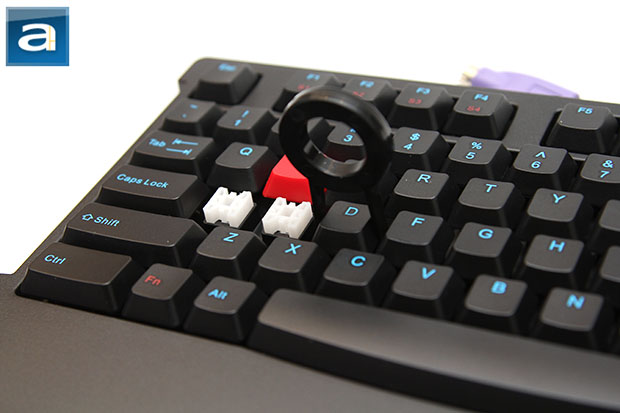 As aforementioned, the Thermaltake Tt eSPORTS Knucker is a fine example of a traditional no-frills keyboard, so I am not going to spend too much time talking about its layout -- if you have typed on any keyboard before, then this is just the same old, same old. What I do want to talk about is its unique aspects, such as the removable keycaps. Its standard WASD and arrow keys can be easily taken out by the included removal tool, in which we have seen in my colleague Jeremy's Challenger Pro review a couple of years ago. A set of red caps are included for visual distinguishment; FPS and other gamers will definitely appreciate this feature.
As you can see in our photo above, the left Windows key is replaced by a Function key. How many times have you tried to duck in your favorite FPS while engaging an enemy, only to be killed instantly, because you missed the "Ctrl" key and your game was minimized? Yeah, it is a legitimate issue. However, I would have much preferred a mode switcher instead -- the left Windows key is something I use quite a bit when I am not gaming. Sure, we still have the right Windows key, but this is just not the same thing to me. That said, the Fn button is to be used in conjunction with the F1 to F4 keys, which changes to S1 to S4 upon the Function key's activation. This steps the repeat rate from 1x to 2x, 4x, or 8x. Unfortunately, this cannot be done via USB, so keep the included PS/2 adapter handy if this is important to you.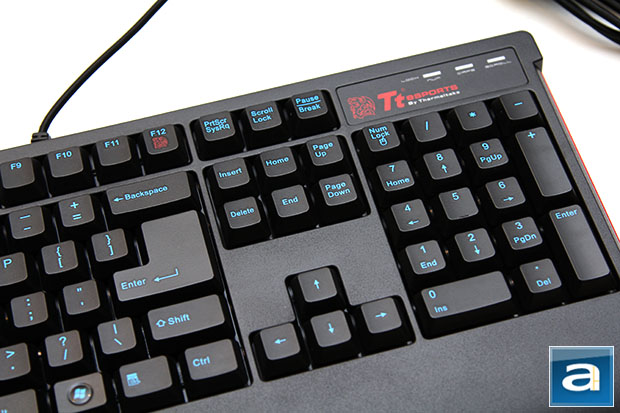 Fundamentally, everything is quite standard here in terms of layout. Even the arrangement of production keys is in classical formation -- users who are used to the Logitech arrangement will need to switch back. However, I do have one complaint. Because the Tt eSPORTS Knucker has a full sized Enter key, the "\" button is moved to the left side of the right "Shift" key; reducing the size of the latter. I am more used to having a full width Shift on the right, and a half height Enter -- I would have much preferred that instead. It is beyond me why Thermaltake changed it on the Knucker, since some other Thermaltake keyboards come in the other layout. I am sure most people would prefer that as well.
Three standard indicator LEDs corresponding to Num Lock, Caps Lock, and Scroll Lock can be found at the upper right hand corner. They glow red when activated. The other thing that glows red when activated is the battle dragon logo on the integrated palmrest, which can be turned on by hitting Fn+F12, as labeled. I found that a pretty nifty feature. Obviously, it is not very useful from a practical point of view, but I like it, haha.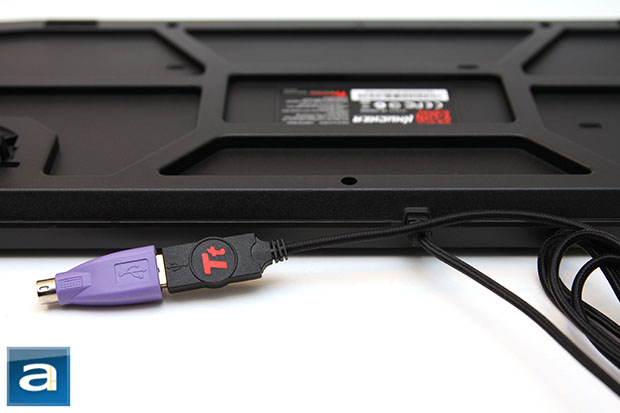 At the back of the Tt eSPORTS Meka Knucker is the USB cable lead out. It comes out the center, and is not detachable. This nicely braided cable extends 1.8m in length, and connects to your computer by a Thermaltake branded gold plated USB connector. When we bring about the question of whether gold plated connectors are actually useful or not, let's just say if it was the actual pins, then possibly -- since gold offers better conductivity than other metals. This theoretically establishes a better connection with your computer, but on a digital signal level, we must understand it is a discrete one or zero; so if anyone tells you they can tell the difference, you can definitely defeat their theory with a double blinded test. Additionally, if you are referring to the gold part of the connector you see on the plug, I would like to point out it actually does not make any physical contact electrically with your computer. In other words, it is nice to have, and it is pretty to look at, but it is not anything significant on a practical level.
Interestingly, the PS/2 adapter is not gold plated, but will allow sixteen anti-ghosting keys compared to twelve over USB due to interface limitations. This is not because of the connector material. A PS/2 connection will also allow you to adjust the key repeat rate. This is made for game genres that require constant switching in repeat rate. By the way, this has nothing to do with the polling rate -- which is set at a constant 250Hz regardless of interface.
At the bottom are four rubber strips to ensure the Knucker stays in place during intense gaming sessions. Two flip-out risers at the back tilts the keyboard up for those who prefer it. The edge of the flip-out risers are laid with a strip of rubber as well, so you won't need to sacrifice any desk traction to have it enabled. Keyboard drain holes are installed liberally everywhere to ensure a cup of coffee will not mark the end of a couple of twenty dollar bills for you.
------------------------------------------
If anyone is saying they are disappointed in the Tt eSPORTS Knucker because it does not feel like it has mechanical keyswitches, they simply have the wrong expectations. In the same way you don't expect a Honda Civic to compete against a BMW M3, the Knucker is a great keyboard not because it comes with a low price tag; it is competitive because it is good in its own way. This traditional, no-frills approach brings to the table a product that feels good at your fingertips. Delivering light keystrokes via its plunger switches in conjunction with great tactile response a class above your run-of-the-mill keyboard, there is a lot to like about the Tt eSPORTS Knucker. It is not superior or inferior to its mechanical counterparts; it is just different. Its sweet Electric Cyan silk print on each key, and switchable WASD/arrow keycaps, are properties I have really grown to appreciate. Adding to the icing on the cake is its on the fly repeat rate adjustments, and an array of built in liquid drain holes. The keyboard even comes with braided cables for $40 a press time! Personally, I would have opted for a single row enter key configuration and a detachable wrist rest, but other than that, it is real hard to make a case against the Tt eSPORTS Knucker.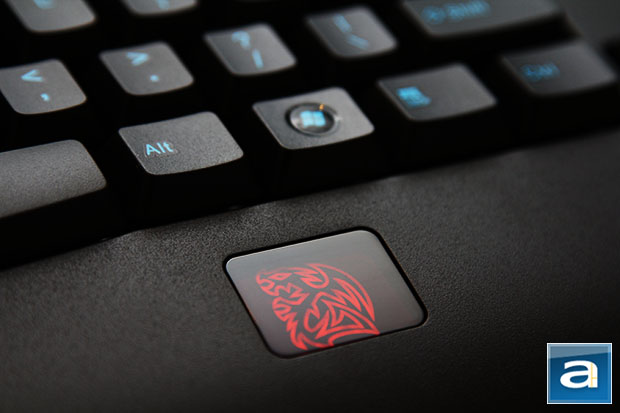 Thermaltake provided this product to APH Networks for the purpose of evaluation.

APH equal.balance Award | APH Review Focus Summary:
8/10 means Definitely a very good product with drawbacks that aren't likely going to matter to the end user.
7/10 means Great product with many advantages and certain insignificant drawbacks; but should be considered before purchasing.
-- Final APH Numeric Rating is 7.8/10
Please note that the APH Numeric Rating system is based off our proprietary guidelines in the Review Focus, and should not be compared to other sites.
Let's not pretend the Tt eSPORTS Knucker is a mechanical keyboard: It is not. It is different, and this is exactly why I like it.
Do you have any comments or questions about the Thermaltake Tt eSPORTS Knucker? Drop by our Forums. Registration is free, and it only takes a minute!