By: Hai Wang
June 25, 2021
Imagine you have two very interesting neighbors, Joe and Sam. Joe is a professional welder. He drives an old Ford Super-Duty diesel truck with all his welding gears in the bed. In fact, Joe loves diesel. He believes the best diesel engine ever made was the Detroit Diesel 12V71. Joe has recently turbocharged his diesel lawn mower just because he wanted to work on backyard more "efficiently". He also welded himself a barbecue with an old diesel barrel, so the food would have the "right flavor" according to him. Recently, Joe looked a little upset due to the cancellation of a pipeline project he was working on. Meanwhile, you also have another neighbor called Sam. Sam works at the community library. He just traded in his 2002 Toyota Prius for a single-motor 2017 Tesla Model 3. According to Sam, driving his Model 3 is "very exciting", and he believes he is no longer the boring dad in front of his kids. Of course, all of Sam's gardening equipment are electrical, and most of them can be charged by a solar power system he recently installed. Now the question is, in terms of buying a gaming mouse, who do you think is more likely to buy a wireless one, Joe or Sam? Well, I would say Sam, since he loves things with batteries in them. For today's review unit, the Thermaltake ARGENT M5 Wireless RGB gaming mouse, is it a good product we can recommend to Sam? Let us read on and find out!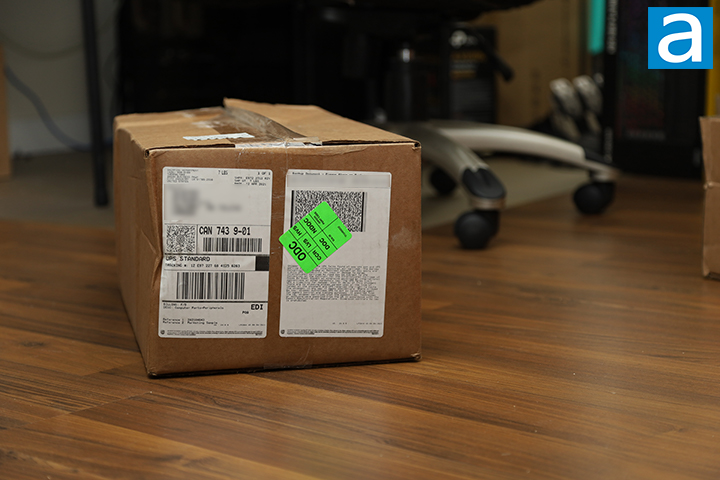 The Thermaltake ARGENT M5 Wireless RGB arrived via UPS Standard to us here in Calgary, Alberta, Canada. The package was sent from the City of Industry, California, where Thermaltake's American office is located. As you can see from the picture, the parcel was clean and in good shape. Very few dents and scratches were found on the box. I can confidently say the mouse inside the parcel was safe and sound. Along with this ARGENT M5 Wireless RGB, Thermaltake also sent us their ARGENT K5 RGB, which was recently reviewed by my colleague Jadon.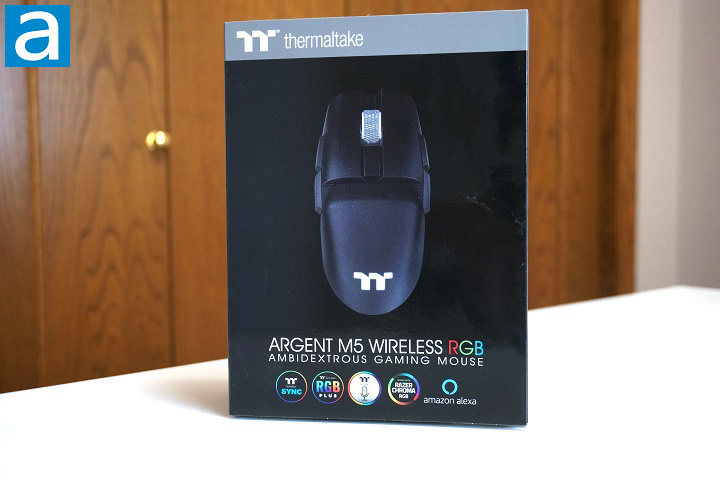 After getting rid of the shipping package, we can see the retail packaging of the Thermaltake ARGENT M5 Wireless RGB. The background color is in accordance with Thermaltake website's theme color -- black. In the middle of the cover lies the top view of the mouse. The black background makes the aluminum scroll wheel obvious in the picture. From my first glance of the retail package, I noticed the RGB LED lighting and the wireless functionality. All the other features, like the TT Sync, Razer Chroma RGB, and Amazon Alexa support are nicely displayed at the bottom of the retail box front cover. On top of the black background, there is a smaller gray background section, where the company name and company logo are printed. The company logo is located at the top left side of the box, and it is obvious to see. The overall design of the package is great, since we can obtain the most important information about the mouse in a short amount time.
Before digging into details, let us take a look at the specifications of the Thermaltake ARGENT M5 Wireless RGB, as copied from the manufacturer's website:
Specifications
P/N: GMO-TMF-HYOOBK-01
COLOR: Black
SHAPE: Ambidextrous for right hand and left hand
NO. OF BUTTONS: 8
NO. OF GAME PROFILES: 6
NO. OF MACRO KEYS: 48
ON-BOARD MEMORY SIZE: 64Kb
OMRON SWITCHES: 50 Million click lifecycle
USB CABLE LENGTH: 1.8m
GRAPHICAL UI: TT iTAKE Software
GOLD-PLATED USB: YES
DIMENSIONS: 128 X 64 X 37 mm (L x W x H)
NET WEIGHT: 117 g (Mouse only)
LED COLOR: 16.8 Million RGB Colors
LIGHTING EFFECT: Static, Pulse, RGB Spectrum, Wave, Reactive, Blink
WIRELESS RANGE: 2.4G & Bluetooth: 10M
BATTERY LIFE: 2.4Ghz: Up to 36 hours with lighting or 100 hours with lighting turned off. Bluetooth 5.0: Up to 52 hours with lighting or 200 hours with lighting off.
SENSOR NAME: PIXART PMW-3335
SENSOR TYPE: Optical
DPI: 100 ~ 16000
DEFAULT DPI: 800, 1200, 1600, 3200, 6400, 16000
IPS: 400
ACCELERATION: 40g
POLLING RATE: 1000Hz, 500Hz, 250Hz or 125Hz (1ms, 2ms, 4ms or 8ms)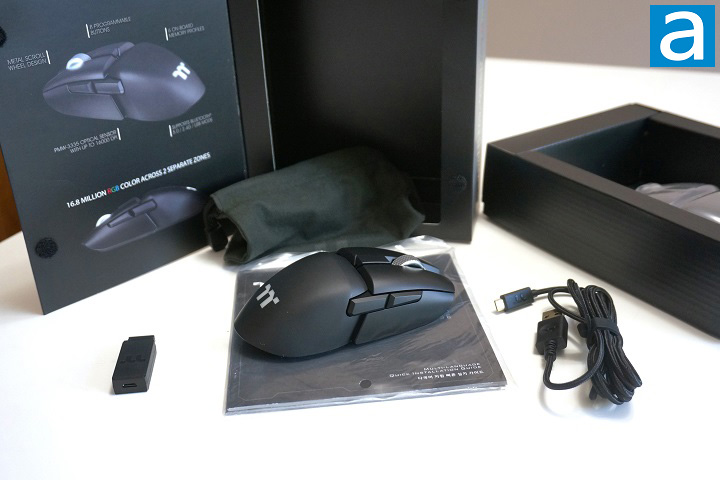 After opening the retail box from the top, the user can pull the black cardboard container out. The ARGENT M5 Wireless RGB is held inside of the container. There is quite a lot of stuff in the box for a mouse. There is the mouse itself, USB cable, USB to micro-USB converter, wireless dongle, and an installation guide. The guide indicates the proper steps of how to use the mouse, which I think will not necessary. Unsurprisingly, a driver disc is not provided, since it is 2021 after all.
---
Page Index
1. Introduction, Packaging, Specifications
2.
A Closer Look - Hardware and Software
3.
Subjective Performance Tests
4.
Conclusion