By: Jonathan Kwan
June 2, 2023
I was teaching a small group of elementary age kids at church recently. If you have ever taught young boys on a Saturday night, they are extremely energetic and hard to settle down. It is not that I do not like it -- I was once their age, and I love their enthusiasm -- but it does take a bit of patience. During that session, one kid just kept talking loudly and simply would not stop. "Nobody cares," I said to him. "But I do!" the kid yelled back. "Yeah, but you are nobody!" Everyone else in the group roared with laughter, and it took a few seconds for the kid to realize how someone who is three times their age just came down to their level and beat them with experience. After the commotion died down, I explained to everyone that we are not nobody because we are created in God's image and are infinitely loved by him. When it comes to RAM, what makes one set distinctive over another, and what can recognize its performance? The Kingston FURY Renegade DDR5-7200 2x16GB addresses these questions by using the classic formula of what makes great RAM: A sleek heatspreader design, cutting edge speed, and lifetime warranty, all from a reputable manufacturer. But is it enough for you to care and recognize all these things by opening up your wallet to pick a set up, or is it just another kit on the market that blends in with the crowd? Read on to find out!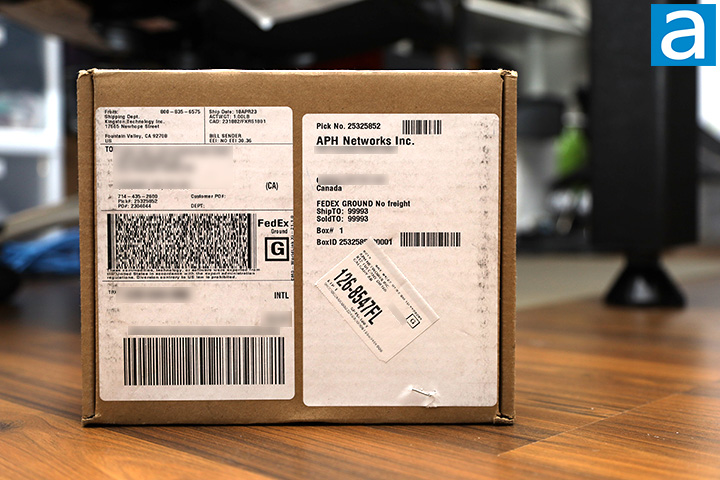 Our Kingston FURY Renegade DDR5-7200 2x16GB arrived in a small brown corrugated cardboard shipping box from the company's American headquarters in Fountain Valley, California, USA. Using FedEx Ground, everything arrived in excellent condition to us here in Calgary, Alberta, Canada for our review today.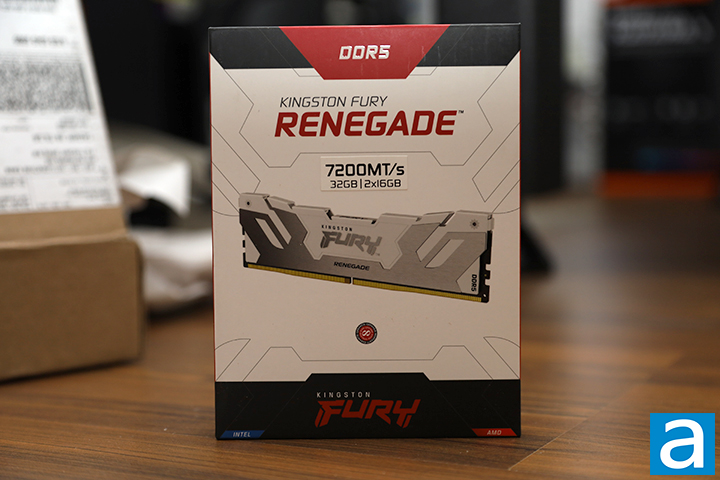 The Kingston Fury brand is aimed at enthusiasts, while the regular Kingston name is all about business. Like the FURY Renegade RGB DDR5-6000 2x16GB Aaron and I reviewed earlier this year, the packaging for the Kingston FURY Renegade DDR5-7200 2x16GB seems to be more Kingston than Kingston Fury. Its retail packaging looks quite serious as you can see in our photo above, and should I say, professional and business-like. The background is predominantly black and white with hints of red for the Fury brand. Kingston's branding and product name is shown across the center, while the memory capacity and rated bandwidth are printed on a sticker underneath. A photo of the FURY Renegade RAM in three-quarters angle occupies some prime real estate. The Kingston Fury logo is centered at the bottom. Additional branding and another photo can be found on the remaining sides of the box.
Before we move on, let us take a look at the features and specifications of the Kingston FURY Renegade DDR5-7200 2x16GB, as obtained from the manufacturer's website:
Capacity: 32GB
Speed: 7200MT/s
Latency: CL38
Voltage: 1.45V
Operating Temperature: 0°C to 85°C
Dimensions: 133.35mm x 39.2mm x 7.65mm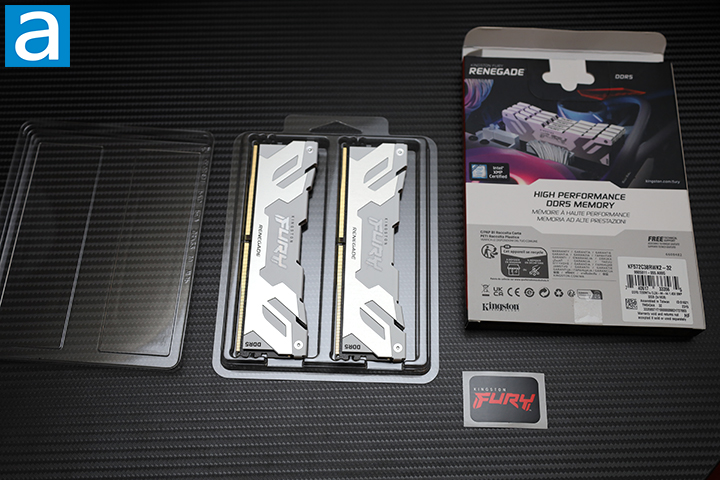 Out of the box, you will receive each memory module in the Kingston FURY Renegade kit packaged in its own compartment in the enclosed clear plastic tray. You will also get a Kingston Fury sticker to show off your brand pride. There is nothing else included, but I am not sure what else you can expect from a DDR5 kit either, haha.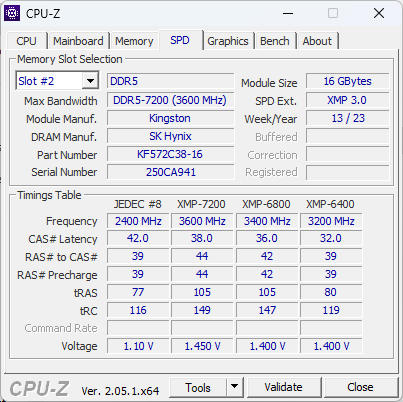 A screenshot of the memory tab in CPU-Z with Kingston's FURY Renegade DDR5-7200 2x16GB installed. The SPD timings table in CPU-Z reads standard JEDEC specifications programmed into the memory as well as XMP data for running the memory at various speeds.
I tested the FURY Renegade DDR5-7200 2x16GB with an Intel Core i7-13700K CPU on an MSI MPG Z690 Force WiFi motherboard. A 13th generation Intel CPU is required to operate RAM at 7200MT/s; it will not boot on any 12th generation Intel CPU at that speed from our experience. Another thing to note is even though it worked on our Z690 motherboard, a Z790 motherboard is highly recommended for better stability. The Kingston FURY Renegade DDR5-7200 2x16GB retails for approximately $220 at press time.
---
Page Index
1. Introduction, Packaging, Specifications
2.
A Closer Look, Test System
3.
Benchmark: AIDA64 CPU
4.
Benchmark: AIDA64 FPU
5.
Benchmark: AIDA64 Memory
6.
Benchmark: PCMark 10
7.
Benchmark: 3DMark
8.
Benchmark: PassMark PerformanceTest 10
9.
Benchmark: SuperPI 1M, Cinebench R23
10.
Overclocking and Conclusion