By: Jonathan Kwan and Aaron Lai
February 10, 2023
In the Thermaltake Ceres 500 TG ARGB Snow review introduction, my colleague Aaron talked about a person working at a fast food restaurant who did not know an ice cream cone order included ice cream and actually asked his manager for approval. That was many years ago, and now he is a pharmacy manager at a large grocery chain. I find this quite impressive since getting a Doctor of Pharmacy is no small feat, never mind becoming a pharmacy manager at an organization of this caliber. Now, such person has many interesting antics. From an extreme lack of social awareness to frequently doing things that makes absolutely no sense, almost all of us wonder how he got to where he is today. Needless to say, none of us would trust him to process any of our medical prescriptions. Personally, when it comes to things that are critical and has little room for error, I prefer to trust someone who is reasonably intelligent and has a demonstrated history of success in addition to their academic credentials. In the same way, when it comes critical computer parts like RAM, I often find myself often recommending Kingston for their excellent reputation for quality. Back in October, my colleague Jonah reviewed the FURY Renegade DDR5-6000 2x16GB kit, which proved to be a solid performing set. Today, we have something from the same lineup with the same specifications, but now with RGB LEDs. Will it continue to be something we can trust for quality and performance? Read on to find out!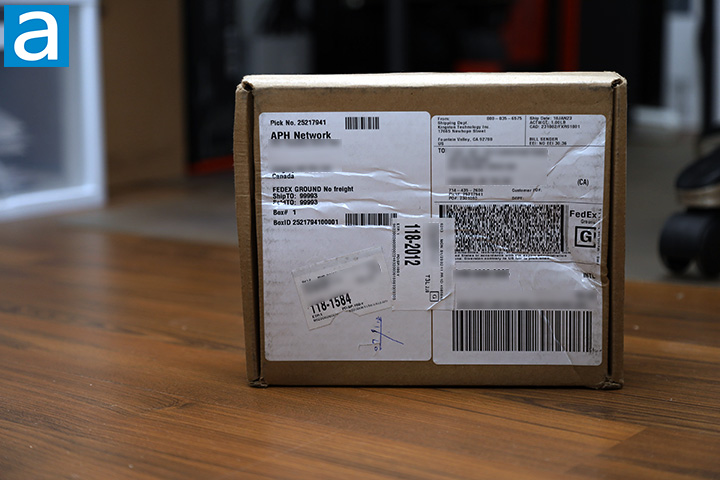 Our Kingston FURY Renegade RGB DDR5-6000 2x16GB arrived in a small brown corrugated cardboard shipping box from the company's American headquarters in Fountain Valley, California, USA for our review today. Using FedEx Ground, the package was slightly crushed as it arrived on our doorstep here in Calgary, Alberta, Canada, but thankfully it was just the shipping box. Inside the box is also the Kingston FURY Renegade 1TB (Heatsink Version), which I looked at a few weeks ago.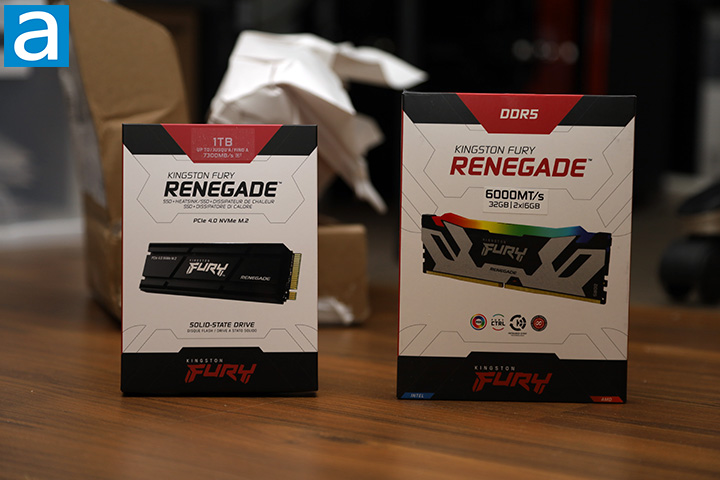 The Kingston Fury brand is aimed at enthusiasts, while the regular Kingston name is all about business. Interestingly, the packaging for the Kingston FURY Renegade RGB DDR5-6000 2x16GB seems to be more Kingston than Kingston Fury. As you can see in our photo above, its retail packaging looks quite serious, and should I say, professional and business-like. It uses the same template as the Kingston FURY Renegade 1TB SSD shown in the above photo. The background is a predominantly black and white with hints of red for the Fury brand. Kingston's branding and product name is shown across the center, while the memory capacity and rated bandwidth are printed on a sticker underneath. A photo of the FURY Renegade RAM in three-quarters angle occupies some prime real estate. The Kingston Fury logo is centered at the bottom. Additional branding and another photo can be found on the remaining sides of the box.
Before we move on, let us take a look at the features and specifications of the Kingston FURY Renegade RGB DDR5-6000 2x16GB, as obtained from the manufacturer's website:
Capacity: 32GB
Speed: 6000MT/s
Latency: CL32
Voltage: 1.35V
Operating Temperature: 0°C to 85°C
Dimensions: 133.35mm x 44mm x 7.66mm
Out of the box, you will receive each memory module in the Kingston FURY Renegade RGB kit packaged in its own compartment in the enclosed clear plastic tray. You will also get a installation guide and a Kingston Fury sticker to show off your brand pride. There is nothing else included, but I am not sure what else you can expect from a DDR5 kit either, haha.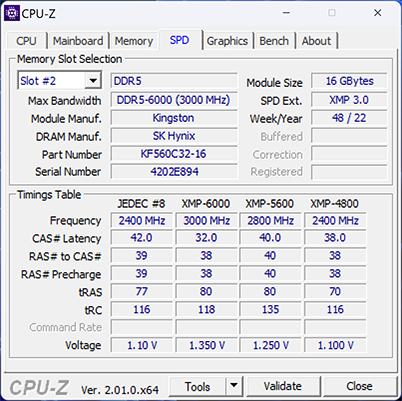 A screenshot of the memory tab in CPU-Z with Kingston's FURY Renegade RGB DDR5-6000 2x16GB installed. The SPD timings table in CPU-Z reads standard JEDEC specifications programmed into the memory as well as XMP data for running the memory at various speeds. Our ASUS ProArt Z690-Creator WiFi motherboard used for testing had no issues detecting and working with the FURY Renegade RGB RAM right out of the box using the latest BIOS revision. The Kingston FURY Renegade RGB DDR5-6000 2x16GB retails for approximately $190 at press time.
---
Page Index
1. Introduction, Packaging, Specifications
2.
A Closer Look, Test System
3.
Benchmark: AIDA64 CPU
4.
Benchmark: AIDA64 FPU
5.
Benchmark: AIDA64 Memory
6.
Benchmark: PCMark 10
7.
Benchmark: 3DMark
8.
Benchmark: PassMark PerformanceTest 10
9.
Benchmark: SuperPI 1M, Cinebench R23
10.
Overclocking and Conclusion